Ukrainians Want to Liberate Crimea With or Without West: Poll
Most Ukrainians want President Volodymyr Zelensky to keep pushing to liberate the entire country per its 1991 borders, according to a new poll published on Sunday, even if an eventual push for Crimea unsettles Ukraine's Western partners.
The survey, conducted by the Kyiv International Institute of Sociology (KIIS) between February 22 and March 6 and involving more than 2,000 respondents representative of the national population, found that 64 percent of Ukrainians believe Kyiv should retake all territory occupied by Russia since 2014, even if that risks receiving less support from the West.
One year into the war, there appears no hope of renewed peace negotiations, which collapsed several months into the invasion under the pressure of subterfuge and Russian atrocities. Moscow has demanded that any peace talks begin with the acceptance of its occupation of Ukrainian territory, while Kyiv is is demanding that all Russian troops withdraw from its territory in line with its 1991 borders.
Despite almost 13 months of suffering, destruction, and high battlefield casualties, most Ukrainians appear committed to continuing the fight. The vast majority of Ukrainians surveyed by the KIIS—87 percent—said they are opposed to any territorial concessions, compared with 9 percent in favor.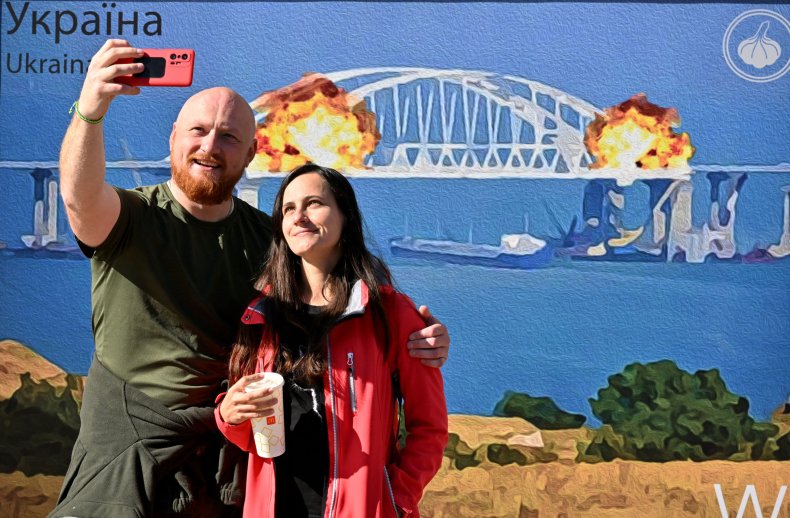 Western leaders publicly maintain that Kyiv will decide how and when to end the war, though reports suggest that officials have been privately hinting to Zelensky that concessions of some kind may be required to stop the fighting.
Chairman of the Joint Chiefs of Staff Mark Milley in January expressed Western concerns of a long, costly war without a diplomatic solution, saying it would be "very, very difficult to militarily eject the Russian forces from...every inch of Russian-occupied Ukraine" this year.
The liberation of Crimea—occupied and annexed by Russia in 2014, and now home to a sizeable Russian population—is a particularly sensitive subject, given its political and military value to Moscow and concerns that President Vladimir Putin might resort to weapons of mass destruction if the peninsula is threatened.
Still, a majority—64 percent—of those surveyed by KIIA said they are in favor of liberating Crimea, even at the risk of prompting a reduction in Western support for Ukraine.
Twenty-four percent of respondents said they favored an alternative in which the occupied Donbas is entirely liberated, but Ukraine refrains from military operations on the Crimean peninsula.
Oleksandr Merezhko, a member of Ukraine's parliament representing Zelensky's Servant of the People party, told Newsweek that Kyiv still has some way to go to fully win over its Western partners on the Crimea question.
"I think Western states are still hesitant regarding liberation of Crimea because they are afraid of 'nuclear escalation,'" he said.
"To me, they are falling for Putin's blackmail," Merezhko—who is also the chair of the Ukrainian parliament's foreign affairs committee—said. "At the same time, I see that there is a gradual change in the position of Western states: they are more and more inclined to support the liberation of Crimea."
"I think that a lot will become clear as soon as Ukrainian troops start liberating Crimea," Merezhko added.
Kyiv has kept the pressure on Crimea throughout Russia's full-scale invasion, ignoring Kremlin threats of severe retaliation. Ukrainian forces have launched multiple operations against Russian military infrastructure on the peninsula, and in October even forced the temporary closure of the Kerch Strait Bridge—the prime symbol of Russian control over Crimea—by detonating a bomb truck on the structure.
Ukraine's planned spring counteroffensive is expected to begin in the next two months and could set the stage for an attack on Crimea.
The southern front line currently bisects the Zaporizhzhia region, running north of the key strategic city of Melitopol. The city's exiled mayor Ivan Fedorov told Newsweek in January that his home town is "the key to Crimea."
If Ukrainian forces can break the Russian lines there and liberate Melitopol, he said, Moscow's land bridge connecting Crimea to Russia would be imperiled, isolating the peninsula and weakening the Kremlin's control there.
Newsweek has contacted the Russian Foreign Ministry by email to request comment.