UN, African Union Officials Try to Avoid Repeat of Genocide in Central African Republic Elections
Officials from the United Nations and the African Union are fighting to prevent past failures in preventing widespread ethically and politically charged massacres on the continent as they battle to keep elections on track amid tensions in the Central African Republic.
"We took a good, bitter lesson from what happened in Rwanda, and we said this should never happen," Smail Chergui, AU commissioner for peace and security, told Newsweek.
The 1994 Rwandan Genocide violently took the lives of hundreds of thousands, perhaps a million people in what likely remains the deadliest mass killing of the past quarter-century. Much of the ethnic cleansing was orchestrated by hardline majority Hutus against the Tutsis, other ethnic minorities and moderate Hutus amid civil war and political unrest in the East African nation.
As the systematic slaughter played out, the Organization of African Unity—now the AU—maintained a policy of non-interference. Chergui said that is no longer the case under the AU charter.
"This time, we can decide on foreign intervention in any country where we feel that there might be mass violation of human rights or another genocide," he said.
U.N. personnel stood by during war crimes committed in Rwanda, focusing instead on the extraction of foreign nationals, sparking an international outcry. The U.N. garnered futher criticism for a perceived lack of action in warzones such as the Balkans, also rife with accusations of mass killing and rape.
Today, U.N. Under-Secretary-General for Peace Operations Jean-Pierre Lacroix is also looking to tout a new approach drawing from the painful past experiences of his organization.
"I believe that we learned a number of lessons from what happened in Rwanda and also in the former Yugoslavia when it comes to U.N. peacekeeping," Lacroix told Newsweek. "Indeed, today, peacekeeping operations are better equipped, and they're putting protection of civilians as a top priority now."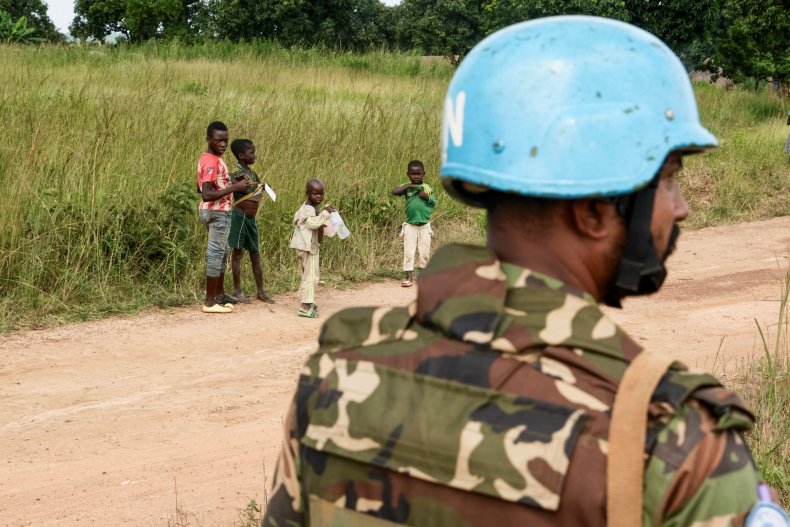 Both the AU and U.N. have since applied their contemporary peacekeeping strategies to the Central African Republic, another African country long scarred by conflict across ethnic, political, religious and territorial lines.
The Central African Republic has hosted a series of governments since gaining independence from France in 1960. Transitions in power came not through votes but coups until the country first held elections with U.N. support in 1992. Democracy, however, did not bring peace.
Tensions and unrest persisted throughout the 1990s, leading to the deployment of U.N. peacekeepers, the first of about a dozen such missions that would be sent to the country. Turmoil only worsened in the new millennium, leading to war after army leader François Bozizé took power and faced off with a series of militia forces.
Trouble exploded again in 2012 as he was deposed by a rebel group called Seleka, a mostly Muslim coalition that took power only to be officially disbanded. But that didn't stop it from continuing its battles with rival, largely Christian militias calling themselves anti-balaka.
With the nation on the brink of total collapse, the AU and the U.N. staged a major intervention, deploying the France-backed, U.N.-endorsed African-led International Support Mission to the Central African Republic (MISCA) in 2013, and the U.N. Multidimensional Integrated Stabilization Mission in the Central African Republic (MINUSCA) in 2014, respectively.
Wholesale slaughter was averted. To this day, however, the government wields little control outside of the capital Bangui, and successive peace agreements, the latest of which was signed in February 2019 under AU auspices, have continued to give away to fighting and allegations of widespread human rights abuses.
Among the disruptive parties is a relatively new militia calling itself 3R, or "Return, Reclamation, Rehabilitation." The group stands accused of targeting civilians and peacekeepers alike as local and international forces struggle to maintain plans for a December 27 presidential election, in which incumbent President Faustin-Archange Touadera stands, along with other political giants such as Bozizé, fellow former President Catherine Samba-Panza and former Prime Minister Martin Ziguélé.
"The coming period will be decisive for the country," U.N. Secretary-General António Guterres told a virtual high-level meeting on the Central African Republic earlier this month.
"The presidential, legislative and local elections represent a unique opportunity for national reconciliation and the consolidation of peace," he added, "as well as the country's constitutional order and democratic achievements."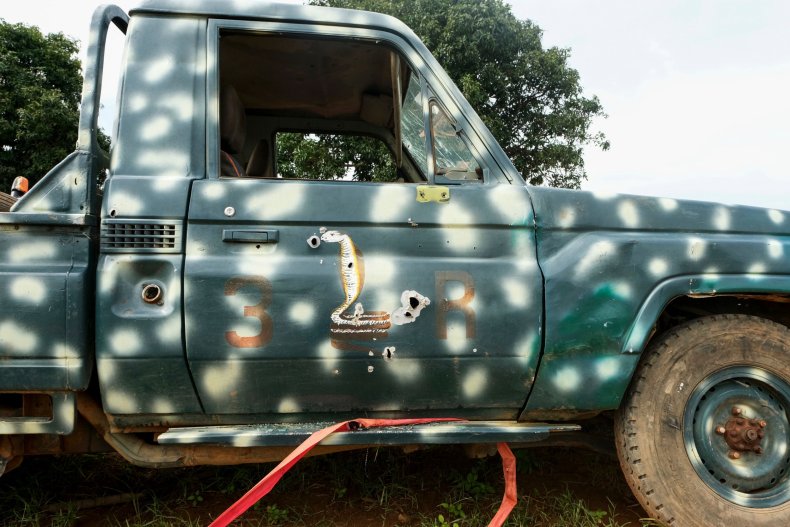 The United States too recently emphasized the importance of such a vote, not only in the Central African Republic, but across the continent as a whole.
"The United States is committed to supporting free, fair, inclusive elections," the State Department said in a statement Saturday. "The conduct of elections is important not only for Africans, but also for defenders of democracy around the world. We believe all sides should participate peacefully in the democratic process."
The statement also threatened sanctions against those who sought to undermine the electoral process, warning, "Repression and intimidation have no place in democracies."
To the United States' chagrin, Russia has especially invested in securing the country, supplying the government with personnel and equipment.
Russian Foreign Minister Sergey Lavrov told his Central African counterpart on Friday that Moscow "was ready to persevere in supporting Bangui's efforts to normalize the situation in the country, as well as to continue the coordination with the Central African Republic at the U.N. and other international venues," according to the Russian Foreign Ministry.
But amid continued violence and humanitarian woes, Lacroix admits major hurdles remain.
"Are we doing everything we would like to do in terms of protection of civilians?" he asked Newsweek rhetorically. "Probably not, because it's a very ambitious proposition, and one that is extremely challenging and raises expectation that often we cannot fully meet."
But Lacroix insisted that the peacekeeping efforts were bearing fruit.
"I do strongly believe that our peace operations are making a huge difference when it comes to the protection of civilians, by your physical protection of prevention, and also supporting the humanitarian system," he said.
The International Committee of the Red Cross recently said that one of four citizens of the Central African Republic's fluid population of more than four and a half million have been displaced by the ongoing crisis. Up to four out of five live in poverty and nearly half are food insecure, according to the World Food Program, which was announced last week as this year's Nobel Peace Prize winner for its work in countries like the Central African Republic.
As such, the country remains largely dependent on international entities for both security and humanitarian support. Such a precarious situation presents difficulties in establishing a semblance of law and order.
In light of these intractable conditions, Gino Vlavonou, a consultant at the Social Science Research Council's Conflict Prevention and Peace Forum and Understanding Violent Conflict Program who specializes in the Central African Republic, assessed that the international presence "is making a difference" in the country, and that "the CAR would have been in a very different place if the AU and the UN did not intervene in 2013-2014."
"I think they managed to avert the worst case scenario," Vlavonou told Newsweek, "that is, a large-scale massacre of other Central Africans."
This view, he said, was not only his but shared by a number of Central Africans both within the political elite and among ordinary citizens. But, as evidenced by continued clashes between militias and peacekeepers, outside assistance is not universally welcomed.
Vlavonou told Newsweek that international organizations like the U.N. and AU "absolutely" have a duty to step in to prevent the likes of the Rwandan Genocide from recurring, "but this is controversial to say the least."
"Some authors argue that one must give war a chance, but we have already seen what happens when the international community fails to step in," he said. "At the same time, I think there should be a point where intervening should stop."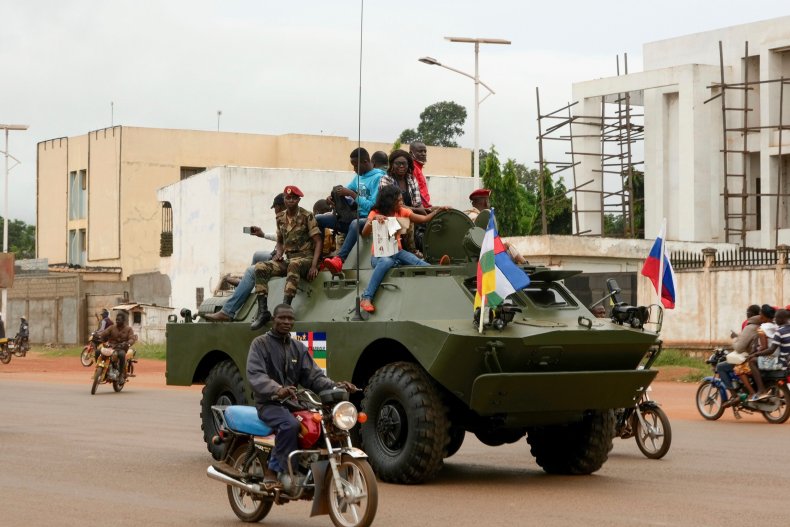 Vlavonou called for an approach that prevents violence, while helping to engage local actors as well as neighboring nations and former colonizer, France.
"The problems facing the CAR have also been brought by years of interventions—at least since the 1990s—and thus are not CAR's alone to be resolved," he told Newsweek. "This calls for a broader strategy of partnership rather than 'intervention.'"
The latest peace agreement has maintained mechanisms for dialogue among various Central African parties, including armed groups with which the AU and U.N. have committed to working with despite the bloodshed.
Lacroix called local hostility "one of the difficulties that we often face in our peace efforts," but also defended the U.N.'s decision to maintain contact with unfriendly forces. "It's about being inclusive and not being dismissive of anyone who comes to us and is ready for dialogue," he told Newsweek.
At the same time, Chergui noted that MINUSCA "now has boots on the ground, and muscles, if need be."
Questions of how, when and if peacekeepers should be allowed to use lethal force in the midst of a host country's internal conflict have long plagued the U.N. In the Central African Republic, MINUSCA walks this fine line by engaging militarily with militias and Vlavonou "this cannot be the only solution."
"It is not the U.N.'s job to wage war," Vlavonou told Newsweek.
Appreciating the complexity of the issue and the ongoing ceasefire violations of armed groups, however, he said that "the CAR is in a difficult place and would need a different kind of partnership in the long term."
Chergui too raised the intricacies surrounding the U.N. and AU operations in the Central African Republic, where he said "our collective action brings good results," but face formidable, ever-fluctuating foes.
"We have to have in mind also that our enemies and today the main threat, this is really terrorism and and violent crimes, these people have globalized the means and ways of action," Chergui told Newsweek. "The ways where the international organizations and the international community wants to face them, we are still lagging behind in terms of really ameliorating and reinforcing our means of action, and especially our collective response."
He remained hopeful, however, that the U.N. and AU would continue to respect their mission
"I think the threat is moving and bringing new challenges to us every day," Chergui said. "That's why we need to adapt, and that's what we are doing."