The U.N. Has A Plan to Help Joe Biden Fight Police Racism in America
The United Nations's human rights agency has shared with Newsweek a plan to help President Joe Biden combat systemic racism among law enforcement in the United States.
Two weeks ago, the Biden administration invited international experts to the United States for a historic visit regarding racial justice and equality. The experts include U.N. Special Rapporteur on contemporary forms of racism E. Tendayi Achiume of Zambia and U.N. Special Rapporteur on minority issues Fernand de Varennes of South Africa, along with other officials.
The invitation was announced just as the U.N. Human Rights Council "established an international independent expert mechanism on promoting and protecting the human rights and fundamental freedoms of Africans and people of African descent against excessive use of force and other human rights violations by law enforcement officers."
It also followed last month's release by the U.N.'s High Commissioner for Human Rights of a comprehensive report on the same subject.
The document and the research effort behind it were inspired by the international fallout over the murder of George Floyd, a Black man, at the hands of a white police officer in Minneapolis on May 25, 2020. The perpetrator, Derek Chauvin, was later charged and found guilty in April on three counts, including two murder charges, marking an extremely rare instance of a law enforcement official facing legal repercussions for killing a Black person.
Chauvin was later sentenced to 22.5 years in prison for the murder.
The verdict was welcomed by President Joe Biden, who has sought to distinguish his approach from that of his predecessor, former President Donald Trump, whom he accused of stoking division amid nationwide protests that occurred during last year's presidential campaign.
Biden has also opted to reverse course on Trump's dismissal of the role of the U.N. and its human rights initiatives.
"As the President has repeatedly made clear, great nations such as ours do not hide from our shortcomings; they acknowledge them openly and strive to improve with transparency," Secretary of State Antony Blinken said in a statement last week. "In so doing, we not only work to set the standard for national responses to these challenges, but we also strengthen our democracy, and give new hope and motivation to human rights defenders across the globe."
This strategy will now be put to the test, as the U.N. Human Rights Office evaluates the U.S. approach and offers its advice to a country more accustomed to advising others.
"We welcome the invitation from the United States to visit the country," Achiume, who in addition to her U.N. role serves as a law professor and faculty director of the Promise Institute for Human Rights at UCLA, told Newsweek.
"A country visit would be an opportunity to interact with the United States Government, as well as with various stakeholders including civil society organizations, social movements, people subject to racial discrimination, as well as members of vulnerable communities," she said.
And being in-country, Achiume added, will allow her to make "an up-to-date assessment of the situation of the United States" and "accurate recommendations on issues related to my mandate."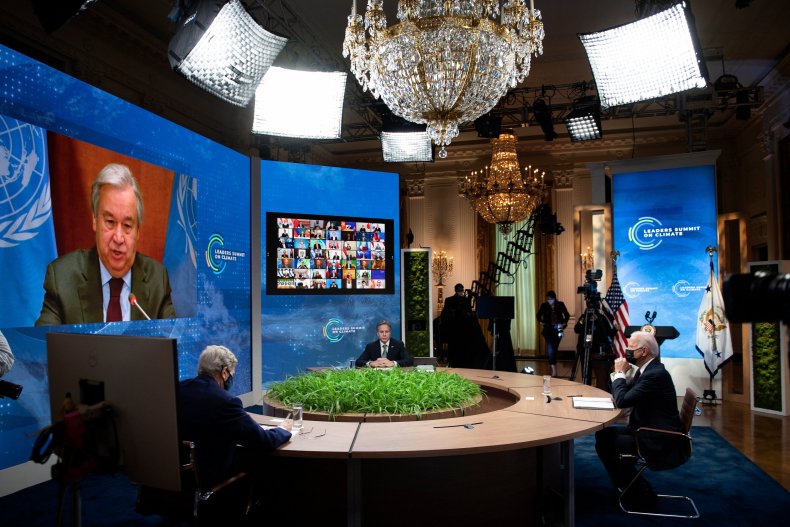 Among the "priority issues" Achiume has identified in the leadup to her trip, for which no date has yet been set, are "Analysis of legislation, policies and practices adopted by the State to combat racial discrimination; Impact of racial discrimination and systemic racism on the exercise and enjoyment of civil, political, economic, social and cultural rights; and Racial discrimination in the administration of justice."
A U.N. plan does exist to confront these issues, one rooted in the recent report and resolution adopted by the Human Rights Council, which the U.S. rejoined in February after having abandoned the group under Trump.
"We are keen to encourage positive measures towards achieving racial justice and equality and to acknowledge such measures when they take place," Marta Hurtado, spokesperson of the U.N. Human Rights Office, told Newsweek.
In looking at the steps the U.S. has taken so far, Hurtado singled out Biden's Executive Order On Advancing Racial Equity and Support for Underserved Communities Through the Federal Government, along with The George Floyd Justice in Policing Act, which, if passed, would introduce new restrictions and adopt reforms aimed at preventing unnecessary violence, curbing biases and improving community relations.
"The Executive Order issued by President Biden underlining 'the unbearable human costs of systemic racism' and launching a 'whole-of-government equity agenda' is no doubt a positive step, recognizing as it does the systemic nature of racism and the gravity of its consequences," Hurtado said. "The George Floyd Justice in Policing Act bill before the Senate is also a promising initiative."
She also recognized actions taken on lower levels of government in an effort to address the problem.
"Other promising initiatives highlighted in the High Commissioner's report are actions taken at state and municipal level weighing restrictions on less-lethal weapons, banning the use of chokeholds, enhancing oversight and accountability, prohibiting qualified immunity and addressing racial disparities in the legal system," she said.
But she argued more remains to be done.
"These are important steps," Hurtado said. "But for real change to happen, people of African descent and their communities need to be at the center of shaping reforms. We therefore recommend that countries, including the United States, undertake national dialogues with the meaningful participation of people of African descent, and come up with action plans and concrete measures to address the specific histories, lived experiences and current realities of people of African descent in the US."
Hurtado said the U.N. Human Rights Office did just that in its own efforts to understand and analyze the scope of institutional racism and its societal side effects, not only in the U.S. but across the globe, for its recent report. She said experts were also consulted, as well as past recommendations made by U.N. bodies toward other countries.
The result: What the U.N. argues is a working formula to address the rampant issue.
"Based on that, we developed a way forward that can be relevant to all countries, including the U.S.," Hurtado said. "Such an approach can help ensure that the increased attention on racial discrimination against people of African descent leads to real change. That is why the High Commissioner is calling for a transformative agenda that contains the building blocks to advance towards racial justice and equality worldwide. That agenda has four areas of action, and we need to work together in a collective way on all four."
These four areas are summed up as "STEP UP: Stop denying and start dismantling; PURSUE JUSTICE: End impunity and build trust; LISTEN UP: People of African descent must be heard; REDRESS: Confront past legacies, take special measures and deliver reparatory justice."
Hurtado emphasized the point of Pursue Justice in particular, for which the U.N. Human Rights Office has outlined five steps.
"They include making sure that any time that a person of African descent dies or is injured by law enforcement officials, an independent and timely investigation takes place to determine who should be held responsible," Hurtado said. "Another step is to reimagine the police. This includes introducing alternative and complementary methods to policing and the use of force. Programs that reduce inequalities and end discrimination in education, employment, health care and housing are also needed, as well as effective strategies to reduce gun violence."
She also discussed "an urgent need to build trust between people of African descent and law enforcement agencies."
Another key step is "to reimagine the police" and how it functions as an institution in society.
"This includes introducing alternative and complementary methods to policing and the use of force," Hurtado said. "Programs that reduce inequalities and end discrimination in education, employment, health care and housing are also needed, as well as effective strategies to reduce gun violence. There is also an urgent need to build trust between people of African descent and law enforcement agencies."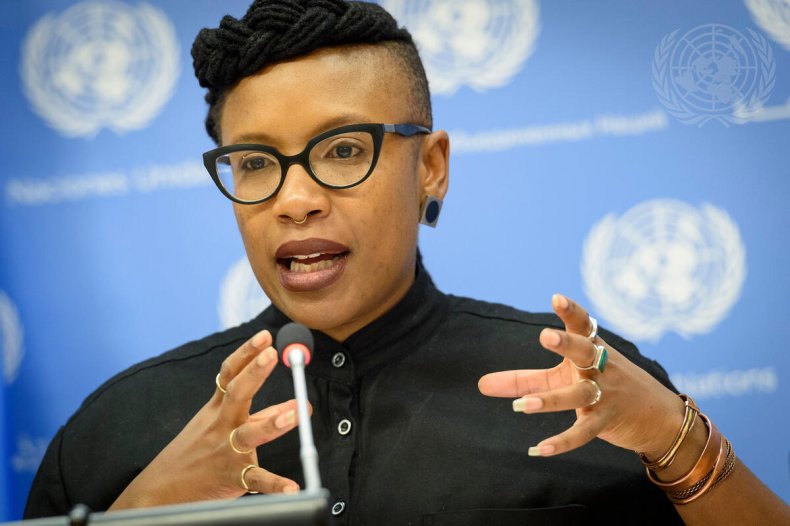 Recent surveys paint a damning picture of the perceived dynamic between the Black community and law enforcement in the U.S.
The latest update to Gallup's minority rights and relations poll, published Friday, showed that some 80% of Black adult respondents felt they were treated unfairly by police officers. Only half of the white respondents and 54% of Hispanic respondents said the same of whether police discriminated against Black people as such.
Anxieties among the Black community were not unfounded, as police killings of Black people did not stop with Floyd. At least 229 Black people, likely an underestimate, were killed by law enforcement in the span of a year since Floyd's death and May 25 of this year. Here's a full list of their names.
It wasn't just when dealing with law enforcement when most who were Black felt treated differently either, according to Gallup. Majorities of 64% said they felt the same when seeking medical treatment, 63% at work, 60% while shopping downtown or at the mall and 56% while shopping in their own neighborhood.
A slim, significant minority of 46% gave the same response for "out a restaurant, bar or other places of entertainment," the only other scenario provided in the study.
And while far smaller minorities of white and Hispanic respondents expressed that Black people were treated unfairly in these other five situations, these figures have grown over time for all three racial categories included in the poll.
In fact, an average of 64% of all U.S. adults surveyed believe "racism against Black people in the U.S. is widespread," marking the highest number since the question was first asked by Gallup in 2008.
With awareness of this plight on the rise, Achiume says that her invitation, along with that extended to her minority issues-focused counterpart de Varennes by the Biden administration "suggests commitment to addressing the issue of systemic racism."
She argued that modern history shows that awareness alone, even on an international scale, has proven insufficient in rooting out this deadly problem plaguing societies across the globe.
"Despite the adoption of the International Convention on the Elimination of all forms of racial discrimination more than 60 years ago, racism continues to be entrenched in all societies," Achiume said. "The legacies of colonialism and slavery continue to permeate into contemporary forms of racial discrimination. An urgent and firm action is needed to address and eliminate racial discrimination."