'Under the Banner of Heaven's' Wyatt Russell Almost Spoke to Dan Lafferty but Fate Intervened
Wyatt Russell almost spoke to killer Dan Lafferty before portraying him in Under the Banner of Heaven but fate intervened, the actor has revealed to Newsweek.
Dan and his brother Ron (portrayed by Sam Worthington) killed their sister-in-law Brenda Wright Lafferty and her 15-month-old baby Erica in 1984 after Ron claimed to have received a command from God to kill.
The brothers were found guilty of murder in 1985. Dan received two life sentences, which he is currently serving, and Ron was given the death penalty. He chose to be executed by firing squad but died of natural causes in prison at the age of 78 in 2019.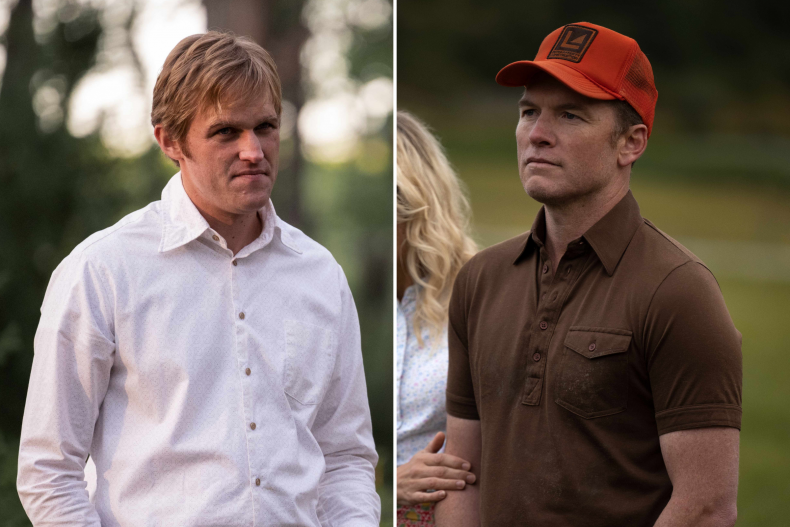 Wyatt Russell Almost Spoke to the Real Dan Lafferty but Fate Intervened
Given Russell had the benefit of his real-life counterpart still being alive the actor almost did speak to Dan, but a chance mistake meant he never did.
Russell explained: "The truth is that I did [try to contact him], you have to give them your phone number for them to call you, and they took the number down wrong, or he got the number wrong. And after that kind of happened I thought 'well, maybe I don't want to talk to him.'"
"I had already listened to a lot of audio recordings; I didn't know what questions I could ask that would lead me to some new insight on who he was and his character.
"I'd already been doing [research] so having that affect me at that point I thought it might have detracted from what we were establishing for the narrative so I ended up not talking to him."
Worthington also spoke to Newsweek and said rather than speak to anyone who knew Ron he relied on show creator Dustin Lance Black, because he had been connected to the story, and had been trying to adapt Jon Krakauer's nonfiction novel for a decade.
He said: "Lance was my source. I always went back to him if I had any questions about the religion, because he was raised as a Mormon, and I know he has a lot of respect for that community still.
"With regards to the story, he's lived with this for 10 years, so he knew the story that he wanted to tell and how he wanted to tell it."
Wyatt Russell and Sam Worthington on Playing Real-Life Killers
Playing a real-life killer might have been a challenging prospect for some, but Worthington said he chose not to focus on the murder that Ron committed but on finding "the truth" of the character.
"I don't think you can actually approach those types of characters from a dark and evil point of view," Worthington said. "The way Lance and I discussed it was that if we found something that was genuine and true to the character of Ron, his pursuit of that might turn dark, it might be perceived the wrong way, but for me to play it was always a positive, a man who just wanted to keep his family together.
"That gave us lots of options, which way we could play certain scenes and the tone that we could set certain scenes, so, as an actor, you're trying to find the simplest way through to the truth."
Russell, in contrast, likened playing Dan to experiencing "seasickness," as he would feel uncomfortable whenever he had to act out having fun because of what his real-life counterpart did.
The Falcon and the Winter Soldier star said: "There was a constant feeling of seasickness because he was a well-liked person and so you're having these scenes and you're having fun, that was part of what you had to do.
"Knowing what the end result was, every time you started to have a little fun it was that sick pit in your stomach, that feels like you shouldn't be having fun."
He added: "But that was kind of what it needed to be. So, it was constantly just juggling your emotions of how you feel didn't matter, and how I feel didn't matter as much as how it needed to be portrayed.
"So you kind of put those feelings on the backburner and then shut your trailer door, or leave it at work, come back the next day, pick up where you left off."
Under the Banner of Heaven airs Thursdays on Hulu.