Under Pressure on Immigration, Biden Gives ICE A Pass on Private Prison Ban
President Joe Biden has cracked down on private prisons run by the Department of Justice, but his new executive order failed to address other private detention facilities run by the Department of Homeland Security (DHS) and its cross-border wing, the U.S. Immigration and Customs Enforcement (ICE).
Biden signed Executive Order 14006 six days after his inauguration, which directed that "The Attorney General shall not renew Department of Justice contracts with privately operated criminal detention facilities, as consistent with applicable law."
The move was welcomed by prison reform proponents, who have long raised the alarm on reports of inhumane conditions and the broader ethical questions of for-profit incarceration.
"The current executive order is a great start in addressing the role of private prisons in the Department of Justice," said Morgan Simon, an investor and activist who is a founding partner of Candide Group, "citing that these prisons 'consistently underperform,' and 'do not maintain the same levels of safety and security.'"
She noted that the order would result in a sizable hit to revenue for top private prison companies CoreCivic and GEO Group. But she and other critics of the U.S. private prison complex pointed to a major shortcoming in the directive: Most federally contracted private detention facilities are operated by ICE.
Biden's executive order, she argued, "doesn't address the fact that the majority of government contracting with private prison companies is actually with ICE, and that ICE facilities managed by private prison companies have equally been shown to be hotbeds of human suffering."
As the Biden administration is about to complete its first full month in office, it remains unclear if detention facilities operated by DHS or ICE will be addressed with a future executive order.
The White House referred inquiries from Newsweek to DHS, whose new chief, Alejandro Mayorkas, was confirmed by lawmakers earlier this month.
"DHS is committed to ensuring that all those in our custody reside in safe, secure, and humane environments," a DHS spokesperson told Newsweek. "Secretary Mayorkas will review many immigration policies in the weeks to come, including detention policy."
Mayorkas, who served alongside Biden in the Obama administration as deputy DHS head, said during his confirmation hearing last month that he did not support defunding ICE.
Asked if he thought ICE deserved additional support, he said he "would have to study the conditions of Immigration and Customs Enforcement, how efficiently it's using its resources and how it is best serving the American public."
"That requires my study," Mayorkas said.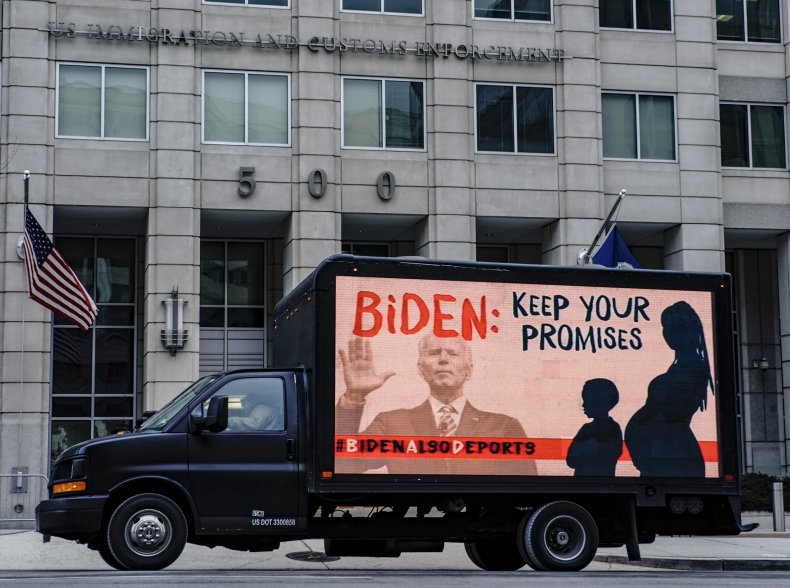 In an apparent move toward limiting operations, Acting ICE Director Tae D. Johnson announced new operating guidance Thursday that sought to more clearly identify the cases that present credible threats to national security, and defines more stringent pre-approval procedures on civil immigration cases.
"By focusing our limited resources on cases that present threats to national security, border security, and public safety, our agency will more ably and effectively execute its law enforcement mission," Johnson said in a statement.
As internal debate plays out on the executive level, legislators have also stepped up in an attempt to push through substantive reform on ICE and private prisons.
Representative Raúl Grijalva of Arizona reintroduced the "Justice is Not for Sale Act" last week in hopes of further curbing private prison practices that flourished under former President Donald Trump.
"For too long, private prisons and detention centers have benefited from lucrative government contracts and taxpayer dollars to profit off the pain and suffering of adults and children," Grijalva said in a statement. "They created perverse profit incentives that helped facilitate a mass incarceration crisis that has disproportionately impacted immigrants and communities of color."
The bill would ban federal, state, and local governments from contracting with private prison companies and end immigrant family detention.
Grijalva said he would support an executive action alongside his bill, but emphasized that laws change far less frequently than executive orders.
"Of course I would welcome any executive action that would expand President Biden's ban on private prisons and for-profit immigrant detention centers and end the perverse profit incentives that have allowed mass incarceration to thrive," Grijalva told Newsweek. "But an executive order can always be reversed by the next administration. Congress must permanently codify legislation like the Justice is Not For Sale Act to ensure a permanent ban on federal, state, and local entities from contracting with private prison companies."
Simon, who leads an impact investing firm focused on investing in socially positive businesses, said Grijalva's bill would be "a great complement to the executive order," but also called on Biden to issue another executive order that "would enable Biden to honor his pledge to fully eliminate private prisons."
"And in general, Biden's policy proposals, including thoughtful pathways for legal status, the end of cash bail and sentencing reform," Simon said, "should allow us to build systems that can end our infamy as the country that incarcerates more people than any other in the world."'
Josh Levin, the co-founder of OpenInvest, a values-based investing platform, also felt Biden's executive order "is a good first step but it doesn't address DHS or ICE."
He credited activist investors with getting a number of private prison companies downgraded to junk bond status, to the point where major banks have cut ties. Still, he said there was more work to be done.
"Private prison companies knew this was coming and have been diversifying their businesses," Levin told Newsweek, "with nearly 80 percent of private prison revenues now coming from sources like immigration detention or post-incarceration services."
But private prisons continue to account for a disproportionate number of immigration-related detentions. Human Rights Watch reported that, "As of January 2020, more than 80 percent of people detained in ICE custody were held in facilities owned or managed by private prison corporations."
That figure has real-world consequences for people like Julio, a Cuban who fled to Panama and attempted to make it to the U.S. via caravan but was detained in Texas and transferred to Georgia's CoreCivic Stewart Detention Center. He's been incarcerated there for 18 months, awaiting deportation.
"At this point I don't care if they drop me in the Sahara desert," Julio—a pseudonym for his real name which has been withheld—said in a statement sent to Newsweek. "They need to let me free."
In the context of immigration, Sentencing Project Deputy Director Kara Gotsch said that private prisons are "an entirely different ballgame."
"The feds are uniquely dependent on private prison operator capacity for them to maintain the detention levels that, particularly under the Trump administration, were prioritized," Gotsch told Newsweek, "where there was a huge increase in the number of people held in immigration detention."
She attributed this overall rise in immigration detention to "the proliferation of private prisons, and their desire to increase beds and take in more bodies to feel their bottom line."
Like Simon of the Candide Group, she welcomed the most recent executive order as a step toward eliminating private prisons within the far larger DOJ system, in which less than 10 percent of inmates were in private facilities, but saw the exclusion of DHS in Biden's announcement as a glaring oversight.
"To ignore that entire component in the immigration space, in looking at what perpetuates private prisons," Gotch said, "if we're operating on the assumption that private prisons are harmful and are capitalizing on our fascination with locking people up, that is where we really need to focus, that's really where the administration should make it a top priority to eliminate the use of private facilities."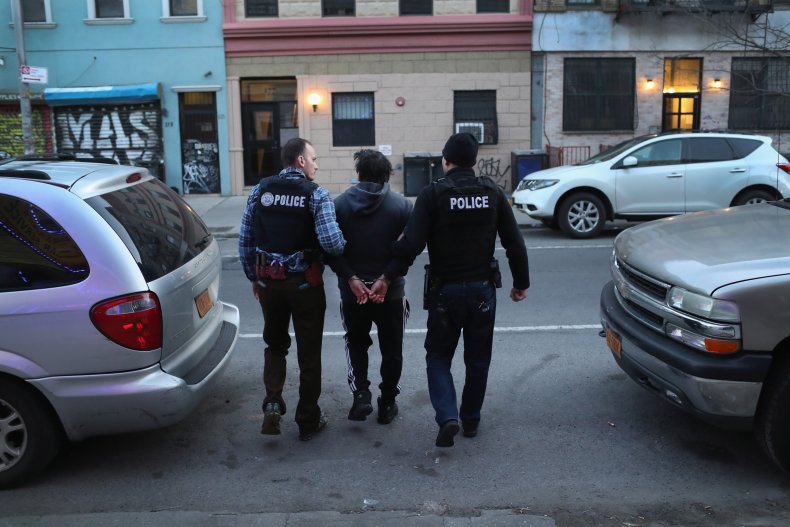 A similar conclusion was reached by American Civil Liberties Union senior advocacy and policy council Naureen Shah.
Echoing Levin, Shah told Newsweek that Biden's executive order is "an important first step, but it needs to extend to immigration detention."
She noted that considering the number of immigrants in private prisons, and the fact that up to a quarter of their profits came from ICE contracts, "the Biden administration must break ties with any business whose model is profiting off the human misery of incarceration."
She called for broader efforts to end the present costly and controversial strategy of locking away scores of individuals attempting to enter the country for no reason other than the fact they were not born here.
"This system of mass immigrant incarceration must be dismantled," Shah told Newsweek. "It is deadly, abusive, and a horrible use of taxpayer resources."
She said this is just the start of true reform.
"Ending contracts with private prison companies is an important start, but it's just the beginning," Shah said. "The administration must shut down facilities, reduce ICE's budget, and meaningfully shrink the ICE enforcement infrastructure that has abused and traumatized immigrants in the U.S."
This article has been updated to include a comment by OpenInvest co-founder Josh Levin.