Roderick Strong Defeats Velveteen Dream to Fulfill Undisputed Era Prophecy
Guess you can call the first live episode of NXT "undisputed."
Following Roderick Strong's victory over Velveteen Dream for the North American Championship, the Undisputed Era have fulfilled their own prophecy and each member has a title of their own.
The first hour of NXT on USA was main evented by the North American Championship match between Dream and Strong. For about 20 minutes, both competitors gave each other everything they had but when Strong couldn't put away Dream the rest of The Undisputed Era came out to the ring.
A momentary distraction allows for Strong to throw Dream into the referee unintentionally. This allows the UE get on the apron, but Dream knocks them down. Strong uses this opportunity to hit an End of Heartache but Dream kicks out.
Fish then distracts the referee, which allows for Adam Cole to hit Dream with the Superkick, allowing Strong to hit a second End of Heartache and get the pin.
At the start of the year, Adam Cole declared to the NXT faithful that 2019 would be The Undisputed Era's year and they will all be "draped in gold." While it took most of the year, all four members made good on that promise.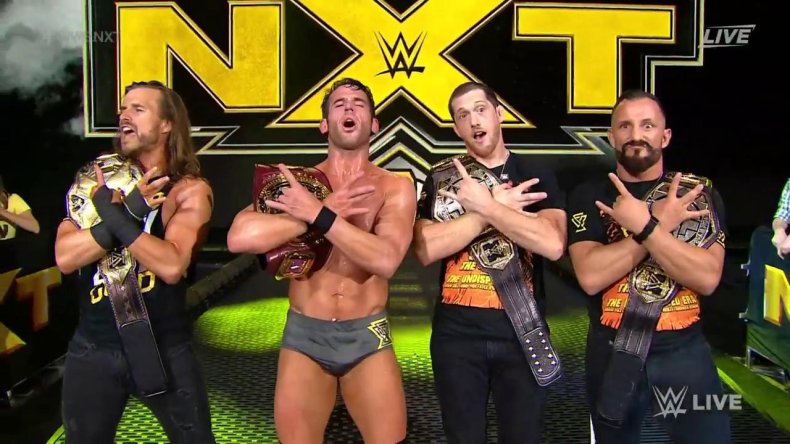 Adam Cole, Bobby Fish and Kyle O'Reilly formed the Undisputed Era after their debuts at NXT Brooklyn III in 2017. They made their presence known when they attacked the then NXT Champion Drew McIntyre.
Fish and O'Reilly would find success quickly by winning the NXT Tag Team Championships, while Cole would become the first North American Champion at Takeover: New Orleans in 2018. That same night, Roderick Strong - who the Undisputed Era were trying to recruit for weeks - turned on his tag team partner Pete Dunne to give the UE the victory and retain the Tag Team Championships.
Cole would eventually lose the North American title to Ricochet at Takeover: New York in April, but would win the NXT Championship at Takeover 25 against Johnny Gargano.
O'Reilly and Fish would become the first three time NXT Tag Team Champions when they defeated the Street Profits on an episode of NXT after Takeover: Toronto. Strong, who teamed with O'Reilly to defend the Tag Team Championships when Fish was injured, would fail to capture the North American Championship at Takeover: Toronto when Dream stole the pin on Pete Dunne.
What The Undisputed Era having all the titles means for the NXT brand is unclear, but they'll all have a target on their backs moving forward.
What do you think of the Undisputed Era having all the titles? Let us know your thoughts in the comments section.