Despite reports that the unemployment rate had fallen in May amid the coronavirus pandemic, not all furloughed workers were classified as "unemployed." Had they been counted, the rate would have risen by 3 percent.
The Bureau of Labor Statistics (BLS) released unemployment data for May on Friday morning. The official unemployment rate for May was 13.3 percent, down 1.4 percent from April's rate of 14.7 percent.
However, according to the BLS, furloughed workers should be classified as "unemployed on temporary layoff." A number of these workers were instead mistakenly classified as "employed but not at work." Though some people classified as "unemployed on temporary layoff" were correctly identified, the BLS estimates that about 4.9 million workers out of 5.4 million were erroneously listed as being employed.
Had these miscategorized workers been counted correctly, the BLS estimates the true unemployment rate would be 16.4 percent. While this adjusted rate is higher than April's official rate, the BLS says a similar misclassification happened in that month as well, and the adjusted rate for April would be 19.2 percent.
The BLS and Census Bureau are investigating why the error in counting is happening. The bureaus said they're working to address the issue. The data that determines the official unemployment rate, however, is not adjusted to "maintain data integrity," according to the BLS.
Newsweek reached out to the BLS for further comment. This story will be updated with any response.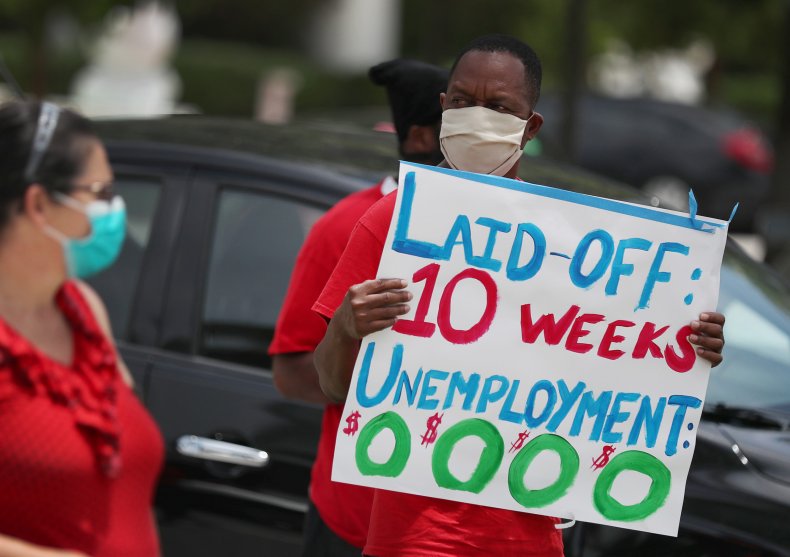 Even if the adjusted May unemployment rate of 16.4 percent is used, that particular month had lower unemployment than expected by analysts. Many experts had expected May's rate to be near 20 percent.
"These improvements in the labor market reflected a limited resumption of economic activity that had been curtailed in March and April due to the coronavirus (COVID-19) pandemic and efforts to contain it," the BLS said. "In May, employment rose sharply in leisure and hospitality, construction, education and health services, and retail trade. By contrast, employment in government continued to decline sharply."
The increase in employment hasn't hit all sectors. Aside from the decrease of government employment as mentioned by the BLS, a record number of nurses and other health care practitioners were laid off. These lost jobs were due to the stop in elective surgeries and routine procedures due to the coronavirus pandemic. In April, 1.4 million health care workers lost their jobs.
"Treatment for COVID-19 has created an incredible demand for certain medical equipment and supplies as the virus has disrupted supply chains, increasing the costs that hospitals face to treat COVID-19 patients," the American Hospital Association said in a statement. "At the same time, COVID-19 has led to unprecedented job losses, giving way to a rise in the number of uninsured. And while doctors, nurses, and other health care workers have met the COVID-19 challenge with heroic efforts, many hospitals and health systems, especially those located in hot spot areas of the pandemic, are supporting them by providing essentials like child care, transportation, and in some cases, housing."
Additionally, unemployment numbers were worse for African Americans and Asian Americans. Unemployment for African Americans went up by 0.1 percent to 16.8 percent, while the rate for Asian Americans rose 0.5 percent to 15 percent. In comparison, white Americans' unemployment declined 1.4 percent to 12.4 percent.