U.S. Unemployment Rate Falls Despite Pandemic—But Not for Blacks and Asians
Unemployment across the U.S. has declined as the easing of coronavirus lockdown measures boosted work opportunities. But for black and Asian communities, job losses continued to rise.
According to figures released Friday morning by the U.S. Bureau of Labor Statistics (BLS), the official unemployment rate in May fell to 13.3 percent, down from 14.7 percent in April.
The overall improvement was unexpected after analyst predictions of a rise to near 20 percent amid tens of millions of unemployment claims. Instead, employment rose by 2.5 million.
A release from the BLS said: "These improvements in the labor market reflected a limited resumption of economic activity that had been curtailed in March and April due to the coronavirus (COVID-19) pandemic and efforts to contain it.
"In May, employment rose sharply in leisure and hospitality, construction, education and health services, and retail trade. By contrast, employment in government continued to decline sharply."
However, looking at the demographic breakdown, the unemployment rate drop was not shared equally. Unemployment among Black or African American workers went up by 0.1 percent to 16.8 percent. For Asian adults, it rose by 0.5 percent to 15 percent.
White adults, in contrast, saw a decline of 1.4 percent to 12.4 percent.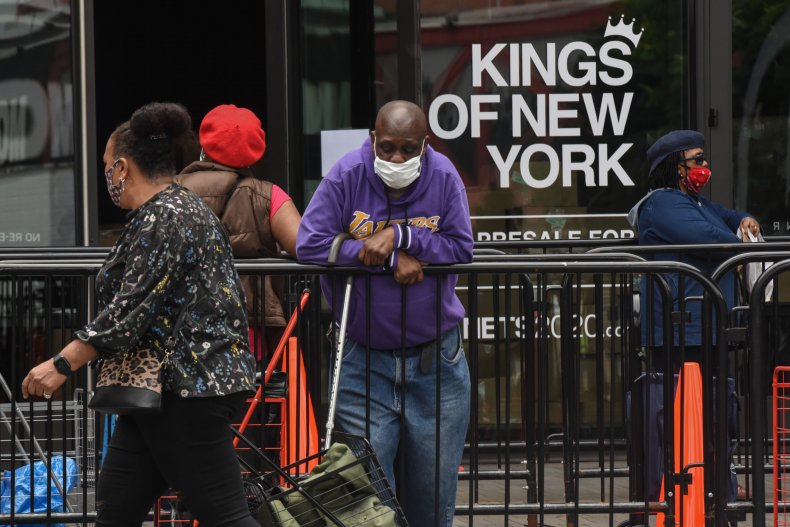 President Donald Trump welcomed the declining unemployment rate, tweeting: "Really Big Jobs Report. Great going President Trump (kidding but true)!"
Speaking at a press conference in the Rose Garden following the announcement, he said the numbers were "affirmation of all the work we've done, really for the last three and a half years."
"It's a great tribute, it's a tremendous tribute to equality," he said, while referring to previous lows in unemployment for a number of groups during his tenure.
Commenting on prior strong numbers, he said: "We're going to be back higher next year than ever before...Nobody's ever done for the black community, what President Trump has done."
After describing the U.S. as being "largely through" the pandemic, he said the nation could recover from lockdown due to having gone into it with a strong economy. "We were strong, it's sort of like if you go in for an operation and a person is healthy," Trump said.
Vice President Mike Pence told CNBC it was "a great day for America." He said "extraordinary economic news" was "a tribute to President Donald Trump's leadership."
Some Democratic lawmakers, however, were less enthused by the figures.
Rep. Bobby Rush (D-IL) responded to White House Press Secretary Kayleigh McEnany sharing the figures and wrote: "Wow. It's almost as if millions of Americans were forced to go back to work in the middle of a pandemic because your boss is incompetent. Way to go!"
Rep. Andy Kim (D-NJ) said while there can be some celebration of people going back to work, the numbers still show there is a high rate of unemployment.
"It's easy to look at these numbers are celebrate - and we should be glad that some people are getting back to work - but to think we're out of the woods yet is just plain wrong," he tweeted. "African American and AAPI saw unemployment rise. It's not a full recovery until everyone recovers."
The surprise decline in unemployment is better news for Trump's re-election campaign, which, prior to the crisis, hoped to utilize record-high employment numbers and strong economic growth as selling points to voters.
Trump has also spoken previously of his pride in low unemployment among African Americans.
However, despite the top-line improvement, the overall unemployment rate is still well above the 4.4 percent back in March of this year and 3.6 percent in May 2019. Moreover, there is no improvement in the jobless rate among African Americans.
Employment sectors to see improvements included construction, education, health, retail, service industries, and manufacturing as states started to reopen their economies because the spread of coronavirus has slowed.
Construction saw a boost of 464,000, which the BLS said recouped almost half of its April losses of 995,000. Falls continued in government employment, information, mining, transportation, and warehousing.
All 50 states are easing lockdown measures, which saw many businesses unable to operate or suffer major losses in trade.
A federal boost to unemployment benefits increased the payment by $600 per week in response to the pandemic, though this is set to end July 31. Congress may extend these extra payments, but potentially at a lower level, as previously reported by Newsweek.
The COVID-19 pandemic continues to blight the U.S., with more than 1.87 million confirmed cases of coronavirus across the nation, according to Johns Hopkins University figures.
The graphic below, from Statista, shows the states with the highest case numbers.