UNICEF Will Help Feed U.K. Children for First Time in Its History
For more than 70 years UNICEF has worked across 190 countries to support the world's most vulnerable children but for the first time in its history, the COVID crisis has seen the United Kingdom added to the list.
Hunger among children hit by the COVID-19 crisis in Britain is a "domestic emergency", the charity said. It will help support children and families at risk of food insecurity this Christmas with £25,000 ($34,000) of funding for a project to supply almost 20,000 breakfasts to children during the school holiday.
The UN agency, which provides humanitarian and developmental aid to children worldwide, said the impact of the pandemic on youngsters is comparable to the Second World War. Its grant will go to the School Food Matters charity, based in the London borough of Southwark, and represents the first time in UNICEF's 70-year history that it has moved to develop a U.K. emergency response.
Charity founder Stephanie Slater said many children in the U.K. are facing "the grim reality of a two-week winter break without access to free school meals and the indignity of having to rely on food banks".
Britain entered its first national lockdown in March and in the months since - much like in the rest of the world - the number of families struggling to make ends meet has grown as hundreds of thousands of jobs have been lost. In May, a YouGov poll commissioned by the charity Food Foundation found that 2.4 million children were living in food-insecure households. By October, the charity found that an extra 900,000 children in Britain had registered for free school meals.*
School meals have been subsidized by the government for more than a century, in an initiative first brought in to prevent child poverty. The meals, given to children during school term, can be the only hot food they will get in a day.
Parents previously told Newsweek of their fears about being unable to provide their children with nutritious food during the school holidays when the free meals are no longer available. The children of low-income families receiving certain income-related government benefits including Universal Credit are eligible for the free school meal scheme. Three million families had joined Universal Credit in the first three months of the COVID pandemic.
The issue of free school meals hit the headlines in Britain over the summer when Premier League footballer Marcus Rashford led a campaign for the government to extend the meals during the school holiday by offering food vouchers to parents. After initially refusing, the government eventually U-turned and agreed to the voucher scheme.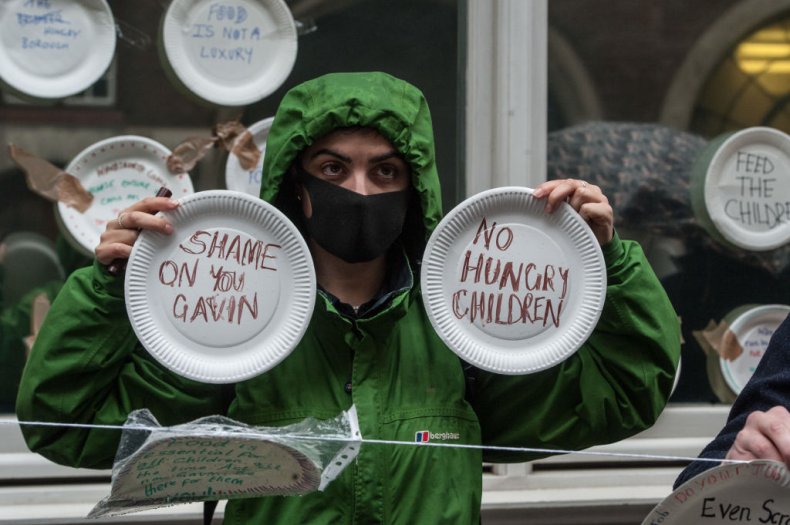 School Food Matters provided breakfast boxes to families eligible for free school meals during the summer holiday - helping to provide more than 500,000 healthy breakfasts. Over the Christmas break, alongside Premier Foods, Southwark Council and Southwark Food Action Alliance it will deliver another 18,000 breakfasts to 25 schools across Southwark. Each breakfast box will provide enough food for 10 breakfasts.
Slater said: "Our Breakfast Boxes program has also shown us that the threshold for free school meal eligibility is too low to capture all the families in need of support. That's why we're getting behind the National Food Strategy call for an extension to free school meal eligibility. We cannot continue to rely on civil society to fill the hunger gap as too many children will miss out on the nutrition they need to thrive."
The Joseph Rowntree Foundation (JRF), a charity that aims to solve poverty, released a report this month stating that half a million children across the U.K. are living in destitution, with the number of children living in extreme poverty increasing by 52 percent in two years. Destitution is defined as when a household cannot afford two or more of the essentials that we all need to live, like shelter, food, heating and clothing.
Foodbank charity the Trussell Trust said, on average, it gave out 2,600 parcels of food to children every day between April and September. "We feel it's critical to come together at this time," Anna Kettley, of UNICEF UK, told Sky News. "It's the first time which we're recognising that this is an unprecedented situation which requires everyone to roll their sleeves up, step in and support children and families that need it most at this time."
*Study Methodology & Notes
From an online survey of 2,284 adults in households with children in the United Kingdom conducted on April 24 to 29 April by YouGov Plc. More information is availble from the Food Foundation here.