Following a New York City Amazon warehouse's historic vote to unionize, the Amazon Labor Union has been hearing from other warehouses across the country, an organizer said.
In a Twitter post, Christian Smalls, one of the labor union's organizers, said that since the vote last Friday to unionize, workers in more than 50 Amazon warehouses nationwide, as well as several from overseas, have contacted the union.
Last week, the Staten Island, New York facility, became the first Amazon warehouse to successfully vote to unionize. This followed disagreements between the retail giant and the workers. Amazon insisted unionizing would not be the "best answer" for employees, while representatives for the labor union said that process of unionizing is "a fight we're ready for."
Amazon has so many employees that Business Insider reported last year that one out of every 153 employed workers in the U.S. works for the company. According to Amazon's website, the company's fulfillment centers can employ more than 1,500 full-time employees, meaning that if all 50 warehouses were to unionize, about 75,000 workers would be affected.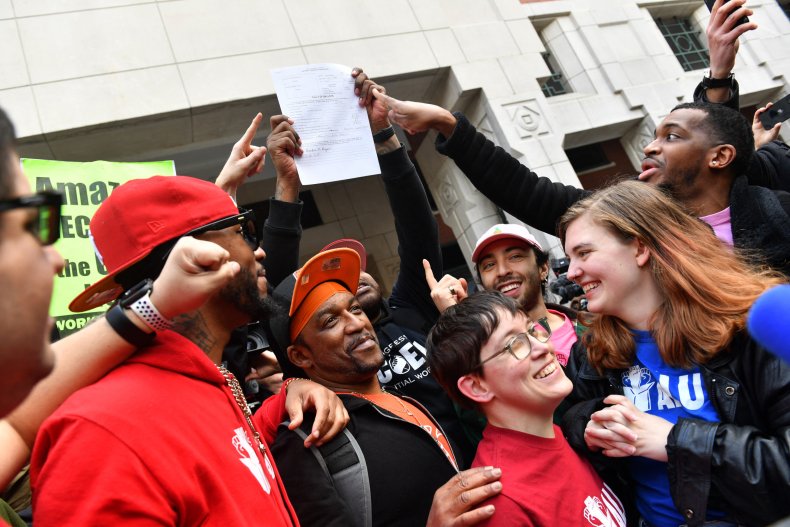 The New York employees voted 2,654-2,131 in favor of unionizing, according to the National Labor Relations Board. In a previous statement, Amazon said it was "disappointed" with the election's outcome "because we believe having a direct relationship with the company is best for our employees."
In a press release, the union said it was fighting for "higher wages, job security, safer working conditions, more paid time off, better medical leave options and longer breaks."
Smalls, who was a manager at the Staten Island warehouse, led an employee protest in 2020 against the working conditions Amazon employees experienced during one of the peaks of the coronavirus pandemic. After two employees at the warehouse got the virus, Smalls and other employees walked out, demanding that the building be cleaned.
Shortly afterward, Smalls was fired, although the company said this was because he did not follow social distancing guidelines. This encouraged him to start the union.
In notes from a 2020 Amazon meeting obtained by Vice, Amazon General Counsel David Zapolsky said Smalls was "not smart or articulate" and planned a strategy that would make Smalls "the most interesting part of the story, and if possible make him the face of the entire union/organizing movement."
In a tweet posted after the successful vote to unionize, Smalls called out Zapolsky and Amazon founder Jeff Bezos, writing, "[Amazon] wanted to make me the face of the whole unionizing efforts against them.... welp there you go!"
Amazon did not immediately respond to Newsweek's request for comment.
Update 04/05/22 2:30 p.m. ET: This story was updated to add more information and background.