Delayed Idaho Murders 911 Call Finally Explained
The reason why there was an eight-hour gap between the University of Idaho murders being committed and the surviving roommates calling 911 may have finally been revealed by an anonymous source who spoke to one of them.
The person who reportedly spoke to one roommate following the murders has told NewsNation that one of those spared by the murderer thought the noises coming from the rooms above her in the middle of the night were because the housemates were still partying after a night out, and mistook the man who police believe to be the killer as a guest leaving the property.
On November 13, the bodies of students Madison Mogen, Kaylee Goncalves, Xana Kernodle and Ethan Chapin were found in an off-campus residence the three women shared in Moscow, Idaho.
Bryan Kohberger, a 28-year-old Ph.D. student in criminal justice and criminology at Washington State University, has been charged with four counts of first-degree murder and burglary in connection with the slayings. He has maintained his innocence.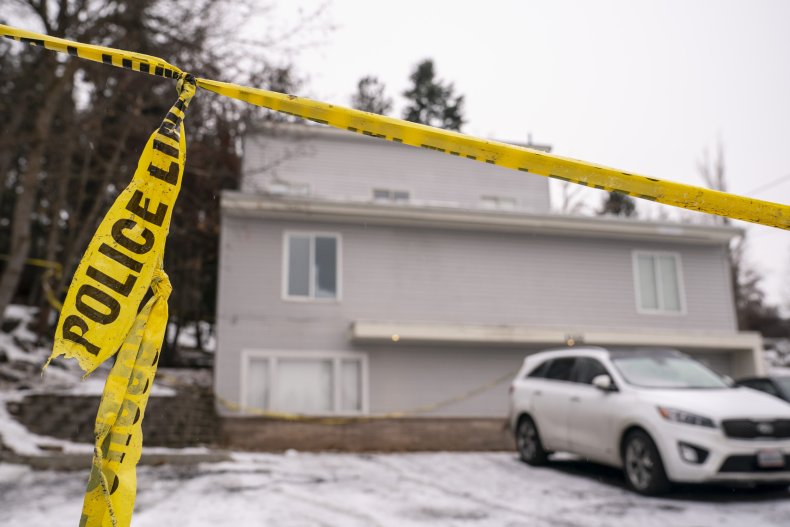 According to an affidavit by Brett Payne, a police officer who responded to the incident, released in January, two other roommates—identified by multiple media outlets as Dylan Mortensen and Bethany Funke, but referred to in court documents as B.F. and D.M.—were inside the residence at the time of the homicides.
The two were interviewed by law enforcement officers and said the occupants were all at home by 2 a.m. local time that evening, and "asleep or at least in their rooms by approximately 4 a.m.," Payne wrote. Kernodle received a DoorDash delivery at around 4 a.m.
"D.M. stated she originally went to sleep in her bedroom on the southeast side of the second floor," Payne noted. "D.M. stated she was awoken at approximately 4 a.m. by what she stated sounded like Goncalves playing with her dog in one of the upstairs bedrooms, which were located on the third floor. A short time later, D.M. said she heard who she thought was Goncalves say something to the effect of 'there's someone here.'"
The affidavit noted that this voice could have been that of Kernodle, as forensic analysis of her phone showed she accessed TikTok at 4:12 a.m. D.M. looked out of her window but couldn't see anything.
Payne continued: "D.M. stated she opened her door a second time when she heard what she thought was crying coming from Kernodle's room. D.M. then said she heard a male voice say something to the effect of 'it's ok, I'm going to help you.'"
According to NewsNation host Ashley Banfield, the source said the roommate "actually mistook the noises" thinking "that there were roommates horsing around, that perhaps all that noise that she was hearing was them being boisterous and still in party mode."
D.M. opened her door for a third time after hearing crying and "saw a figure clad in black clothing and a mask that covered the person's mouth and nose walking towards her."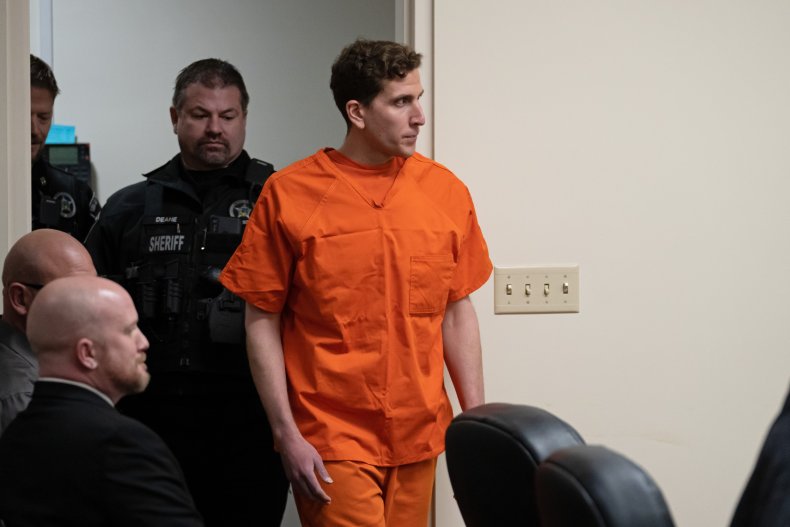 "The male walked past D.M. as she stood in a 'frozen shock phase,'" Payne added. "The male walked towards the back sliding glass door. D.M. locked herself in her room after seeing the male."
After the public release of the affidavit, questions were raised as to why the surviving roommate didn't call for help.
Dr Katherine Kuhlman, a police and public safety psychologist, suggested to Fox News that she may have been petrified with fear. "When a person goes through trauma, they are going to experience fight, flight or freeze," she said. "Most people in their entire lives won't have to deal with this type of trauma and won't mentally prepare for it."
The affidavit said that officers responded to reports of an unconscious person at the property at 4 p.m. the same day. Police previously stated that the 911 call came in at 11:58 a.m. Moscow Police Chief James Fry told local news channel KREM in December that the tape would be released "when the prosecution believes that we can."
"This has been a big bone of contention for a lot of people: why, if you saw some shadowy figure walking towards you would you just close your door and go back to bed and not call the police," Banfield said on Thursday. "And the characterisation to the source who spoke directly to her after the murders is that she didn't think that that figure was anything other than part of the horsing around—maybe one of the partyers."
Newsweek was unable to contact the Moscow Police Department for comment as it, along with attorneys involved in the case, is barred from communicating with the media following a January 3 court order.