Amid Unrest, Russia Troops to Head to Belarus for Drills Near Tense West Border
Russian troops were soon set to arrive in Belarus to hold joint annual drills near the tense western border as the embattled Eastern European country's leader prepared a trip to Moscow amid unrelenting protests at home.
The Slavic Brotherhood exercises were scheduled to begin Thursday and run through the following Tuesday at the Brestsky training range near the city of Brest, situated at the country's western border with Poland.
The yearly trilateral training between Belarus, Russia and Serbia has alternated between the three participating countries, though the Serbian Defense Ministry dropped out at the last minute Wednesday, citing "terrible and undeserved pressure from the European Union" that has pushed Belgrade to suspend all military drills for the next six months.
This year's Slavic Brotherhood comes at a difficult time for Belarus, as mass protests continue to sweep the country in response to allegations that President Alexander Lukashenko's latest re-election was fixed.
Facing a potentially serious threat to his 26-year rule, Lukashenko turned to his Russian counterpart Vladimir Putin. The two have a complex past, with Lukashenko at times opening to the West, but he made it clear that the pair were in sync on security.
"We may spar in a manly way over any issue, but defense and security will remain sacrosanct," Lukashenko told Russian media outlets in a story that aired Wednesday.
"Remember when I said—and you laughed at it then—that perhaps we would see the day when Putin and yours truly would have to stand back to back to fight against the attackers," Lukashenko said. "You took that as a joke then! Now you can see how reality has turned out."
The Belarusian leader said he would go to war should the West try to strike at Russia.
Moscow officials have so far said no intervention in Belarus was necessary at this time, but Putin has set up a special law enforcement unit tasked with responding should things get out of hand. The two heads of state have spoken frequently via telephone in the weeks since the election early last month, and Lukashenko was set to head to the Russian capital early next week for further consultations.
Kremlin spokesperson Dmitry Peskov on Wednesday dismissed the notion that Russia would be "swallowing up" Belarus "or merging at all" with the country after the visit, according to the state-run Tass Russian News Agency.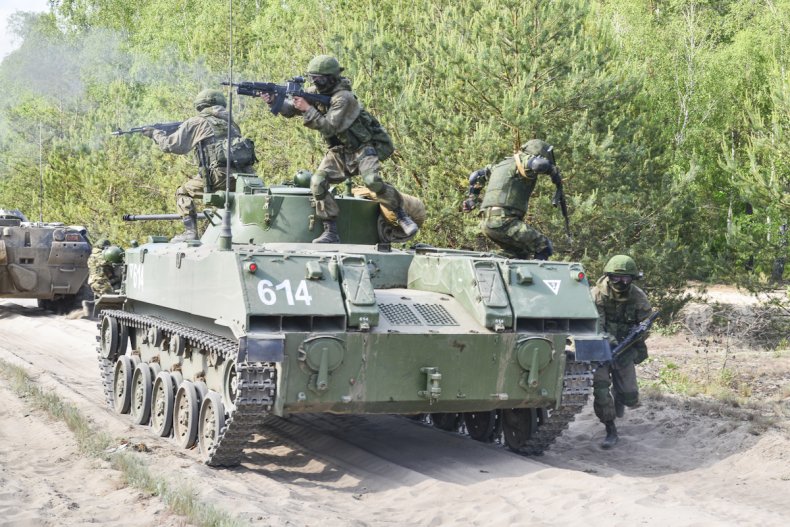 But Lukashenko's remarks and his military activities have drawn the attention of neighboring Latvia, Lithuania and Poland, members of the U.S.-led NATO Western military alliance he accuses of inciting opposition forces against him. All three countries recently expressed concern to Newsweek as the Belarusian leader claimed they were mobilizing forces at the western border, where he sent his own troops for a series of exercises late last month.
Lukashenko has warned, "this is just the beginning," as opposition figures are fleeing, expelled or jailed under his crackdown.
He argued during Wednesday's interview that Washington was operating against him via the Polish capital of Warsaw. He also claimed that other opposition "centers" were being established in the Czech Republic, Lithuania and Ukraine, where a pro-West government was formed amid unrest in 2014. Lukahsenko saw a plot to oust him in order to bring leadership similarly sympathetic to the U.S. and its European allies.
Lukashenko's electoral opponent, Sviatlana Tsikhanouskaya, has relocated to Lithuania, and was in Poland on Wednesday to receive a symbolic key to a pro-opposition center established to support Belarus' civil society. Another opposition leader, Maria Kolesnikova, also spelled Kalesnikava, was detained along with her colleagues under yet unknown circumstances, leading to what was reported to be an attempted expulsion to Ukraine.
The disappearances prompted Secretary of State Mike Pompeo to express that he was "deeply concerned" over the situation in a statement published Tuesday.
"We commend the courage of Ms. Kalesnikava and of the Belarusian people in peacefully asserting their right to pick their leaders in free and fair elections in the face of unjustified violence and repression by the Belarusian authorities," Pompeo said, "which included brazen beatings of peaceful marchers in broad daylight and hundreds of detentions September 6, as well as increasing reports of abductions."
Pompeo said the U.S. is considering expanding the sanctions it has already imposed on the leaders of Belarus.
"The United States, in coordination with our partners and Allies, is considering additional targeted sanctions to promote accountability for those involved in human rights abuses and repression in Belarus," he added. "We remind the Belarusian authorities of their responsibility to ensure the safety of Ms. Kalesnikava and all those unjustly detained."
Last month, U.S. officials told Newsweek there was concern that Russia may use the situation in Belarus to establish a more permanent security presence there.
NATO and the EU have also hit out at Lukashenko. Serbia, Russia's closest partner in the Balkans, has joined the European criticism as the country tilts toward the West. It signed an agreement on Friday normalizing economic ties with breakaway Kosovo in a ceremony overseen by President Donald Trump at the White House.
The move drew ire in Moscow.
Russian Foreign Ministry spokesperson Maria Zakharova shared a photo shortly after of Serbian President Aleksandr Vucic sitting before Trump in a scene she compared to an explicit moment in the 1987 U.S. film "Fatal Attraction." Vucic lashed out, prompting Zakharova to apologize and argue she intended to mock Trump, not the Serbian leader.
Belarusian Defense Ministry spokesman Igor Gremeshkevic told Tass on Wednesday that his country had not received official notification of Serbia's withdrawal from the Slavic Brotherhood exercises.
The drills were initially set to involve around 1,500 personnel and involve counterterrorism maneuvers.