U.S. Allies Demand New Vote in Belarus, While Belarus Turns to Russia for Support
U.S. allies are demanding a new national election in Belarus, fueling government claims there of Western interference that is deeply opposed by their closest ally, Russia.
As civil unrest continues to sweep Belarus in the wake of a disputed vote that saw President Alexander Lukashenko win his sixth consecutive term in office, the country's military is pressing forward with a series of border drills.
Lukashenko claimed that neighboring U.S.-led NATO military alliance states are fueling the opposition and mobilizing their own forces. But these countries say they present no threat, even as they demand new elections for Belarus.
"As the NATO Secretary General stressed earlier this week, NATO should remain vigilant and strictly defensive." the Latvian Foreign Ministry said in a statement sent to Newsweek. "NATO does not pose a threat to Belarus, and has no military buildup in the region."
Latvian officials say the issue is not with their border with Belarus — it's what's happening inside the country.
"In the current situation, the main concern for Latvia remains the use of excessive and indiscriminate use of force against peaceful civilians, and detention of political opponents and protesters," the ministry said. "Latvia will continue to support the civil society of Belarus."
Latvia said it was "following closely" the situation in Belarus after the August 9 vote that NATO deemed "neither free nor fair," as well as "Russia's actions" there, as the Kremlin offered its assistance in fending off foreign interference.
"In his attempt to quell the post-election discontent of voters and to gather external support for his re-election, President Alexander Lukashenko is actively employing a fictitious narrative of imminent external threat," the ministry said. "The attempts at presenting the Baltic States and NATO as being hostile to Belarus are absolutely unfounded and unacceptable. Latvia supports independent and sovereign Belarus."
Describing Belarus' internal situation as "complex and evolving," the Latvian Foreign Ministry called for "political dialogue between the president's administration and opposition."
But Latvia doesn't necessarily see Lukashenko as the man to solve the problems.
"Latvia considers that the only solution is new presidential elections," the Foreign Ministry said.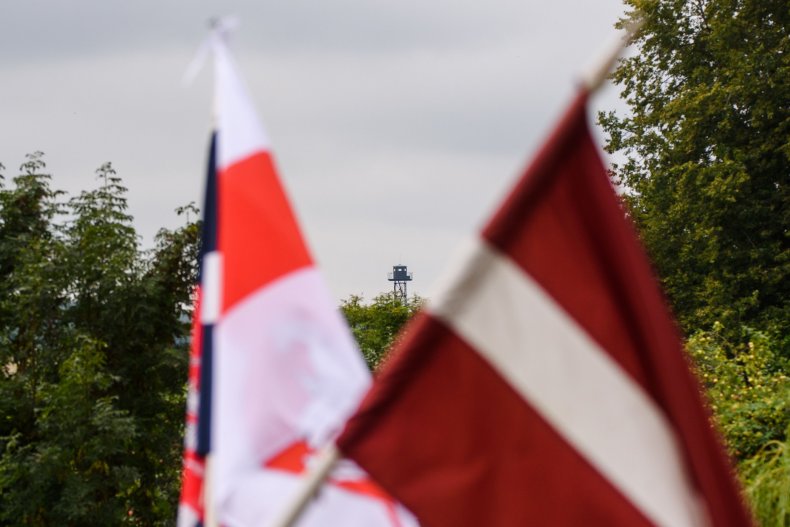 Although the Latvian officials said they had seen "no enhanced military presence of Belarus observed at the border of Latvia," the foreign ministries of Lithuania and Poland recently told Newsweek they were closely monitoring military activities at their own borders with Belarus. These two countries, along with Estonia, have also called for a new election in Belarus, which continues to press on with military exercises.
The Belarusian Defense Ministry announced Thursday additional planned training measures involving motorized units, tanks, unmanned air systems and electronic warfare equipment as part of a series of drills focused on the western Grodno region near their borders with Lithuania and Poland.
Lukashenko has delivered a series of speeches warning of NATO forces gathering "at the gates."
"There is an increase in military power on the western borders of our country," Lukashenko told a crowd of supporters last week. "Lithuania, Latvia, Poland and, unfortunately, our native Ukraine, their leadership order us to hold new elections."
In later remarks, Lukashenko alluded to a foreign-backed "color revolution" — a direct reference, well-known to his audience, to the uprisings that toppled Moscow-friendly governments in Eastern Europe amid and after the collapse of the Soviet Union.
Russia has at times intervened to protect its interests, most recently by safeguarding separatist regions in northern Georgia in 2008 and eastern Ukraine in 2014, which was countered by the deployment of NATO forces in the Baltics and Poland to shore up defenses.
Both Belarus and Russia have drawn parallels to the current unrest as part of wider U.S.-European plot to establish a pro-NATO corridor from the Baltic Sea to the Black Sea. The bodies of water represent flashpoints in the clashing spheres of influence that have emerged in the wake of the Cold War.
So far, Moscow has indicated there is no reason to step in yet, though Russian President Vladimir Putin has been in regular contact with Lukashenko. In their latest call on Monday, they discussed the situation in and around Belarus, "especially in the Western direction," according to a readout from Lukashenko's office.
On Thursday, Putin told the media outlet Russia One Channel that Lukashenko had asked him to form a law enforcement unit to act in the event of a crisis. The Russian leader emphasized that the contingent "will not be used until the situation gets out of control."
Newsweek recently spoke to U.S. officials who expressed concern that Russia may use the unrest in Belarus to establish a more permanent security presence there.
Moscow has also kept in touch with Washington on the matter. Russian Foreign Minister Sergey Lavrov, who on Thursday discussed the political and security situation with his Belarusian counterpart, had earlier met Tuesday in Moscow with U.S. Deputy Secretary of State Stephen Biegun over the topic of Belarus and other bilateral issues. Lavrov later said in his own interview with Russia One that he and Biegun both agreed that Belarus' government and the opposition should resolve their differences through talks.
But Lavrov also warned against any attempts by West-aligned countries like Lithuania and Poland to incite violence there.
"We consider such actions dangerous," Lavrov said, "and I think Mr. Biegun heard our serious warnings."