Homeowner Says UPS Driver Spat in Mailbox During Delivery, Caught on Camera
A homeowner alleged that a UPS driver spat in his mailbox during while delivering a package, as the company told Newsweek it took action against the employee.
UPS customer Alexander Martin caught the alleged incident on his Ring doorbell camera and shared it online after being shocked by what he saw.
The video, posted to TikTok on Saturday, has since gained over 80,000 views. It racked up a further 40,000 votes when reposted to Reddit. One tweet of the video gained over 324,000 views.
In the viral video, a man in a UPS uniform is seen stepping up onto the porch with a package in his hand. After placing it on the ground, he reaches over to the mailbox mounted on the wall and opens it. The footage then shows the man leaning over the mailbox—and spitting into it, the homeowner alleged.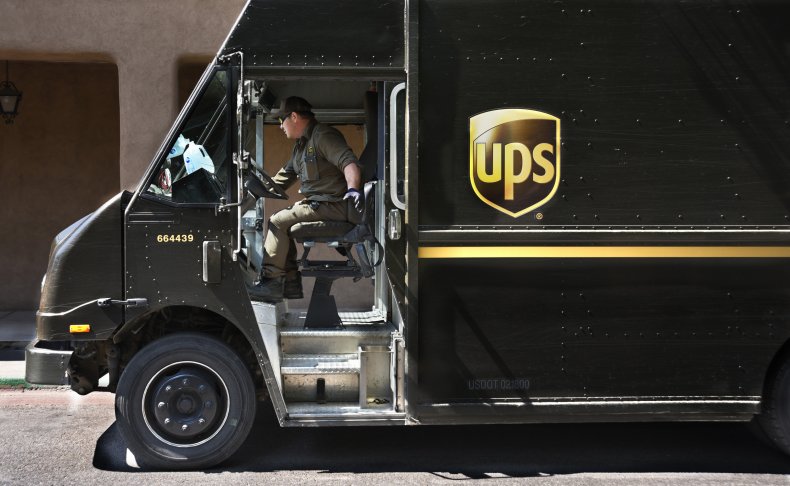 The man then drops the cover of the mailbox and walks away from the home while uttering something out loud. While what he said is inaudible in the clip, the homeowner described it as "profanity" on TikTok, saying that the driver looked at the LGBTQ Pride flag outside the home first.
Newsweek was unable to independently confirm what was said.
"Hey UPS, you want to tell me why your driver spit in my mailbox, looked directly at my pride flag, and then used profanity?" Martin captioned the video on TikTok.
A second angle showed a Pride flag clearly hanging outside the home.
A spokesperson for UPS told Newsweek: "We do not tolerate that behavior and took appropriate action with our employee as soon as it was brought to our attention."
In 2010, the United States Postal Service reported that only USPS workers should be handling mailboxes, clarifying that: "The U.S. Postal Service would like to warn people that only authorized U.S. Postal Service delivery personnel are allowed to place items in a mailbox. By law, a mailbox is intended only for receipt of postage-paid U.S. Mail."
"Just leave people alone. No one is bothering you," commented one Reddit user after seeing the alleged incident in the clip.
Viewers were left especially bewildered by the driver's decision, despite the popularity of doorbell cameras. In 2020 alone, 7.9 million doorbell camera units were reportedly sold.
Newsweek reached out to Alexander Martin for comment.