Is the U.S. About to Be Kicked Out of Its Japan Base for the First Time Since the End of World War Two?
Elections on the Japanese island of Okinawa could mean the U.S. Marines will have to dismantle a key strategic base built at the end of World War Two.
The mayor of the Okinawa city of Nago, who is seeking re-election, has made opposition to the U.S. Futenma base a key campaign pledge, tapping into local disagreement between Tokyo and the local government.
Opponents to the U.S. presence in Okinawa have stymied attempts to relocate the base to a less densely populated area for decades. Many local politicians wish to see Futenma removed from their island entirety.
Susumu Inamine, the mayor of the city of Nago, where the base is set to be relocated, is opposed to the U.S. presence and is leading current polls. His possible re-election has raised the prospect of a new disagreement over the base between Tokyo and local government.
Related: Japan news issues North Korea missile launch alert—but it's a false alarm
Built by the United States at the close of World War Two following the battle of Okinawa, the base has been a running sore in U.S.-Japan relations, Reuters reported.
Japan's central government and authorities in Okinawa have been at loggerheads since 1996 when Tokyo and Washington agreed to relocate Futenma air base from an urban part of Okinawa to the Henoko district of the northern city of Nago.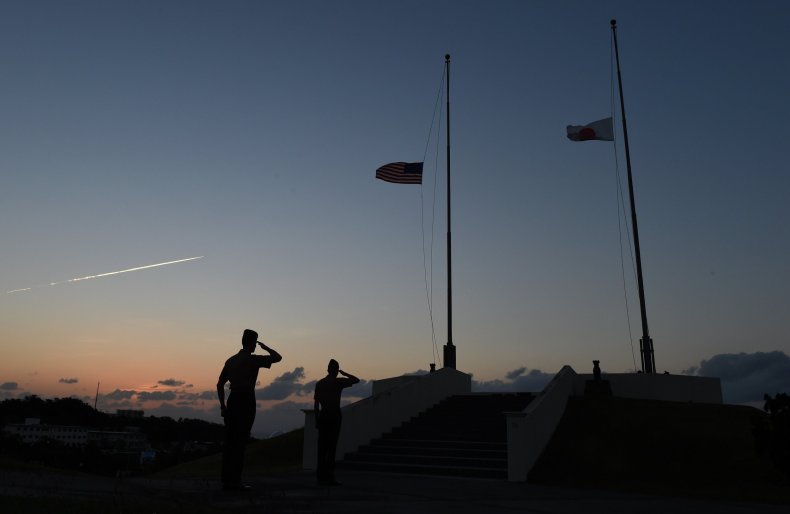 Inamine and the island's governor, Takeshi Onaga, both want all of Futenma functions relocated off Okinawa, while Japanese Prime Minister Shinzo Abe wants the wants to move ahead with the relocation to Nago.
The current base is deeply unpopular with residents, who associate the U.S. presence with crime, pollution and accidents. Local anger was provoked last month when a helicopter window fell on a school, raising safety concerns.
The gripe over the strategic base comes at an unwelcome time as Tokyo and Washington face down the threat of an increasingly belligerent nuclear North Korea.
In recent months Pyonyang has threatened strikes against the U.S. mainland, Japan and U.S. bases in Japan. In 2017 the U.S. and Japan held joint naval exercises and have planned missile tracking exercises with South Korea over the increased threat.