U.S. Adds Over Half a Million New Jobs in October, More Than Analysts Expected
The U.S. economy added more than half a million new jobs in October, a significant increase from the previous month and more than analysts expected, as unemployment ticked downward.
The Bureau of Labor Statistics' monthly jobs report, released Friday, shows that nonfarm payroll employment rose by 531,000 last month. Meanwhile, unemployment dipped to 4.6 percent—down 0.2 percent from last month's 4.8 percent.
Economists surveyed by Bloomberg had expected more modest job growth, predicting the report would show an increase of just 450,000 jobs. The October report was also a sizable improvement over September, when the report showed a gain of just 312,000 jobs.
"The unemployment rate edged down to 4.6 percent in October," the report says. "The number of unemployed persons, at 7.4 million, continued to trend down. Both measures are down considerably from their highs at the end of the February-April 2020 recession. However, they remain above their levels prior to the coronavirus (COVID-19) pandemic (3.5 percent and 5.7 million, respectively, in February 2020)."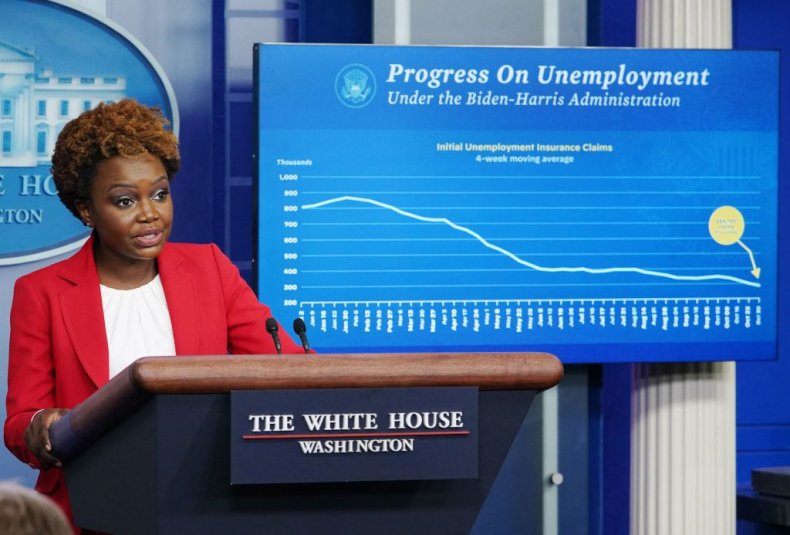 Ahead of the report's release, Mark Hamrick, a senior economic analyst at Bankrate, told Newsweek in an email that the labor market situation is still complicated.
"A number of factors of cross-currents are being seen with employment, including the record number of people quitting their jobs and a still high number of job openings," Hamrick explained. "A complication is the vaccine mandates put in place by some employers, with federal contractors like airlines among them, as well as related and other departures from the workforce, including earlier retirements."
The economist also noted that wages are on the rise, which is welcome news for workers.
"The good news for many workers is that wages have been surging and will likely continue for many sectors and positions. Wages and salaries were up 4.2 percent in the third quarter, according to the Employment Cost Index," Hamrick said. However, he also pointed out that in some instances this means additional costs are being passed along to consumers, causing inflation.
President Joe Biden and his administration will be heartened by the better than expected jobs growth. Republicans have hammered the president in recent months over the slower than expected economic recovery, amid the fallout from the pandemic.
At the same time, the nation's unemployment rate still remains elevated, compared with where it stood before March 2020. Inflation also continues to be a concern, as supply chain problems ripple throughout the U.S. and global economies.