U.S. Arms Sales Nearly Six Times Higher Than Closest Competitor Russia
The United States continues to dominate the international arms trade, dwarfing its nearest competitor, Russia, by $184.9 billion.
In 2017, Russian weapons manufacturers sold about $37.7 billion worth of arms, compared to $222.6 billion in sales by American producers, according to an annual report by the Stockholm International Peace Research Institute (SIPRI) released Monday. The amount of weapons sales from U.S. companies is just shy of six times higher than those of Russia.
But sales from Russia rose 8.5 percent more than those of the U.S., which reached 2 percent. The United Kingdom also formerly held the number-two spot for weapons sales, but Russia has now taken second place in the global ranking. Overall, Russian sales accounted for 9.5 percent of the total from the world's top 100 producers, and the U.S. sales accounted for a massive 57 percent.
Siemon Wezeman, a senior researcher with SIPRI's Arms and Military Expenditure Program, explained to Radio Free Europe that Russian companies "have experienced significant growth in their arms sales since 2011.
"This is in line with Russia's increased spending on arms procurement to modernize its armed forces," Wezeman added.
Arms sales were just shy of $400 billion last year globally, meaning that the U.S. accounted for well over half of the total from the world's top producing countries. However, the report did not include data from China, because researchers considered the information unreliable. A previous report by SIPRI suggested that while China's weapons sales had increased, they only accounted for about 5.7 percent of the world's arms exports between 2013 and 2017.
Following the U.S., Russia and the U.K. in the ranking, France takes the fourth spot with 5.3 percent of global sales. Trans-European companies account for 3.7 percent, followed by Italy at 2.6 percent and Japan at 2.2 percent.
Beyond being the undisputed world leader for weapons sales, the U.S. also spends significantly more on its military than any other nation, according to a previous report by SIPRI. Last year, Washington spent $610 billion on the military, nearly three times more than China, which spent the second highest amount at $228 billion.
In fact, U.S. military spending is larger than the combined total of the next seven biggest military spenders, which equaled $578 billion in 2017. All other countries in the world combined, besides the U.S. and the next top seven, spend just $551 billion.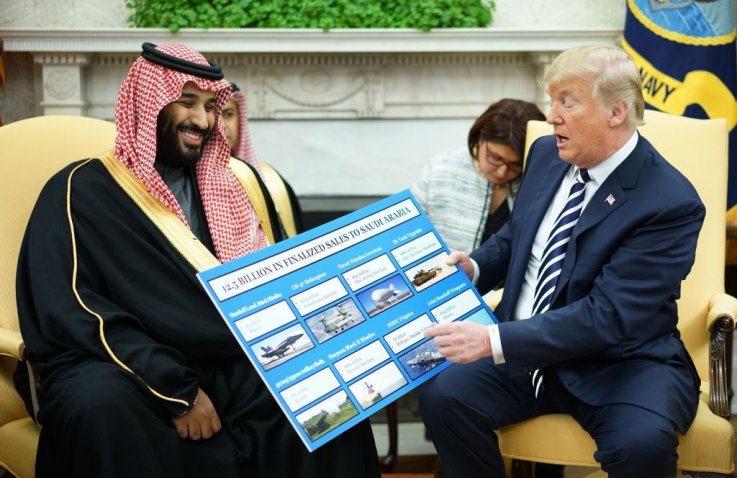 The new SIPRI report came as U.S. weapons sales to Saudi Arabia faced renewed scrutiny by senators who are outraged by the Trump administration's continued support for Riyadh despite the humanitarian catastrophe in Yemen and the murder of journalist Jamal Khashoggi. A bipartisan block of lawmakers is attempting to end U.S. support for the Saudi-led conflict with Yemen, citing human rights concerns and national interests.
President Donald Trump has insisted that Saudi Arabia is a "great ally," and pointed to a multi-billion-dollar arms deal that he argues will benefit the U.S. economy. Republican and Democratic lawmakers have pushed back, noting that the kingdom's human rights abuses should concern Washington.
"I think selling arms should have to deal solely with our national security, not jobs, not money, nothing," Republican Senator Rand Paul from Kentucky said Sunday on NBC News's Meet the Press. "I think our involvement in this terrible war [in Yemen] is one of the things that engenders more terrorism."
U.S. Arms Sales Nearly Six Times Higher Than Closest Competitor Russia | World