U.S.-Backed Taiwan Vows Defense of 'Precious Democracy' Amid China's 'Constant Advances'
Taiwan has praised the Biden administration's supportive initiatives and vowed to defend its hard-fought democratic freedoms as China continues its attempts to squeeze it out of the international arena.
Beijing's relentless pursuit of Taiwan was underscored once more by Xi Jinping last week, when he declared the Chinese Communist Party (CCP)'s "unshakable commitment" to resolving the "Taiwan question."
As Taiwan's President Tsai Ing-wen and her Democratic Progressive Party strike up their first meaningful relationship with a Democratic government in the U.S., one policy analyst argues China now faces the "uncomfortable" truth of deepening U.S.-Taiwan ties.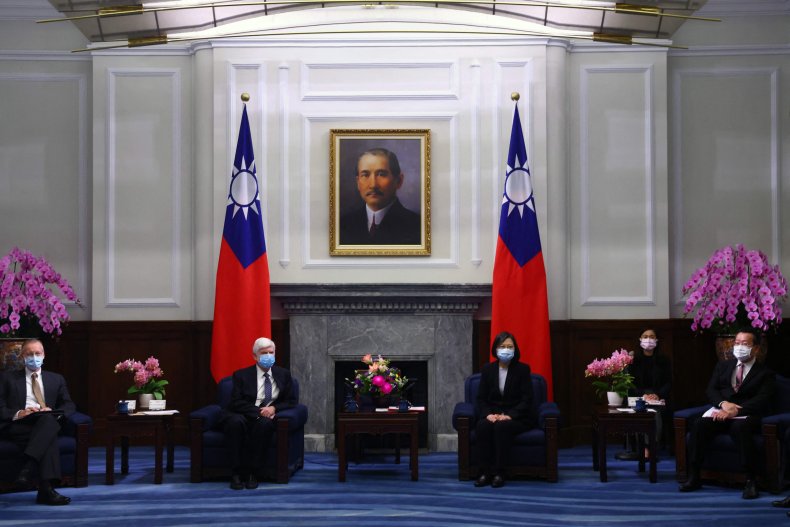 While the CCP celebrated its centennial on July 1, a buoyant Tsai administration said Taiwan's relationship with the U.S. was that of "long-time close friends"—and was still improving.
"The U.S. government considers Taiwan a model democracy, one of its closest security and economic partners as well as a force for good in the world," Foreign Ministry spokesperson Joanne Ou told Newsweek.
She said the Biden administration had demonstrated its strong support through "concrete actions," and reiterated its "rock-solid" commitment to Taiwan while helping to expand its international space.
"Amid aggressive actions and disinformation attacks by authoritarian governments like China, Taiwan and the United States have constantly strengthened our cooperation and deepened our comprehensive partnership on the basis of shared values and interests," Ou added.
Despite the political impasse across the Taiwan Strait, China remains Taiwan's largest trading partner, accounting for about one-third of total exports in 2020—double the amount sent to the U.S., the next country on the list.
Only three markets in the top 10 were part of Taiwan's New Southbound Policy, Tsai's plan to address economic dependence on Beijing. Combined exports to Singapore, Vietnam and Malaysia were valued at roughly 37% of China's $103.1 billion.
Taipei sees long-term asymmetric dependence as a national security risk, but critics say attempts to diversify Taiwan's trading relationships have not yielded substantial results.
While observers blame Beijing or Taipei—or both—for a relationship fraught with tensions since Tsai's first election win in 2016, most agree that peaceful coexistence is the ideal outcome for all.
Despite China's increasingly threatening approach in recent years, Tsai hopes for—and is willing to engage in—meaningful cross-strait dialogue under the principles of "parity and dignity," Ou said.
"However, faced with the security challenge posed by China and its constant advances on our country, our government must strengthen Taiwan's self-defense capabilities and firmly safeguard the Taiwanese people's precious democracy, freedom, peace and prosperity," she added.
"We urge Beijing not to misjudge the situation to create conflict or alter the status quo," Ou said, calling on China to "restart positive cross-strait interactions on the basis of peace, parity, democracy and dialogue."
Taiwan's Foreign Ministry praised the U.S. for raising serious concerns about "China's provocations toward Taiwan," saying it was significant to maintaining peace and stability in the Indo-Pacific.
During the Trump administration, the Chinese government characterized all U.S. interactions with Taiwan as deliberate provocations ultimately aimed at Beijing. It then ramped up its bellicose rhetoric and military coercion—against Taipei rather than Washington—as Biden officials continued to speak up for Taiwan's democracy.
In parting remarks last month, Raymond Greene, the second most senior U.S. official in Taipei, said the U.S.-Taiwan relationship had undergone a "fundamental change" and no longer always revolved around American policy on China.
"The United States no longer sees Taiwan as a 'problem' in our relations with China," said Greene. "We see it as an opportunity to advance our shared vision for a free and open Indo-Pacific and also as a beacon to peoples around the world who aspire for a more just, safe, prosperous and democratic world."
In their capacities as director and deputy director of the American Institute in Taiwan, Brent Christensen and Raymond Greene were awarded Taiwan's Grand Medal of Diplomacy and Friendship Medal of Diplomacy, respectively.
Their three-year terms at the de facto U.S. embassy in Taiwan end this summer.
In a series of responses to Newsweek ahead of the CCP's 100th anniversary, Taiwan and China analysts explained the current state of relations in the Washington, Taipei and Beijing triangle.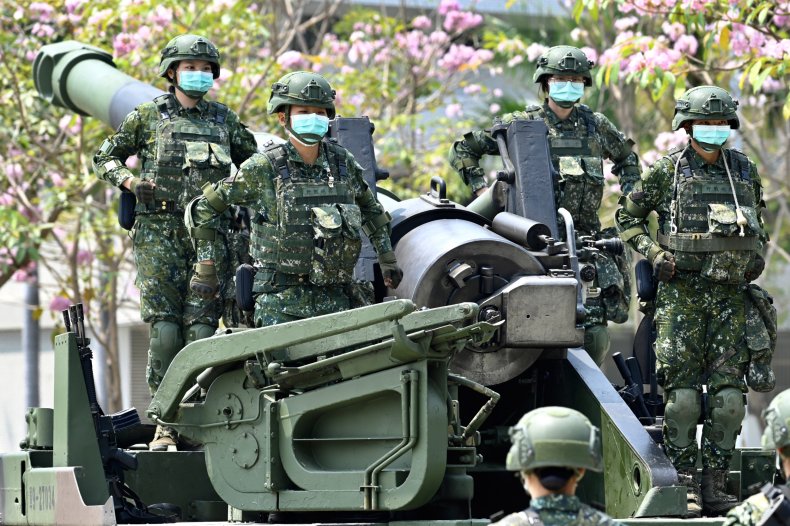 Bryce Barros, a researcher with the Alliance for Securing Democracy at the German Marshall Fund in D.C., said deepening U.S.-Taiwan relations did not come as a surprise given increased hawkishness and skepticism toward the CCP among policymakers in Washington.
Xi's more aggressive posturing "reflects a consensus within the CCP leadership that calls for a more assertive policy toward its frontier possessions (Xinjiang, Tibet, Inner Mongolia, and Hong Kong) as well as its periphery (Taiwan, Australia, South Korea, etc.)," he said.
"A Taiwan free from China's coercion would definitely be in line with U.S. economic and security interest," said Yeh-chung Lu, a professor at National Chengchi University in Taipei.
The recent resumption of U.S.-Taiwan trade talks "demonstrated how the Biden administration is seeing Taiwan on its own merits rather than just playing a card," he argued.
But observers are also seeing less and less room for cross-strait engagement under current conditions.
Lin Pu—a former staffer at Taiwan's Institute for National Defense and Security Research (INDSR), now pursuing a political science Ph.D. at Louisiana's Tulane University—said China's influence operations or "United Front Work" to "infiltrate Taiwanese society and undermine democracy" has only increased since 2016.
With tensions rising across the Taiwan Strait during Xi's leadership, the Chinese president's foreign policy, including on Taiwan, "hasn't encouraged Taiwanese people to elect a Beijing-friendly government," Pu notes.
"Moreover, Xi and the [People's Republic of China] government have to face the uncomfortable situation that the U.S. and Taiwan are building a more advanced relationship," he concluded.
According to national security analyst Su Tzu-yun, who is a senior fellow at the Defense Ministry-backed INDSR, cross-strait tensions will only increase as Xi holds firmly on to power.
"But the problem lies in Beijing's expansionism, rather than any provocation by Taiwan," he said.
China's military spending has doubled from $100 billion to over $209 billion in 2021 in the decade since Xi came to power, the researcher adds, pointing to China's pursuit of a nuclear triad under his watch.
"Taiwan's security is not only about its own survival," Su said, "it's also related to Japan and South Korea's maritime lifelines, as well as the missile defense of the contiguous United States."