US Names Two Iranians Blamed for Ex-FBI Agent's Disappearance, Likely Death
U.S. officials are laying blame on two Iranian officials for their suspected role in the disappearance some 13 years ago of a former FBI agent.
The Treasury Department identified Mohammad Baseri and Ahmad Khazai, two individuals said to be associated with the Iranian Ministry of Intelligence and Security, as having a direct role in the alleged abduction, detention and probable death of Robert Levinson, a former FBI agent whose whereabouts have not been made known since vanishing from Iran's Kish Island in 2007.
Baseri is described as "a high-ranking MOIS officer involved in counterespionage activities in and outside of Iran, who has been involved in sensitive investigations related to Iranian national security issues." He "has worked directly with intelligence officials from other countries in order to harm U.S. interests," according to the Treasury Department.
Khazai, for his part, is described as "a high-ranking member of the MOIS who, in his role as a senior official of the MOIS, has led MOIS delegations to other countries to assess the security situation."
Officials on Monday's phone call declined to discuss in specifics how the two Iranians were implicated in Levinson's case but both men were linked by the U.S. to a larger trend of Iranian misconduct over the past four decades.
"The abduction of Mr. Levinson in Iran is an outrageous example of the Iranian regime's willingness to commit unjust acts," Treasury Secretary Steven T. Mnuchin said in a statement Monday. "The United States will always prioritize the safety and security of the American people and will continue to aggressively pursue those who played a role in Mr. Levinson's detention and probable death."
The details surrounding Levinson's travel to Iran remain unclear, but the Associated Press reported in 2013 that he was carrying out an unauthorized mission for CIA analysts at the time. But U.S. officials have not publicly acknowledged his intelligence work, even after they updated their assessment of him March in as having liked died while in Iranian custody sometime earlier this year.
In a call with reporters ahead of the announcement, senior administration officials railed against the Islamic Republic for its alleged involvement in the affair.
"This is the worst case of Iranian hostage-taking, abducting an American, holding him outside the judicial process for perpetuity, potentially killing him," one of the officials said. "No family should be subjected to this uncertainty."
In a statement sent to Newsweek, Levinson's family thanked U.S. officials for the announcement and their continued efforts, but lamented that even this would never bring him back.
"Robert Levinson will never come home to his family alive because of the cruel, cynical and inhumane actions of the Iranian authorities," the statement said. "Because of these men and others like them, our wonderful husband, father and grandfather died alone, thousands of miles from everyone he loved. This is just one step in a long road toward achieving justice for him, but it is an important one."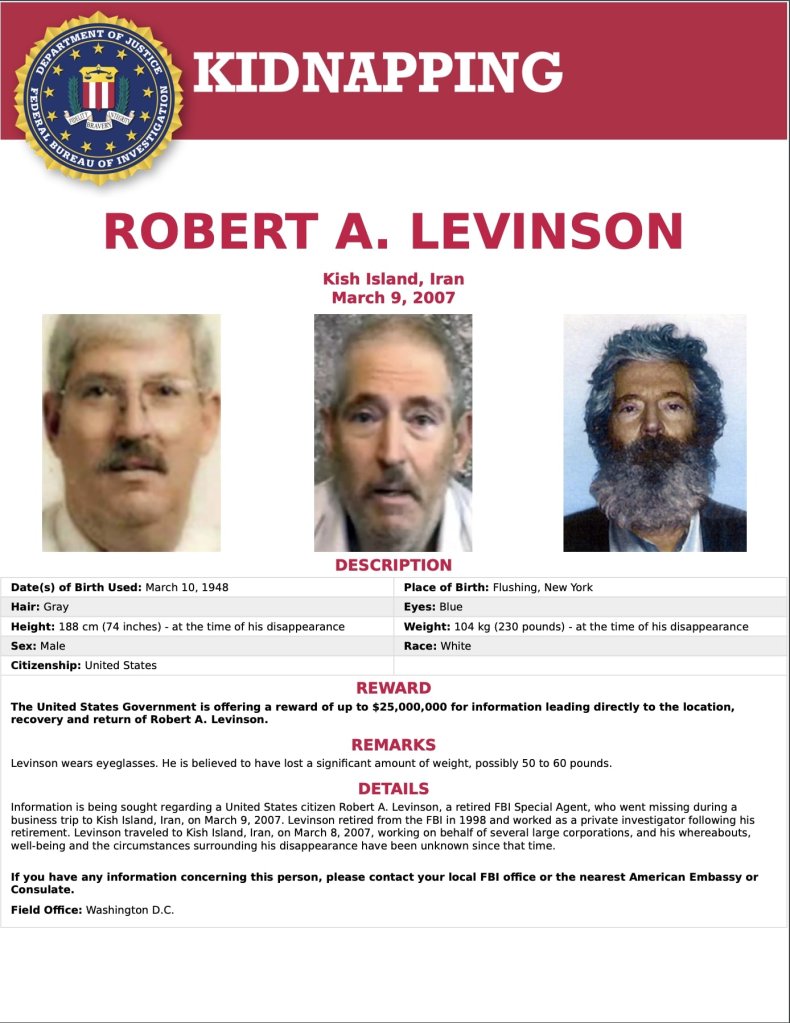 Other U.S. nationals believed to be in Iranian custody include Iranian-American former civil servant Baquer Namazi arrested in 2016, his son businessman Siamak Namazi arrested in 2015 and dual Iranian-British citizen Morad Tahbaz, a businessman and conversationist arrested in 2018. All are accused of collaborating with a foreign government.
Ties between Washington and Tehran have deteriorated significantly since May 2018, when President Donald Trump's administration left a nuclear deal reached between the two governments and other major world powers in 2015. The U.S. has since reintroduced sanctions and Iran has stepped back from enrichment limitation commitments, though Iranian officials maintain such steps are reversible should the U.S. once again become compliant with its own obligations.
With Trump set to pass power to President-elect Joe Biden next month, however, new negotiations are anticipated as the former vice president pledges to reenter the agreement.
During Monday's call, a second senior administration official acknowledged the likelihood of future diplomatic contacts with Iran, but said such discussions should include the fate of U.S. citizens being held there.
"We all expect a negotiation next year, that negotiation must include a return home of all the Americans unjustly detained in that country," the official said.
The final weeks of the Trump administration have been marked by even higher tensions regarding Iran, especially in the wake of Iranian nuclear scientist Mohsen Fakhrizadeh's assassination late last month. The yet unclaimed attack has been blamed by Iranian officials on Israel, whose officials have declined to discuss the matter, as well as other forces considered adversarial to Iran.
Secretary of State Mike Pompeo touted the Trump administration's hard-line record against Iran during a Breitbart News Radio interview on Monday.
"The Islamic Republic of Iran is far weaker today than it was when he took office," Pompeo said, "and those are things that the American people can be proud of because they will protect prosperity and security here in the United States."
Pompeo later issued a statement of his own regarding Baseri and Khazai's designation by the Treasury Department in connection with Levinson's case, asserting that the U.S. "will not relent in pursuing those who played a role in his disappearance."
That same day, his Iranian counterpart expressed confidence that the country would weather the tough measures imposed by the likes of the Trump administration, as Iranians have past hardships throughout history.
"All Iranians—regardless of ethnicity, dialect or creed—standing united have together repelled over 444 wars imposed on them throughout our proud, millennia-long history," Iranian Foreign Minister Mohammad Javad Zarif tweeted. "Is it any wonder, then, that Iran is the oldest continuous country in human civilization."
This is a developing news story. More information will be added as it becomes available.