U.S. Volunteers, Russians Shoot Rockets at One Another in Astonishing Video
Astonishing footage of U.S. volunteers striking a Russian armored vehicle in Ukraine has gone viral.
Foreign troops volunteering to help Ukraine amid Russian President Vladimir Putin's invasion filmed the moment they targeted and struck a Russian BTR-80 amphibious armored personnel carrier (APC). Several videos of the incident circulating on social media Friday have so far gathered hundreds of thousands of views.
Thousands of Americans volunteered to fight against Russian troops in Ukraine days after Putin launched a full-scale war against Ukraine on February 24.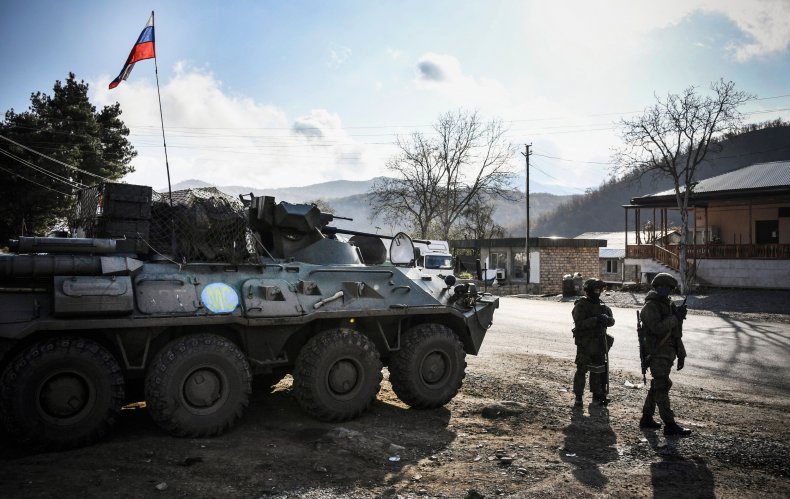 The volunteers in the video, who appear to be American and British, found an enemy armored personnel carrier and tracked it with a reconnaissance drone. The soldiers run through the forest, with one soldier telling another: "Go, go, go!"
Another says: "It's facing towards us!"
The soldiers assemble in a favorable position under some trees and the cameraman strikes the APC with a shoulder-mounted anti-tank grenade launcher. Drone footage shows the moment the APC was hit. Smoke shrouds the armored vehicle, and the soldiers run for cover back through the forest.
It wasn't immediately clear whether there were any casualties on the Russian side as a result of the strike, or where or when exactly the footage was captured.
Just over a week after the invasion began, the Ukrainian Embassy in Washington, D.C. had received requests from about 6,000 people, mostly American citizens, to volunteer for service, Ukrainian military official Major General Borys Kremenetskyi told the Associated Press. Kremenetskyi said most who had been accepted have past combat or helicopter piloting experience.
In March, American military veteran James Vasquez, who left his home in Connecticut to volunteer on the frontlines in Ukraine, claimed he helped to destroy seven Russian tanks in a single day with Ukrainian forces.
"Alright. So far, we took out seven Russian tanks, after a long firefight we took control of the area," Vasquez said in a video shared on his Twitter page. "Right now we're going to just kind of sweep around and see what we got left. Some stragglers, take them out, call it a day, it's been a long day. It's been a long day baby."
Vasquez said he came to Ukraine "alone on my own accord in a complete voluntary capacity," adding that "every atrocity, every war crime, every innocent civilian being murdered on a day-to-day basis gets everyone here more motivated to fight."
Newsweek reached out to Russia's Ministry of Foreign Affairs for comment.