U.S. Doubles Spy Plane Missions Near China Since 2009
The U.S. has nearly doubled its number of spy plane missions to China and increased its naval vessel presence in the region by more than 60 percent since Barack Obama took office, a Chinese think tank has told Newsweek.
Reconnaissance flights carried out jointly by the U.S. Air Force, Navy and Army now average three to five times a day, totaling more than 1,500 a year, according to the South China Sea Strategic Situation Probing Initiative (SCSPI).
The Beijing-based research institute was established in April last year and tracks vessel and aircraft activity using open-source commercial data.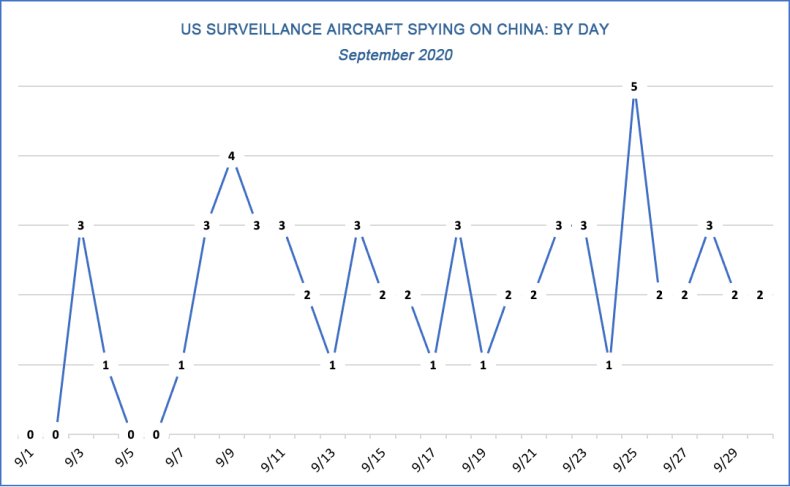 Abnormal increase in frequency
U.S. spying activities in the Yellow Sea, as well as the East and South China Seas, have been "steadily rising" since President Obama's tenure in the Oval Office, a spokesperson said, noting "an abnormal increase in frequency" in recent years.
The spokesperson said in an email to Newsweek: "According to our observations, since 2009, the US military has significantly enhanced the frequency of activities in the region by boosting the presence of surface vessels by more than 60 percent, reaching about 1,000 ship-days a year.
"In the air, it sends on average three to five warplanes to the South China Sea per day, most of them being reconnaissance aircraft, making a total of more than 1,500 sorties a year, almost twice as many as in 2009."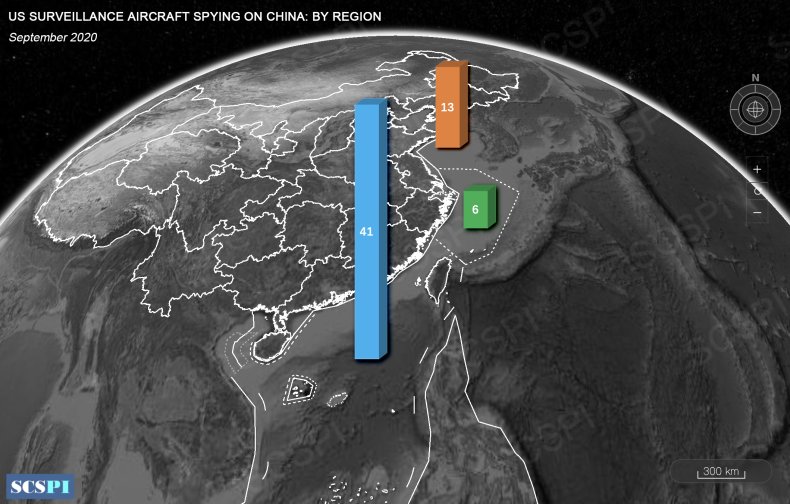 Watching China
In its latest report dated October 12, SCSPI said U.S. surveillance aircraft flew at least 60 sorties near China last month for what it called "close-in reconnaissance" of Beijing's activities. The research group also noted a "sharp increase" in spy plane numbers over the Yellow Sea as the People's Liberation Army conducted live-fire military exercises nearby.
"On September 22nd, for example, a USAF RC-135S, which specialize in collecting ballistic missiles data, conducted a mission till 20:00 PM over the Yellow Sea, coinciding with the PLA military exercises nearby, during which it electronically disguised as a Filipino civilian plane," the report said.
The research added: "According to our observation, a total of 16 sorties of US spy planes were sent to monitor PLA exercises, 13 flew to the Yellow Sea and 3 to the East China Sea."
Significant risks
SCSPI noted that, while it was not uncommon for U.S. reconnaissance planes to mask themselves as civilian passenger aircraft, the behavior "adds significant risks" to global aviation safety, leading to "misjudgments," and "likely to bring danger to real civilian passenger aircraft, especially to those from the countries that are impersonated."
"Generally, these activities have been steadily rising. However, recent years have seen 'an abnormal increase in their frequency, intensity, and pertinence, which indicates a remarkable change that deserves intensive attention,'" the spokesperson told Newsweek, pointing to more detailed analysis its researchers performed last year.
SCSPI said the U.S military appeared to be making "future preparations for long-distance refueling under extreme conditions," citing aerial refueling planes flown unconventionally from the Western Pacific U.S. territory of Guam instead of the closer Kadena Air Base in Japan.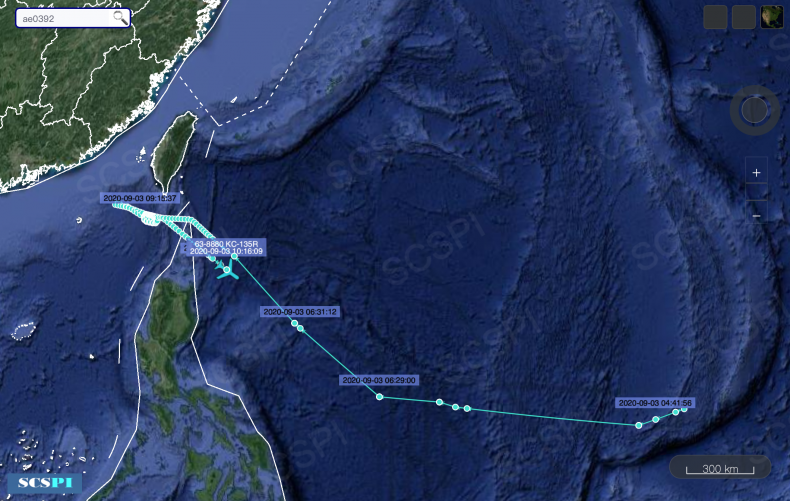 Military activity in the disputed South China Sea has increased in the months leading up to the presidential election in November.
Both China and Taiwan have carried out their own military drills in the Taiwan Strait in recent weeks, with Beijing apparently keen to warn Taipei against establishing closer ties with Washington.