The United States' sudden withdrawal from northern Syria has angered Kurds not only in this war-torn country, but in neighboring Iraq, where the ethnic minority has relied on Washington's backing for decades, but may soon look elsewhere for support.
Faced with a fight between NATO ally Turkey and the Kurdish-led forces that backed the Pentagon against the Islamic State militant group (ISIS), President Donald Trump chose to pull U.S. troops from the northern region. While Trump argued that the move was part of his long-sought goal of avoiding another open-ended conflict in Syria, he later announced he would maintain a military presence near the country's eastern oil fields, much of which is located in regions with a traditional Arab majority.
As Newsweek first reported Wednesday, such a plan—pending White House approval—included the deployment of one half of an armored brigade combat team batallion, involving about 30 Abrams tanks. The Syrian Democratic Forces, the largely Kurdish militia backed by the U.S., would be asked to join the mission.
Responding to Newsweek's report about these potential military moves, a senior Kurdish intelligence official told Newsweek: "It's all about oil, it's thicker than innocent blood."
Upset over the U.S.' latest moves and uncertain about Trump's long-term commitments in the Middle East, Kurdish officials emulated to Newsweek that Iraqi Kurds may look to shore up ties with a new partner—Iran, a sentiment they were not alone in sharing.
"We are waiting for the USA to change its attitude," Shirwan Mirza, an Iraqi Kurdish member of parliament affiliated with the Patriotic Union of Kurdistan (PUK), told Newsweek, adding that, if it did not, "then we are obliged to look for another friend in this area." Asked if this could include neighboring Iran, Mirza responded, "That is right."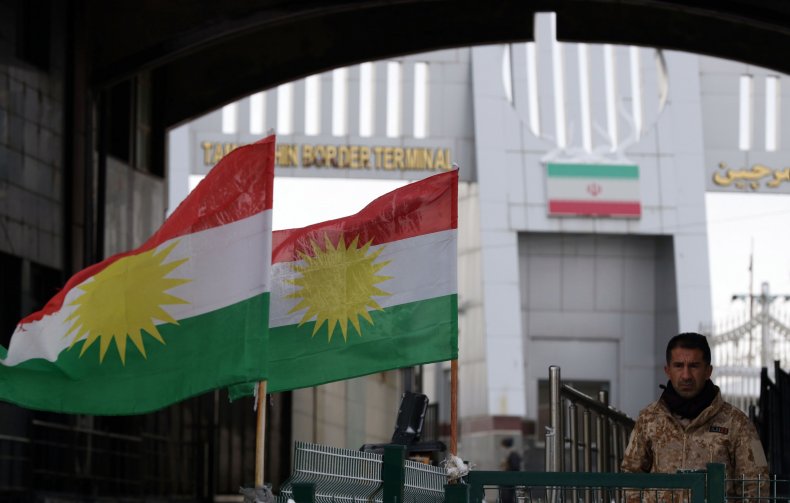 The U.S. and Iran both have a history of working alongside Iraqi Kurds, an ethnic minority of up to 20 million mostly spanning parts of Iraq, Iran, Syria and Turkey, to achieve short-term goals while dismissing the group's aspirations for self-rule. Both Washington and Tehran have long offered support to Kurdish forces against Iraqi governments prior to the 2003 U.S. invasion—a war many critics argued was fought over oil fields—as well as against ISIS, which itself managed to seize sizeable natural resources in both Iraq and Syria.
In Syria, however, the Pentagon backed the Syrian Democratic Forces without permission from the central government, an Iranian ally that the U.S. had tried to overthrow with the help of a separate local faction—a largely Islamist array of opposition groups still backed by Turkey. As Syria's civil war raged on, the U.S., Iran and Turkey all came to back different, rival factions.
Ankara and Tehran have faced decades-long Kurdish insurgencies and the former has been especially active in its fight against the outlawed Kurdistan Workers' Party (PKK), linking it to the People's Protection Units (YPG), the main faction of the Syrian Democratic Forces. Turkish forces and allied Syrian insurgents twice stormed the border to battle YPG units, pitting two U.S. partners against one another, and when Turkish President Recep Tayyip Erdogan ordered a third, larger operation earlier this month, Trump decided that it was time to leave—immediately.
The U.S. pullout was so abrupt that, as Newsweek previously reported, Kurdish forces found out about it on Twitter, leaving little opportunity for a contingency plan. While the U.S. had previously gone to the lengths of downing a Syrian jet and bombarding a mixed Syrian-Russian militia force accused of attacking Syrian Democratic Forces positions, Trump determined that this battle was not for the U.S. to fight, leaving Syrian Kurds to cut a deal with the Syrian government and its other major ally, Russia, in order to fend off the Turkish-led attack.
Syrian Kurds were seen picketing exiting U.S. military forces and, across the border, Iraqi Kurds threw rocks and fruit at the incoming personnel. Mirza told Newsweek that Iraqi Kurds felt "very angry about the U.S. leaving northern Syria" and "worry about Turkey's attempts" to launch incursions on Iraqi Kurdish soil as well.
"We want to live peacefully on our land," he added.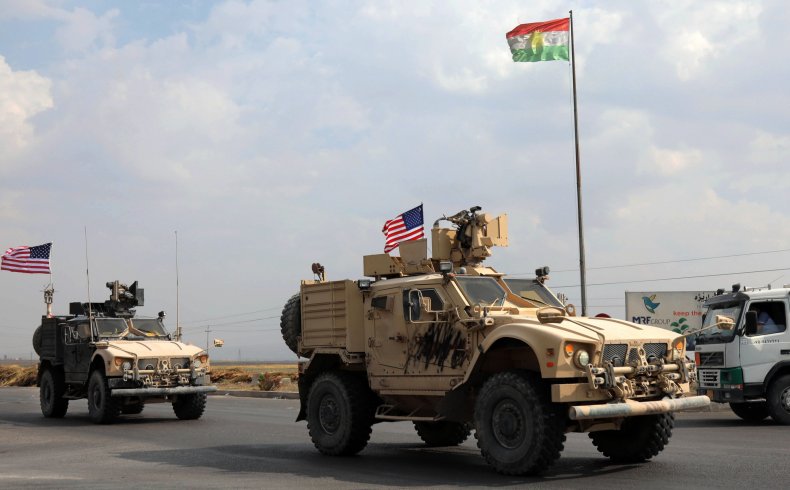 A number of U.S. commentators have expressed dismay toward the deal between Syrian Kurds and the Syrian government, along with its Russian ally, arguably now the region's top powerbroker. An arrangement between Iraqi Kurds and Iran would likely prove even more troubling to the current U.S. strategy, which has sought to force adversaries into political submission via sanctions and diplomatic isolation.
Though their interests converged against fighting ISIS, Washington and Tehran have been at odds since the 1979 Islamic Revolution that ousted a West-sponsored monarchy and established a Shiite Muslim Republic that was almost immediately invaded by Iraqi leader Saddam Hussein.
While the U.S. would later turn on Hussein, it initially offered its support to Iraq during this war, and Iraqi Kurds largely backed Iran, helping to set the stage for later hostilities between Kurdish forces and Baghdad and for the ongoing enmity between Washington and Tehran in the decades to come. A 2015 nuclear deal proved a landmark step toward bringing together the U.S. and Iran—along with China, the European Union, France, German, Russia and the United Kingdom—but the Trump administration abandoned this deal last year in hopes of economically draining what the president has called "the world's largest state-sponsor of terrorism."
The U.S.' unilateral exit and subsequent sanctions against Iran have led to increased unrest in the Middle East, especially in Iraq and the Persian Gulf region. Though Iran has largely acted in Iraq through various, mostly Shiite Muslim militias that have troubled ties to Kurdish forces, a possible realignment has been some time in the making, predating even the recent U.S. exit from Syria.
"The Kurdish Regional Government (KRG) and Iran have been trying to explore how the two sides can shore up their relations," Nader Entessar, professor emeritus at the University of South Alabama, told Newsweek. "These attempts have started several months ago and before the recent U.S. exit from northern Syria."
"The KRG has even encouraged the Iranian Kurdish opposition parties that are based in the KRG's territory to reach out to the Iranian government. At least two rounds of meetings have already taken place between the representatives of Iranian Kurdish parties and Iranian officials in Norway," he added. "Both the KRG and Iran are also keen on developing additional channels to boost their trade and cross-border economic relations."
Though Tehran works alongside Ankara and Moscow as part of a trilateral peace process largely boycotted by Washington and mostly excluding Syrian Kurds, it was also Iran that came out most strongly against the Turkish invasion of northern Syria. The U.S. offered conflicting replies⁠—with Trump appearing to initially approve the operation before joining the Pentagon in condemning it—and Russia expressed mere reservations.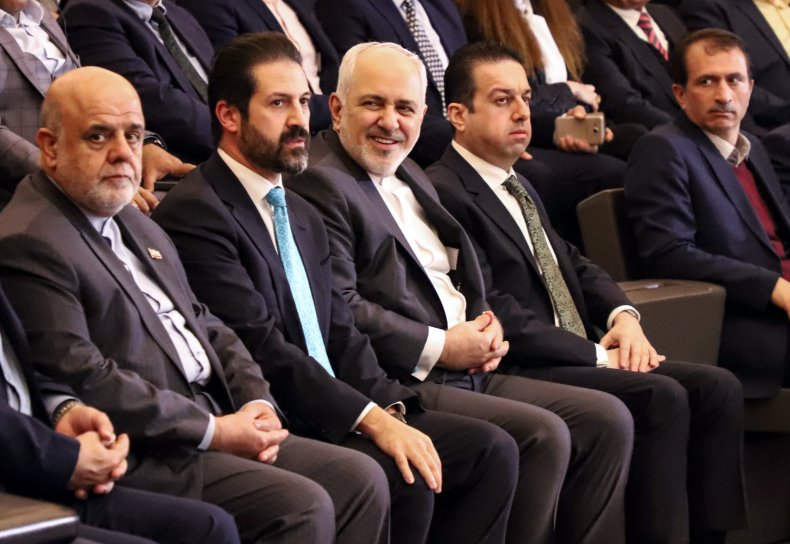 A Trump administration delegation led by Vice President Mike Pence, Secretary of State Mike Pompeo and others managed to secure a five-day ceasefire whose terms were later disputed by both warring parties, but it was ultimately Tuesday's agreement between Russia and Turkey that appeared to offer a more lasting solution. A 20-mile "safe zone" would for the time being remain under Turkish-backed control and joint Russian-Syrian patrols would ensure the withdrawal of YPG units from the rest of the border at a depth of about 18-and-a-half miles, followed by a Russian-Turkish operation at just beyond six miles.
With Turkey pushing for the resettling of Arab refugees by the border and the Syrian government gradually reasserting itself across other northeastern territories under the control of the mostly Kurdish autonomous administration, Trump has openly suggested a mass Kurdish migration to help protect oil fields in the east from ISIS.
"The Oil Fields discussed in my speech on Turkey/Kurds yesterday were held by ISIS until the United States took them over with the help of the Kurds. We will NEVER let a reconstituted ISIS have those fields!" Trump tweeted Thursday, adding that he "really enjoyed" his conversation with Syrian Democratic Forces commander Mazloum Kobane. "He appreciates what we have done, and I appreciate what the Kurds have done. Perhaps it is time for the Kurds to start heading to the Oil Region!"
Meanwhile, Iraqi Kurds look on with frustration, worried that, while there may be no immediate signs of another shift in U.S. policy, Trump's unpredictable nature could soon leave their own future in peril as long as they pegged their hopes to the backing of a power, as Trump put it, "7,000 miles away." Their concerns came at a time when Iran was searching to build new regional relationships, such as its proposed "Coalition for HOPE" or Hormuz Peace Initiative, creating a potential path for new neighborly ties in a region prone to uncomfortable alliances.
"Due to geographic proximity, historic and cultural ties, the KRG-Iran ties will improve over time," Entessar told Newsweek.