U.S. Policy in Syria Is Set to Fail Without Diplomacy, Experts Say
President Donald Trump's decision to allow Turkey to move against U.S.-backed Kurdish forces has received significant criticism at home and abroad, but without diplomatic efforts to resolve local and regional tensions, experts say, such clashes were likely inevitable.
Turkey officially launched its incursion into northern Syria, termed "Operation Peace Spring," and is targeting Kurdish militias considered allies by Washington due to their leading role in U.S.-led efforts against the Islamist State militant group (ISIS). However, those militias are seen as terrorists by Ankara due to alleged links to outlawed separatists at home. This incursion follows several previous cross-border operations and years of threats by Turkish President Recep Tayyip Erdogan, who has deeply criticized the U.S., a fellow NATO member, for its intimate ties with such groups.
"It was very clear from the beginning that this was going to lead to some sort of a showdown. The question is: Was it necessary to manifest itself in the way it did?" Trita Parsi, co-founder and executive vice president of the Quincy Institute for Responsible Statecraft, told Newsweek, criticizing Trump's "reckless, uncoordinated, destructive approach" to the conflict.
"The U.S. is not indefinitely responsible for [the Kurds'] protection, but the manner in which we've gone about this is completely irresponsible," he added.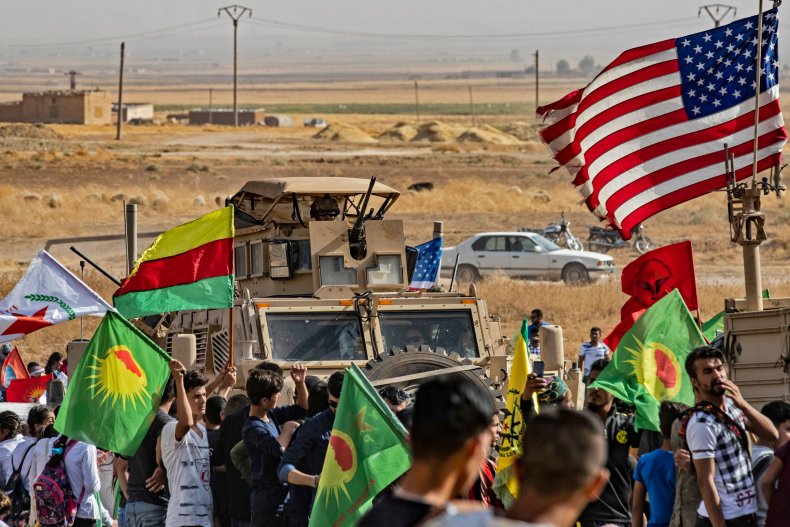 The U.S. did not align itself with Kurdish forces from the outset of its involvement in Syria's eight-year civil war. Under the Obama administration, a CIA program was launched backing rebels committed, since the 2011 uprising, to overthrowing Syrian President Bashar al-Assad, who received backing from Iran and allied militias like the Lebanese Hezbollah.
As jihadis increasingly dominated the Syrian opposition and ISIS spread from neighboring Iraq, the U.S. partnered in 2015 with a majority-Kurdish faction known as the Syrian Democratic Forces, which largely consisted of a militia called the People's Protection Units, or YPG. The YPG and other Kurdish groups had alternatively fought with and against government and opposition forces, but were primarily against ISIS and like-minded Islamists.
Around the same time that the Syrian Democratic Forces (SDF) aligned themselves with the U.S.-led coalition against ISIS, Russia intervened on behalf of Assad's administration, significantly bolstering its war effort. President Donald Trump came to office as the two rival campaigns began to finish off much of ISIS in separate cross-country offensives that left both of them in charge of nearly all of Syria, save for insurgent bastions in northwestern Idlib province and its surroundings.
After the militants were declared defeated, the Trump administration expanded the U.S. mission to include ensuring Assad's departure and rolling back Iran's influence, goals Parsi described as "open-ended."
Trump once again sold his decision as a bid to "end endless wars" initiated by his predecessors, and Parsi said he agreed with the concept in principle because "the U.S. can't sustain a military hegemony in the region."
He added, "A drawdown in Syria is absolutely needed, as there are no clear strategic interests for the U.S. there. But Trump's not actually drawing down, he's just moving troops."
Trump tweeted Wednesday that he had "moved our 50 soldiers out," but the Pentagon has consistently denied that troops were being withdrawn from the country. Spokesperson Jonathan Hoffman said in a Tuesday statement that the military simply "moved the U.S. forces in northern Syria out of the path of potential Turkish incursion to ensure their safety."
Hoffman also said the Pentagon has "made no changes to our force presence in Syria at this time," but Trump tweeted later Wednesday that "we are slowly & carefully bringing our great soldiers & military home."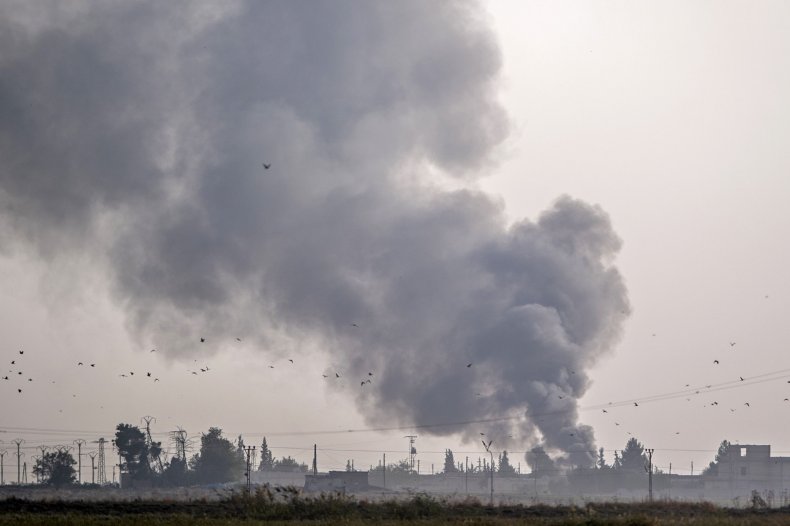 Trump previously announced plans to withdraw from Syria following a call with Erdogan in December, but the anti-Iran mission creep appeared to supersede this policy. Although Turkey remained in talks with the U.S. regarding the establishment of so-called safe zones designed to appease Turkish security concerns while also protecting Kurdish civilians and fighters not aligned with the YPG, Ankara grew impatient with Washington's stalling.
In the meantime, little diplomatic effort was invested in resolving differences between northern Syria's Kurd-led administration and Turkey, or in fostering negotiations between the northeastern semiautonomous government and the central government in Damascus. The Trump administration has entirely disavowed the latter due to repeated allegations of war crimes.
"Ultimately, to be able to find a solution you need to have a diplomatic process. You don't end civil wars easily, you don't have reconciliation easily," Parsi told Newsweek. "The U.S. doesn't have to lead everything, but abandoning that in this manner is part of the reason why the Russians, the Turks, the Iranians are calling the shots there. It doesn't make any sense."
Despite supporting the opposition, Turkey joined Russia and Iran in 2017 for trilateral peace talks that have been largely ignored by the U.S. As Operation Peace Spring began, both Moscow and Tehran have expressed concern to Ankara, and while they both considered the U.S. presence in northern Syria illegal, they felt regional security would come only through an agreement between Syrian Kurds and the government.
"When U.S. forces stayed behind following the defeat of ISIS's caliphate, the U.S. was left with no clean way to extricate itself from Syria's civil war. The U.S. could hold on to a portion of Syria indefinitely, turn the territory over to Turkey or return it to Assad. That's the reality on the ground," Benjamin Friedman, policy director at the Defense Priorities think tank, said in a statement to Newsweek.
"By refusing to leave and let the Kurds settle with Assad—restoring the prewar status quo—the U.S. trapped itself in a no-win situation," he went on. "With Turkey threatening to clear parts of northern Syria of SDF forces, our anti-ISIS partners, the U.S. could have risked war with its NATO ally or moved its forces out of harm's way.
"As regrettable as this situation is, a U.S. war with Turkey would be worse," Friedman continued, noting that "withdrawal from Syria remains the strongest policy for the United States."
He added: "The U.S. can use non-military leverage to pressure our NATO ally, providing at least some protection to the Kurds, and warn the Kurds that all U.S. troops will leave soon. That will allow them to prepare and negotiate with Damascus."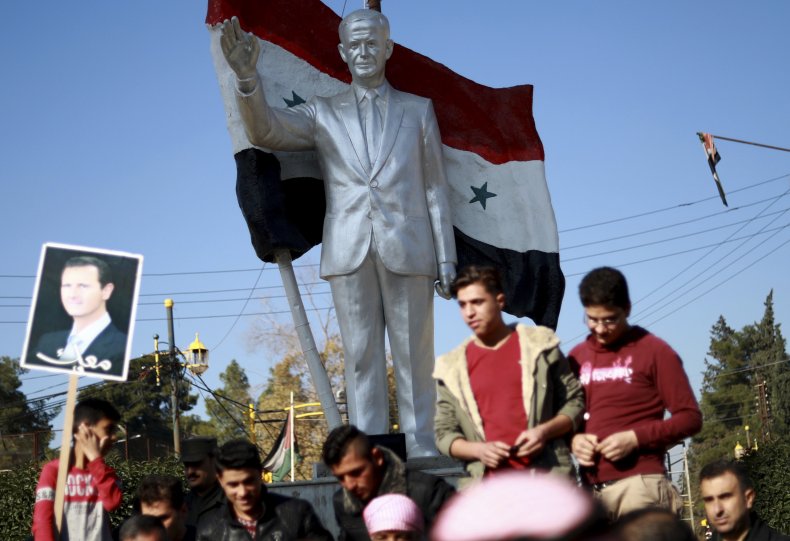 Earlier Thursday, Newsweek published an op-ed in which Defense Priorities fellow Daniel DePetris made a similar argument, noting that "U.S.-Kurdish security ties were never meant to be long term, let alone permanent." He also said Washington should encourage the Kurds to negotiate with Assad's administration, which now controls nearly two-thirds of the country.
Syrian officials have repeatedly called on the Kurds to abandon their U.S. ties and return to the central fold, united by the two sides' common foes: Turkey, ISIS and Islamist rebel groups. Assad, however, has opposed Kurdish aspirations for self-rule and has warned he would reclaim the entire nation either through reconciliation or force.
Syrian Deputy Foreign Minister Faisal al-Mekdad told the pro-government Watan newspaper Tuesday that the Kurds "have lost everything and must not lose themselves. In the end, the homeland welcomes all its children and we want to solve all the Syrian problems in a positive manner, a way that is far from violence but preserves every speck of soil of Syrian territory."
That same day, Kurdish-led administration official Badran Jia Kurd told Reuters that the Kurds, faced with a likely U.S. withdrawal and a Turkish attack, "may hold talks with Damascus or the Russian side to fill the void or block the Turkish attack, so this may develop and there could be meetings and contacts in case of a vacuum." On Wednesday, the self-governing administration issued a statement responding to Russian Foreign Minister Sergey Lavrov's calls for the Al-Qamishli-based faction to talk to Damascus.
"The Autonomous Administration of North and East Syria has always stated that the best solution to end the conflict and crisis in Syria lies in dialogue and the resolution of issues within the Syrian-Syrian framework," the statement read. "We have always tried to develop this and there have been many meetings between the Autonomous Administration and the Russian Federation to develop this dialogue. The Autonomous Administration has presented a map of solutions and still believes that developing these efforts in a practical manner is very important."
The statement added: "In the Autonomous Administration of North and East Syria, we view positively the statements of Russian Foreign Minister Sergei Lavrov on the subject of dialogue between the Autonomous Administration and the Syrian government. It is in the interest of all Syrians."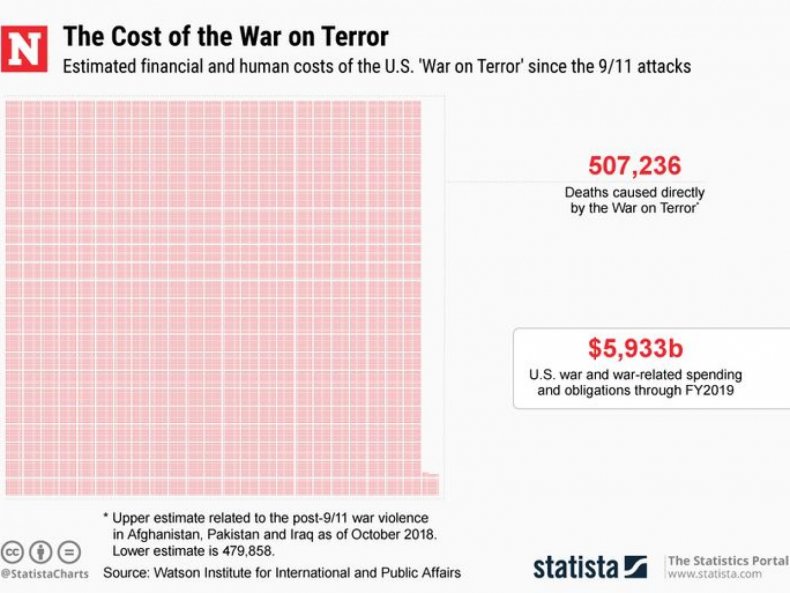 Source: Statista
Moscow has forged a leading role in the conflict due to its diplomatic engagement with nearly every single player, further raising questions about a decreasingly influential Washington's shifting goals and methods in a country ravaged by war for over eight years. In the wake of the latest twist from Trump, lawmakers such as Democratic Senator Chris Murphy of Connecticut decried what he called "President Trump's decision to abandon our Kurdish partners in northeast Syria and green-light a Turkish invasion" without negotiations.
"Unfortunately, this disaster was preventable. Today we are seeing the military consequences of a political problem left unsolved. Instead of spending the last few years working with the Kurds, Turks and Arabs to create a post-ISIS governance structure, we deployed thousands of troops and only a handful of diplomats to the region," Murphy said in a statement to Newsweek.
"Now, because of Trump's reckless leadership we are facing down the prolonged nightmare of an even more complicated civil war and the slaughter of our Kurdish partners. Potentially millions of civilians will be caught in the crosshairs," he added.
Humanitarian groups such as Amnesty International, the International Rescue Group, Doctors Without Borders and the International Committee of the Red Cross all sent statements to Newsweek Wednesday expressing deep concern about the humanitarian situation in northern Syria. Meanwhile, the Turkish military commenced an operation it vowed would target "only terrorists and their fortifications, trenches, positions, weapons, vehicles and equipment."
With U.S. troops ordered to stand by and anti-ISIS operations⁠—the Pentagon's only official reason for being in the country⁠—now suspended, many were left wondering what the Trump administration's exact purpose in Syria is at the moment.
"Has there been a clear formulation of what that mission is?" Parsi asked. "If there has been, I've missed it."