U.S. Flag Flies Over Embassy in Cuba for First Time in 54 Years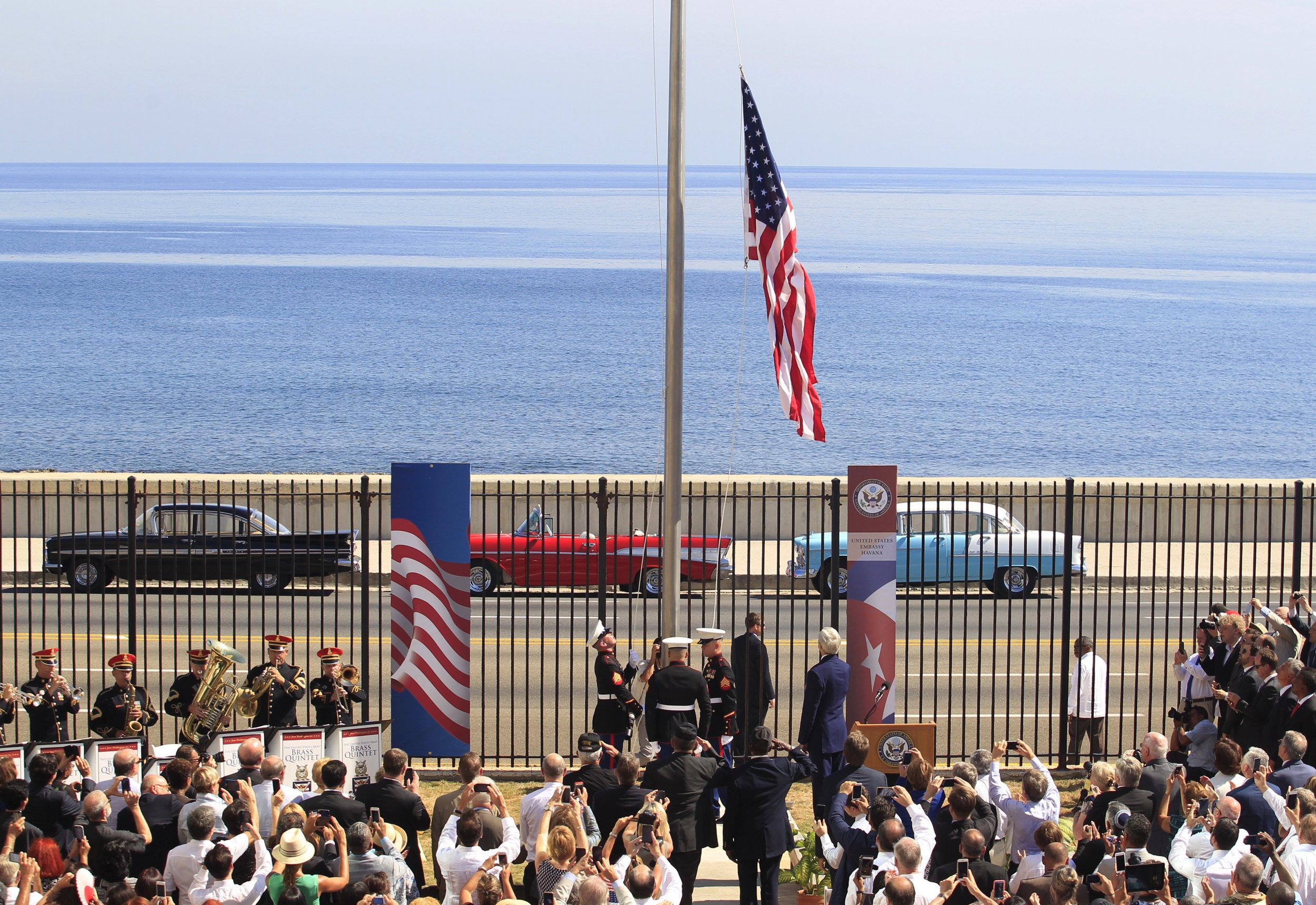 Updated | For the first time in 54 years, America's Stars and Stripes was officially flying over the U.S. Embassy in Cuba on Friday morning.
Secretary of State John Kerry presided over a flag-raising ceremony that was marked by the playing of "The Star-Spangled Banner." "Let me be clear: The establishment of normal diplomatic relations is not something that one government does as a favor to another. It is something that two countries do together when the citizens of both will benefit," Kerry told the crowd gathered outside of the embassy.
Three U.S. Marines who were present when the flag was taken down in 1961 were there to help raise the flag on Friday: Master Gunnery Sergeant Jim Tracy, Lance Corporal Larry C. Morris and Corporal F.W. Mike East.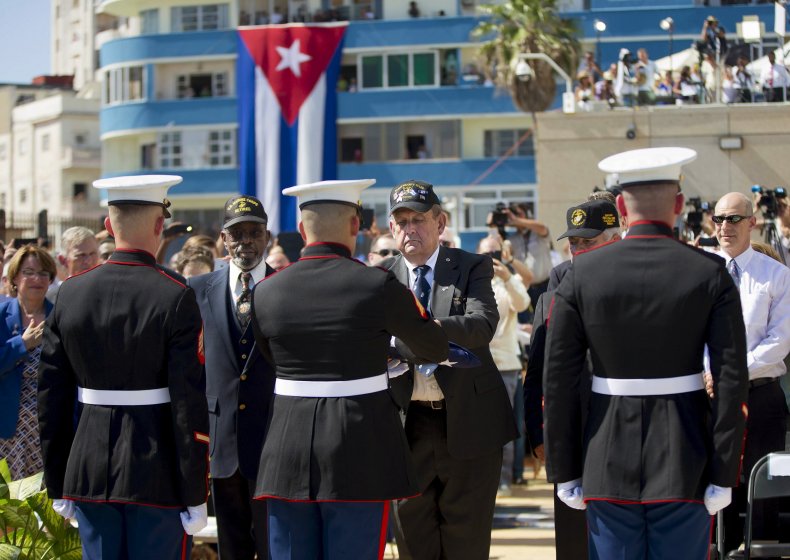 After more than five decades of hostility, diplomats from both countries in July agreed to reopen embassies in their capital cities. Since the late 1970s, diplomats had maintained only de facto embassies, called "interests sections."
Kerry arrived in Cuba on Friday morning to reopen the U.S. Embassy. The historic event marked another step in the thawing of relations between the Cold War foes. The last U.S. secretary of state to visit Cuba was Edward Stettinius in 1945.
The event began just after 10 a.m. with a reading by American poet Richard Blanco, followed by the playing of Cuba's national anthem and Kerry's address to the crowd.
"I feel at home here because this truly is a memorable occasion, a day for pushing aside old barriers and exploring new possibilities," he said.
Kerry said the move by President Barack Obama and Cuban President Raúl Castro to restore relations was a "courageous decision" because they shouldn't be "prisoners of history."
"This doesn't mean that we should or will forget the past. How could we, after all?" he said, adding that the United States will always remain a champion of democracy.
Americans have not maintained an embassy in Havana since January 3, 1961, when President Dwight Eisenhower withdrew diplomatic recognition of the island nation in response to Cuban demands that U.S. Embassy staff be reduced.
The Cuban flag was raised at the embassy in Washington, D.C., last month. It marked the official beginning of the restoration of ties between the United States and the Communist country.
More than eight months ago, Obama announced his intention to normalize relations with Cuba. Since then, U.S. officials have removed Cuba from the state sponsors of terrorism list and loosened restrictions barring U.S. citizens from traveling there.
However, restrictions remain in effect that prevent most trade between the two countries and block many Americans from visiting Cuba. Obama has asked Congress to lift those restrictions. Kerry on Friday also urged Congress to remove the trade embargo.
"The goal of all of these changes," he said, "is to help Cubans connect to the world and to improve their lives."
This article has been updated to reflect Kerry's remarks and include the flag-raising ceremony.