What Is a Sonic Attack? Americans in China Warned to Beware 'Unusual Sounds' After Embassy Staffer Suffers Brain Injury
The U.S. government issued a warning to all of its citizens in China today, after an embassy staffer reportedly suffered a mild traumatic brain injury resulting from "abnormal sensations of sound and pressure."
The employee, who was stationed in Guangzhou, fell sick and was later diagnosed with a condition that resembled the so-called "sonic attacks" on U.S. diplomats in Cuba last year.
"A U.S. government employee in China recently reported subtle and vague, but abnormal, sensations of sound and pressure," read the government's health alert published on the U.S. Embassy in China website Wednesday. "We do not currently know what caused the reported symptoms, and we are not aware of any similar situations in China, either inside or outside of the diplomatic community."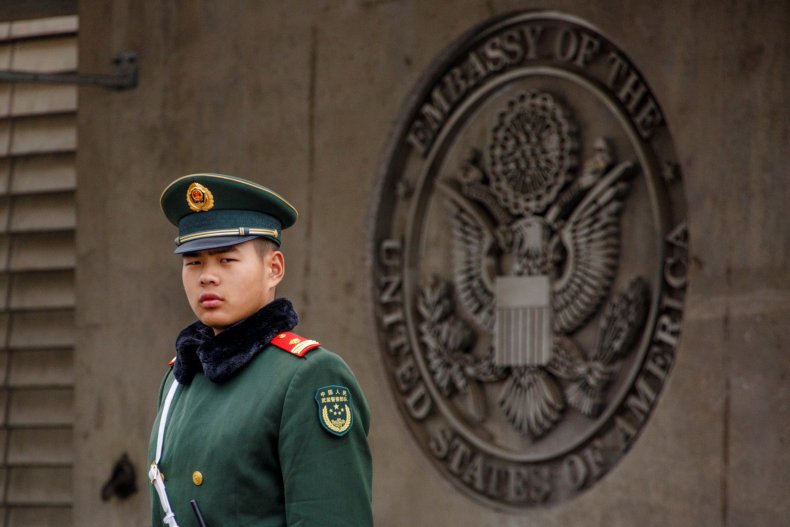 The warning advised citizens in China who "have concerns about any symptoms or medical problems" to "consult a medical professional."
It added: "If you experience any unusual acute auditory or sensory phenomena accompanied by unusual sounds or piercing noises, do not attempt to locate their source. Instead, move to a location where the sounds are not present."
Although details on the Guangzhou employee's condition are unclear, Jinnie Lee, a U.S. Embassy spokeswoman in Beijing, confirmed that the staffer had experienced a number of physical health symptoms over the past year, reported the The Washington Post. "The Chinese government has assured us they are also investigating and taking appropriate measures," she said.
Last September, the U.S. State Department issued a similar health warning to Americans in Cuba after at least 21 diplomats reportedly experienced similar symptoms, including hearing loss, tinnitus, visual difficulties and fatigue.
According to The Washington Post, the American Foreign Service Association said the unwell U.S. citizens were diagnosed with "mild traumatic brain injury and permanent hearing loss, with such additional symptoms as loss of balance, severe headaches, cognitive disruption, and brain swelling."
After an investigation, officials confirmed that the embassy staffers were deliberately being "targeted." The incident resulted in over half of the stationed employees being pulled from Havana and a stern warning to all Americans planning on traveling to the area.
Earlier this year, the State Department announced that the Havana embassy will permanently withdraw 60 percent of its employees from Cuba following the sonic attacks. "The embassy will continue to operate with the minimum personnel necessary to perform core diplomatic and consular functions, similar to the level of emergency staffing maintained during ordered departure," the State Department said in a statement. "The embassy will operate as an unaccompanied post, defined as a post at which no family members are permitted to reside."
According to ABC News, medical experts say exposing human beings to sound waves that are higher or lower than the standard range may cause permanent damage. However, the noises reportedly were only heard by U.S. citizens and not Cuban staff.
Investigations led by the FBI and other intelligence agencies were also unable to determine the source of the sonic attacks. In October, the Associated Press released recordings of the mysterious sounds that were heard by the embassy staffers.
"The Department does not have definitive answers on the cause or source of the attacks and is unable to recommend a means to mitigate exposure," then-Secretary of State Rex Tillerson said in a statement.