U.S. HIMARS Cripple Crucial Russian Supply Line in 'Surgical Strike'
Using U.S.-supplied HIMARS rocket launchers, Ukrainian forces struck the Antonivskyi Bridge, a critical Russian supply line, late Tuesday.
The next day, authorities in Russian-controlled Kherson closed the bridge, the only one in the city, after Ukrainian artillery delivered a "surgical strike" on the structure, according to a spokeswoman for the Ukrainian military's Southern Command, Nataliya Gumenyuk.
"Traffic on the bridge is blocked. Indeed, another HIMARS strike was launched during the night," Kirill Stremousov, the deputy head of the Russian administration in the region, said on his Telegram channel. "We have provided for all things like this, and in fact there are several ferry crossings."
Destroying the bridge would cripple the Russian military's ability to supply its forces in the Kherson region, which Russia has occupied since it annexed Crimea in 2014. The only other crossing is a dam at the hydroelectric plant in the city of Nova Kakhovka, which has also come under Ukrainian fire but remains open.
Stremousov told Interfax, an independent Russian news agency, that the Antonivskyi Bridge, which crosses the Dnieper River, was still standing as of Wednesday. He said that while the bridge's structure had not been compromised by the shelling, there were holes that prevented vehicles from crossing.
The bridge was already closed to trucks after last week's attacks from Ukrainian forces, but it remained open for passenger vehicles until Tuesday's strike.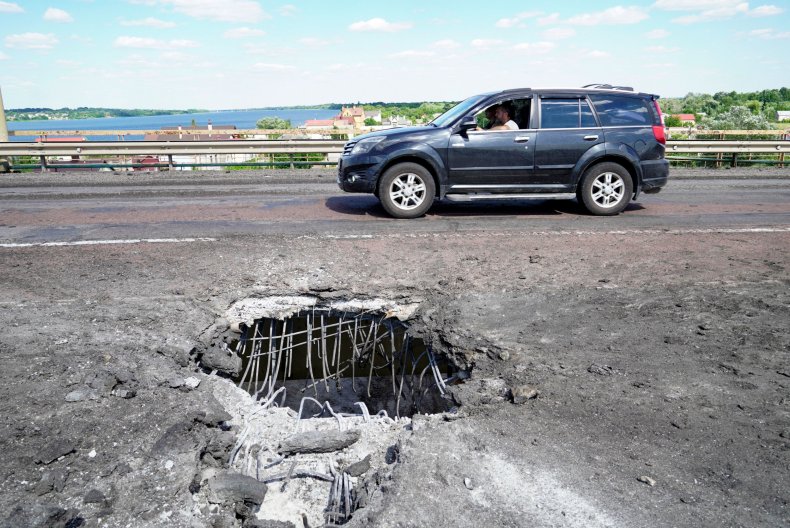 The delivery of the HIMARS (or High Mobility Artillery Rocket System) weapons to Ukraine has significantly boosted the military's defensive efforts against Russian troops. The long-range missile systems have better precision and a faster firing rate, compared with the country's dated weapons.
Last week, the White House announced it would send four more HIMARS systems to Ukraine to supplement the dozen that the U.S. has already provided.
Ukrainian President Volodymyr Zelensky has thanked President Joe Biden for the latest round of military weaponry, describing it as "critically important, powerful arms [that] will save our soldiers' lives, speed up the liberation of our land from the Russian aggressor."
On Wednesday, Mykhailo Podolyak, an adviser to Zelensky, tweeted that the "occupiers should learn how to swim across" the river or "leave Kherson while it is still possible."
"The liberation of Kherson region from the Russian invasion continues, thanks to our courageous warriors who are making a superhuman effort to have our flag flying over our area," said Dmytro Butrii, the head of the Kherson Regional Military Administration.
The strike in southern Ukraine comes as Russian forces continue fighting on the front lines in the east, where they have made slow gains against the Ukrainian resistance.