U.S. Launches Long-Range Missile One Year Before Last Nuclear Treaty with Russia Set to Expire
The United States has test-fired an intercontinental ballistic missile (ICBM) exactly one year ahead of the day a major nuclear treaty with Russia was set to expire.
The U.S. military's Air Force Global Strike Command launched an unarmed, nuclear-capable Minuteman III ICBM early Wednesday from the Vandenberg Air Force Base, California. The test was supported by the 30th Space Wing and was the first to take place since the base became part of the new U.S. Space Force.
"We are very proud to have accomplished this operation with our long-standing mission partner, Air Force Global Strike Command," Colonel Kris Barcomb, commander of the 30th Operations Group, said in a release.
"We look forward to building on this launch as we continue to provide robust, safe and reliable capabilities critical to the testing and evaluation of the ICBM program, and many space and range programs to come," he added.
Such tests are said to be planned far in advance, despite appearing to coincide with related world events. In the case of Wednesday's launch, it happened to fall one year ahead of the deadline to renew the New Strategic Arms Reduction Treaty (START)—a critical non-proliferation agreement that regulates the nuclear arsenals of the U.S. and Russia, and one President Donald Trump has so far shown little interest in extending in its current form.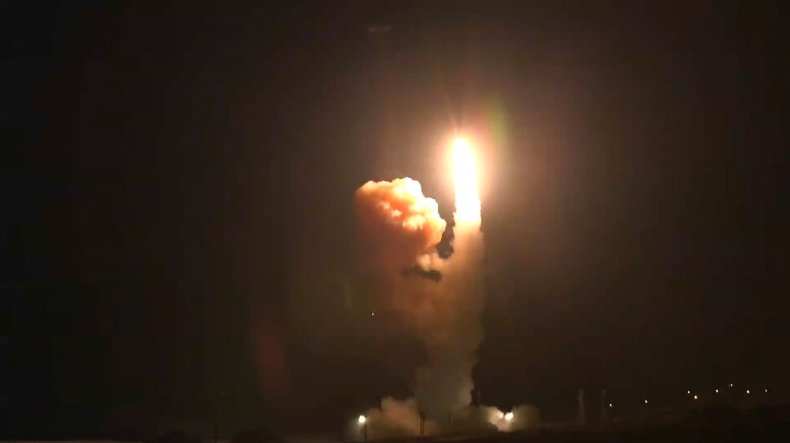 Russian President Vladimir Putin has repeatedly appealed to Trump to begin New START negotiations, and in December announced he was "ready to immediately" renew the treaty "without any preconditions." The treaty allows for a five-year extension that does not require congressional approval for either country.
In an effort to do so before the year's end, he sent Russian Foreign Minister Sergey Lavrov to discuss the agreement in Washington with State Secretary Mike Pompeo in December. However, Lavrov's mission was apparently unsuccessful because Pompeo argued at the time that the START format had "to be broadened" to include other countries like China and new types of weapons.
Beijing has continually rejected offers to join such an arms control measure on the grounds that the Chinese nuclear stockpile was far smaller than those possessed by the U.S. and Russia, which account for more than 90 percent of the world's nuclear weapons.
The latest START agreement was signed in 2010 and was last signed months before the collapse of the Soviet Union in 1991. The agreement limits deployed ICBMs, submarine-launched ballistic missiles (SLBMs) and nuclear-capable heavy bombers to 700; deployed nuclear air, land and sea nuclear warheads to 1,550; and deployed and non-deployed ICBM launchers, SLBM launchers and nuclear-capable heavy bombers to 800.
If the current agreement fails, it would be the latest and last bilateral non-proliferation pact to die between Washington and Moscow. The U.S. first walked away from the Anti-Ballistic Missile Treaty in 2002 and the Intermediate-range Nuclear Forces last August, leading Putin to accuse the U.S. of pursuing a global missile shield and the deployment of mid-range missiles that he warns undermines Russian national security.
The Russian leader has also worked to modernize his country's conventional and nuclear arsenals. In response to growing U.S. military infrastructure in Eastern European nations aligned with the NATO Western military coalition, Russia has developed and deployed a number of high-tech and hypersonic weapons said capable of defeating even the most advanced U.S. defense systems.
He has, however, denied U.S. accusations that his forces developed a weapon that violated the INF prior to Trump's exit from the deal and has announced a self-imposed moratorium on fielding land-based missile systems ranging from 310 to 3,420 miles unless the U.S. did so first.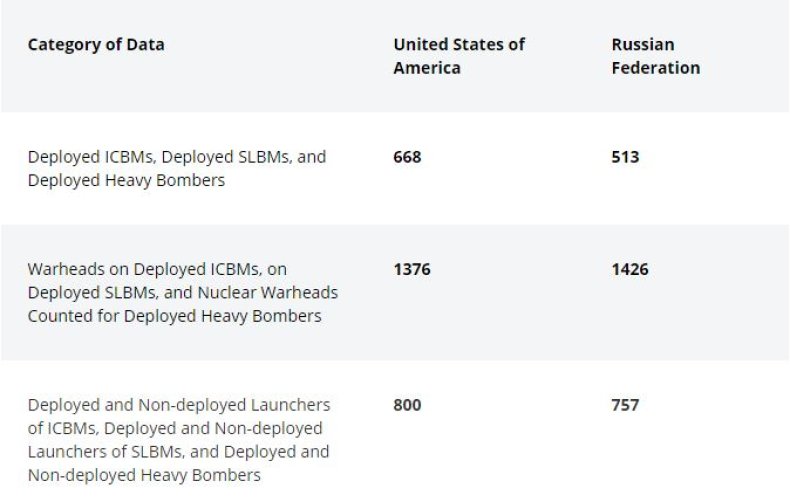 As the Pentagon strove to develop its own hypersonic tools, Under Secretary of Defense for Policy John Rood announced on Tuesday another military development: the deployment of the W76-2 low-yield nuclear warhead on the Trident II SLBM, the sea-based component of the U.S. nuclear triad. Such weapons have less destructive power than standard nuclear warheads but detonate with hundreds of more times force than even the most powerful conventional weapons.
Washington has accused Moscow of testing low-yield capabilities of its own. In his statement, Rood said the deployment came in response to "potential adversaries, like Russia" developing low-yield capabilities of their own. Moscow condemned the move.
"We are reacting to this with a serious concern not because we see a threat to the security of our country, as this security is reliably ensured as a result of the efforts that were taken with regard to the armament and with regard to developing advanced weapon systems, but from the viewpoint of doctrines and concepts, which the Americans are using in the nuclear sphere. This is very alarming," Russian Deputy Foreign Minister Sergey Ryabkov said Wednesday, according to the state-run Tass Russian News Agency.
He warned that the W76-2 deployment "indicates the U.S. is really reducing the nuclear threshold and admitting the possibility of them waging a limited nuclear war and winning that war."