U.S. Marine Gets 2 Years' Hard Labor for Mail-Ordering Marijuana Into Japan
A U.S. Marine is facing two years in prison with hard labor following his conviction for ordering a quarter-pound of cannabis to be sent to his base in Okinawa.
Corporal Nicholas Garner on Friday was given the prison sentence along with a $4,344 fine for an attempt to evade Japan's drug laws, a court spokesperson told Stars and Stripes. While 18 states and the District of Columbia have legalized recreational use of cannabis, Japan has maintained its strict prohibition on the drug.
Garner pleaded guilty last month to two counts of violating Japan's Cannabis Control and Customs Act after ordering a package from unnamed individuals in Nevada that included a half-gallon of weed-infused liquid and the quarter-pound of cannabis, reports Stars and Stripes. Garner had the package mailed to him at his residence at Camp Foster in Okinawa on June 7 and had a small amount of cannabis and liquid on him when he was arrested.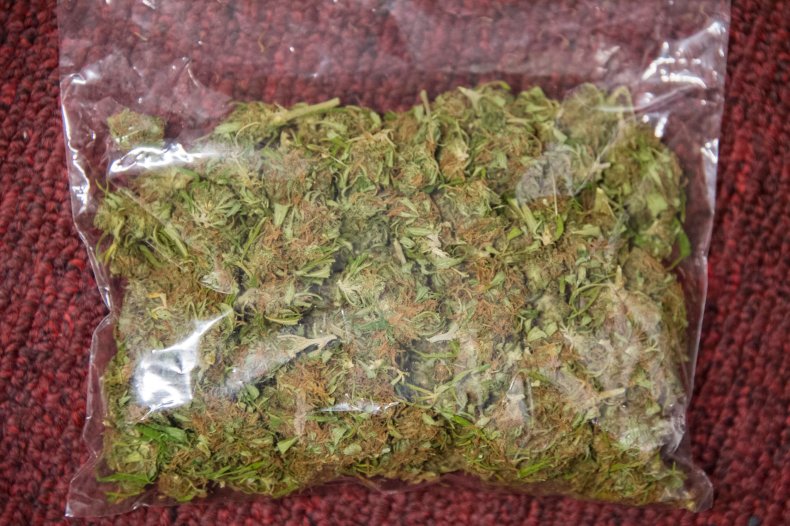 Separately, Corporal Deshane Fox and Lance Corporal Alfred Johnson pleaded guilty on Thursday to one count of violating the act and could face three years' imprisonment and $4,000 fines, according to Stars and Stripes. They were charged after customs intercepted a package at Camp Kinser, also in Okinawa, with over a quarter-pound of cannabis and over 4 grams of liquid sent from California.
Both said they were facing financial difficulties and their attorneys have requested suspended sentences.
"I should have sought financial help," Fox told the court, explaining that a divorce and pay cut pushed him toward selling drugs. Johnson said he thought selling cannabis was his only option after wanting to support his mother in the U.S., who had lost her job during the pandemic.
While other Asian countries have relaxed their cannabis laws, Japan's remain strict. More Japanese consumers are using cannabidiol, or CBD, a non-psychoactive cannabis compound increasingly used for its purported health and wellness benefits, reported The Japan Times. The Japanese health ministry in 2019 approved the use of CBD for refractory epilepsy. However, the paper reports that health authorities are closely monitoring the trend.
Located between the mainland of Japan and Taiwan, the Japanese prefecture of Okinawa has a highly concentrated U.S. military presence with 13 bases with nearly 30,000 active-duty personnel.
At times, the base has been a source of tension with the close ally of the U.S. The American government in 2018 agreed to compensate the family of a Japanese woman killed by a U.S. military worker. More recently, the Japanese government has criticized U.S. authorities after COVID-19 spread rapidly on the bases.
Newsweek has reached out to the Marine Corps for comment.