Which Military Bases Are Named After Confederate Generals?
The Black Lives Matter movement has sparked a discussion around what we should do with statues commemorating men involved in the slave trade or Confederate generals.
Speaker Nancy Pelosi has written a letter asking for the removal of the statues of Confederate leaders from the National Statuary Hall collection at the U.S. Capitol. Elsewhere, protesters in Richmond, Virginia, have torn down a statue of Jefferson Davis.
But President Donald Trump has dismissed calls to rename military bases named after Confederate leaders. Trump said in a series of tweets: "It has been suggested that we should rename as many as 10 of our Legendary Military Bases, such as Fort Bragg in North Carolina, Fort Hood in Texas, Fort Benning in Georgia, etc.
"These Monumental and very Powerful Bases have become part of a Great American Heritage, and a history of Winning, Victory, and Freedom. The United States of America trained and deployed our HEROES on these Hallowed Grounds, and won two World Wars.
"Therefore, my Administration will not even consider the renaming of these Magnificent and Fabled Military Installations our history as the Greatest Nation in the World will not be tampered with. Respect our Military!"
Which military bases are named after Confederate Generals?
Fort Bragg
Fort A.P. Hill
For Lee
Fort Pickett
Fort Gordon
Fort Benning
Fort Rucker
Camp Beauregard
Fort Polk
Fort Hood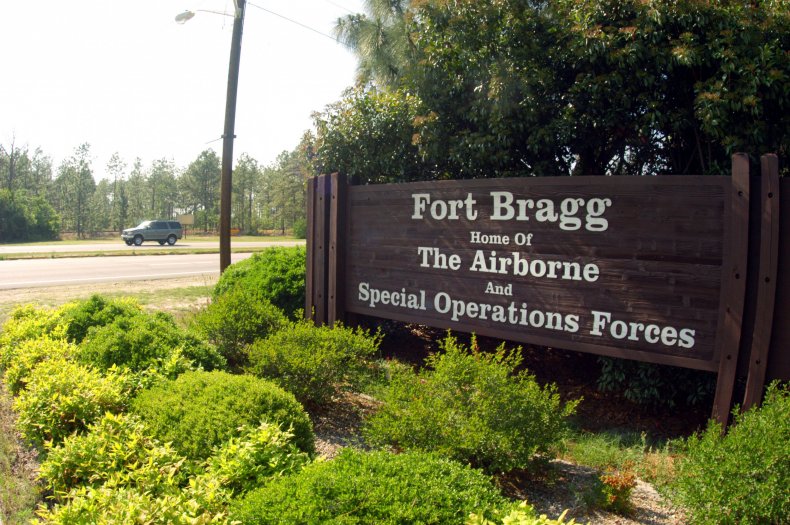 Fort Bragg, North Carolina
Fort Bragg in North Carolina is named for Confederate Gen. Braxton Bragg, who was born in the state. Bragg served in the Second Seminole War, commanded Fort Marion in Florida, and won promotions for bravery during the Mexican War. In 1856, Bragg resigned from the Army and purchased a sugar plantation in Louisiana.
Fort A.P. Hill, Virginia
Fort A.P. Hill is named for Ambrose Powell Hill who was killed in the Civil War. He served during the Mexican-American War and the Third Seminole War.
Fort Lee, Virginia
Fort Lee is named for Gen. Robert E. Lee, who was one of the Confederacy's most famous figures and is known for surrendering to General Ulysses S. Grant in 1865, which ended the Civil War.
Fort Pickett, Virginia
Fort Pickett is named for Maj. Gen. George Picket,t who led a charge in the Battle of Gettysburg. Pickett joined the Confederate Army in 1861 after leaving the U.S. Army.
Fort Gordon, Georgia
Fort Gordon is currently home to the US Army Cyber Corps and Signal Corps and is named after John Brown Gordon. Gordon was a Confederate military leader and post-American Civil War politician and has long been plagued by rumors of Ku Klux Klan involvement.
Fort Benning, Georgia
Fort Benning is named for Brig. Gen. Henry Benning, who was born in Georgia. A delegate of the convention of nine slaveholding states, Benning introduced resolutions that defended slavery and supported a state's right to secede.
Fort Rucker, Alabama
Fort Rucker is named after Col. Edmund Rucker, who served in the Confederate Army in the Civil War before becoming a Birmingham industrialist.
Camp Beauregard, Louisiana
Camp Beauregard in Louisiana is named for Gen. Pierre Gustave Toutant Beauregard. He was instrumental in creating the Confederate flag, as the original flag looked too similar to the U.S. flag.
Fort Polk, Louisiana
Louisiana's Fort Polk is named for Lt. Gen. Leonidas Polk. Polk was a lieutenant general in the Confederate Army during the U.S. Civil War and acquired a large number of slaves through marriage.
Fort Hood
Fort Hood is named for Confederate Gen. John Bell Hood. Hood resigned from the U.S. Army and joined the Confederate Army and later became a cotton merchant.