U.S. Military Sends China Volley of Tweets After Testy Exchange During Navy Reconnaissance Flight
The United States military has hit back at China on social media, after Beijing tried to ward off a navy jet from the South China Sea with a barrage of alarming radio warnings.
The incident took place last week, when a P-8A Poseidon reconnaissance plane, carrying journalists from CNN and the BBC, flew as military officials observed China's ongoing construction of military-capable infrastructure in the South China Sea, despite a handful of nearby countries disputing if the waters are Beijing's to shore up. The warnings demanded U.S. jets "leave immediately and keep out to avoid any misunderstanding," insisting that the disputed area is part of China.
"We will sail, fly and operate wherever international law allows," the navy tweeted, along with the link to the CNN story about the incident. "The United States will not be "warned off" from lawful operations in international waters and airspace," the U.S. Indo-Pacific Command added, quoting the navy's post on Twitter. The U.S. military in Japan also cited the tweet and posted a message of solidarity, writing: "Japan-based U.S. Navy P-8As contribute to regional peace and security every day by flying wherever international law allows."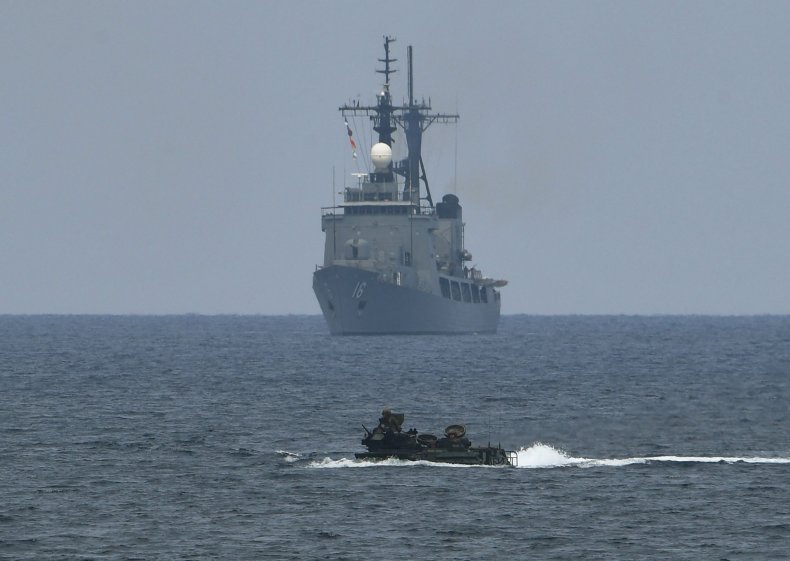 Other service accounts also retweeted the navy's statement, including the Pacific Air Forces and the U.S. Pacific Fleet.
At the heart of the dispute surrounding the South China Sea are the value of the trade routes that pass through the waters and the sheer number of countries with contesting claims in the region. Around $3.37 trillion of trade passed through the South China Sea in 2016, affecting economies around the world, while nearby Malaysia, the Philippines, Taiwan and Vietnam all have contesting bids for what part of the sea they should legitimately control.
The U.S. flight over what Washington considers international waters showed extensive new Chinese installations in the South China Sea tracking 86 vessels in Subi Reef, including Chinese coast guard ships, as well as rows of hangers and a runway stood near Fiery Cross Reef. U.S. forces also flew over two more formations—Johnson Reef and Mischief Reef.
Read more: If Trump and Putin want to meeting again, nobody can stop them, says Lavrov
The head of U.S. Fleet Forces Command Admiral Philip S. Davidson warned last month that China's boost to its maritime influence will be considerable after completing its project in the South China Sea, potentially being able to "project power deep into Oceania."
"In short, China is now capable of controlling the South China Sea in all scenarios short of war with the United States," he told the Senate Armed Services Committee.