President Donald Trump and his Russian counterpart Vladimir Putin will meet again if they wish to, and a U.S. backlash won't stop them, Moscow's top diplomat has said.
The two presidents met last month for a headline-grabbing summit in Helsinki. Trump's comments at a news conference following the meeting caused outrage when the U.S. president suggested he believed Putin's denial of Russian involvement in the 2016 U.S. presidential election over his own intelligence agencies' findings. Trump also allowed Putin to answer a question about Ukraine on his behalf.
U.S. officials have not been able to provide the public with details about what the two discussed in private.
The Trump White House attracted further criticism after extending an invitation to Putin to visit this coming fall. Democrats and Republicans alike have condemned Trump's comments at the Helsinki summit and his willingness to meet with Putin again.
Russian Foreign Minister Sergey Lavrov, however, said he did not believe there was any stopping the two leaders from another meeting.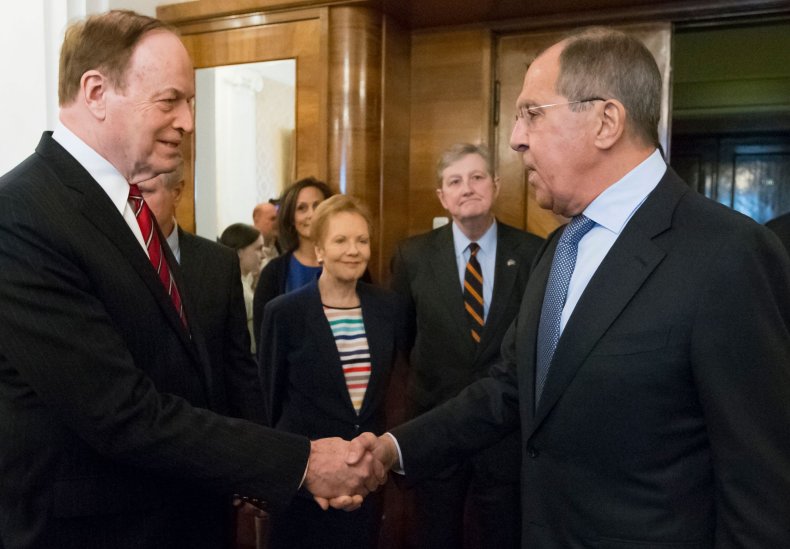 "We never stepped away from contacts, including with representatives of the countries who conduct an openly unfriendly policy toward us," Lavrov said, according to state news agency Itar-Tass. "That is why, if the leaders feel the need to meet and return to the matters that, we believe, should unite Russia and the U.S.—but which prompt rejection among some circles in the United States—I think such a meeting will take place."
Russia's annexation of Crimea in 2014 marked the start of a series of moves by the Kremlin that have sullied its relationship with the West, including backing insurgents in eastern Ukraine, defending the regime of President Bashar al-Assad in Syria and alleged interference in the 2016 -U.S. election. Russia has denied and refused to compromise on its position in these issues in terms of policy, but in terms of publicity has shown enthusiasm in sending Putin and high-ranking officials to meet with foreign counterparts.
Lavrov said his officials are ready to "develop" contacts with the administration further "if, of course, America is ready to act on the basis of a balance of interests, parity and taking into account one another's position."
Read more: Russia and Japan clash over supersonic jets on disputed islands
Ironically, Trump's statements about Putin and Russia have only increased anxiety among U.S. policymakers, resulting in an expansion of sanctions against the Kremlin and an increase in Washington's contribution to the defense of European nations.
The Trump administration announced new restrictions on trade in sensitive electronic imports from Russian last week. A bipartisan group of senators has also drafted a bill to introduce more sanctions to limit the ability of Putin and those around him to disguise illicit wealth.