U.S. Military Will Hold Mass Evacuation Drill During North Korea War Games
The U.S. military has scheduled a mass evacuation drill coinciding with next month's annual joint war games on the Korean Peninsula, where the exercises are expected to raise tensions at a time of rare calm between the region's longtime rivals.
As part of a maneuver to practice evacuating more than 200,000 U.S. citizens and other civilians in South Korea in the event of a war breaking out with nuclear-armed North Korea, the U.S. was set to transport 100 volunteers all the way back home, a first for the yearly training according to Stars & Stripes. The so-called "Focused Passage" drill would take place between April 16 and 20, after the U.S. and South Korea launched the "Foal Eagle" and "Key Resolve" combat exercises on April 1.
Related: What Does North Korea's Kim Jong Un Want From Trump? Three Steps the U.S. Can Take to Solve Nuclear Crisis
The upcoming U.S. military activity demonstrated that, even at a time of relative calm, the shadow of war constantly lurked on the Korean Peninsula. Army Pacific spokesman Colonel Christopher Garver said last month that the developing situation in the region warranted new measures to ensure civilians could be brought home safely.
"Without going into classified details, the plans needed an update because the scope and scale of the situation continues to grow and because the war plans themselves have evolved over time. Noncombatant evacuation planning needs to maintain pace with other planning," Garver said in a statement, according to Military.com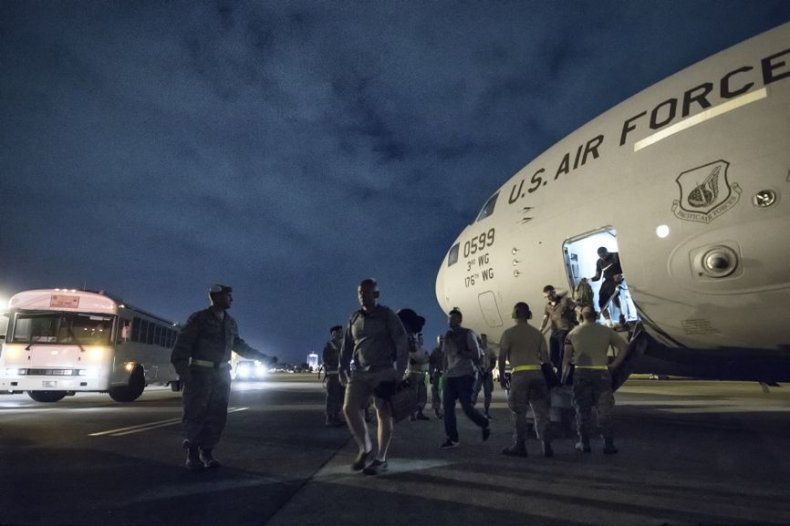 According to the Navy, those who may be transported in noncombatant evacuation operations include U.S. citizens who are "civilian employees of all U.S. government agencies and their dependents; military personnel of the U.S. Armed Forces specifically designated for evacuation as noncombatants and dependents of members of the U.S. Armed Forces."
It also includes non-U.S. citizens who are "civilian employees of the U.S. government agencies and their dependents who are residents in the country but express the willingness to be evacuated; private U.S. citizens and their dependents; military personnel and dependents of members of the U.S. Armed Forces outlined above, short of an ORDERED evacuation and designated aliens, including dependents of persons listed above."
"Focused Passage" would likely take place at the same time as "Foal Eagle and "Key Resolve." These two combat exercises, which are seen by North Korea as a major provocation, were delayed this year due to 2018 Winter Olympic Games in Pyeongchang, South Korea and the ongoing inter-Korean peace talks that surrounded them.
Even after President Donald Trump agreed to a historic meeting with North Korean supreme leader Kim Jong Un before the end of May, a senior administration official told Newsweek earlier this month that the U.S. planned to carry out the exercises.
Amid widespread speculation as to the fate of the exercises, Defense Secretary James Mattis and his South Korean counterpart agreed to resume the drills, "at a scale similar to that of the previous years," according to a Pentagon statement released Monday. The statement said North Korea's military had been informed.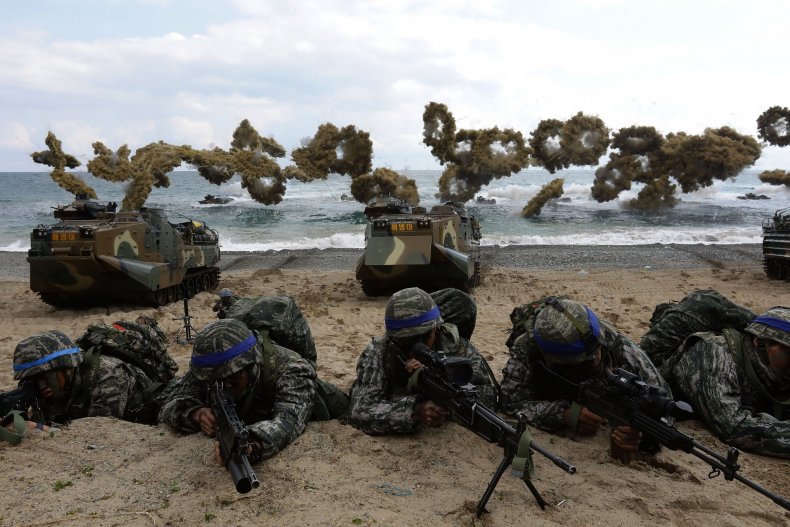 In previous years, North Korea has condemned such joint U.S.-South Korea military exercises as a veiled practice to attack and overthrow Kim. The latest and youngest to lead his family's ruling dynasty, Kim has expanded on his grandfather and father's platform of developing nuclear weapons and ballistic missiles to guard against a potential U.S. invasion, but—like his predecessors—his weapons program has drawn intense international sanctions, especially from the U.S.
North Korea and its various government-controlled media outlets have so far remained silent about both the upcoming military exercises and the planned meeting between Kim and Trump. A number of articles condemned the moves of unspecified "imperialists," but only occasionally referenced the U.S. by name, with much criticism being reserved for conservative forces in South Korea and Japan.
On Tuesday, one commentary published by the official Korean Central News Agency said a "dramatic atmosphere for reconciliation has been created in relations between the north and the south of Korea and there has been a sign of change also in the DPRK-U.S. relations," using an acronym for North Korea's official name, the Democratic People's Republic of Korea.