U.S. Sending Missile Defense to Iraq After Attack from Iran, Which Already Has A New Weapon
The United States is deploying missile defenses to Iraq in the wake of January's strikes from Iran, which has since unveiled a new missile capable of cross-border attacks.
Marine General Kenneth McKenzie, head of U.S. Central Command, told the House Armed Services Committee on Tuesday that the Pentagon was "in the process of bringing air defense systems, ballistic missile defense systems, into Iraq in particular, to protect ourselves against another potential Iranian attack." The Islamic Republic fired a barrage of ballistic missiles at Iraqi bases housing U.S. troops in response to the assassination days earlier of Revolutionary Guard Quds Force commander Major General Qassem Soleimani at Baghdad International Airport.
Iraq condemned both the U.S.' slaying of Soleimani and Iran's retaliation as violations of its sovereignty and lawmakers voted for the withdrawal of all foreign forces from the country. The Pentagon, however, has not yet indicated any plans to leave, though it would need Baghdad's approval to be able to send in systems like the Patriot surface-to-air missile batteries deployed in nearby nations.
Iran, which also considers Iraq a partner, has since taken measures to shore up its strike capabilities. Last month, the Revolutionary Guard inaugurated a new short-range missile known as Raad-500 that was said to be lighter and longer-range than some of those used in the unprecedented operation that targeted U.S. troops earlier this year.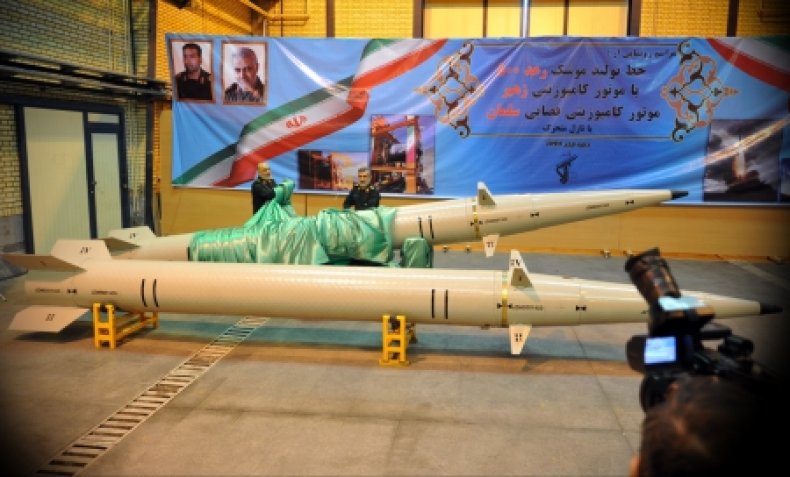 The Raad-500 was unveiled by Revolutionary Guard commander Major General Hossein Salami and aerospace force commander Brigadier General Amir Ali Hajizadeh at a February 9 ceremony. The elite Iranian force boasted a range of 500 kilometers, or just over 310 miles, more than double the Fateh-110's 210-kilometer, or 130-mile range.
One of the Raad-500's innovations is its light-weight, carbon fiber composite engine, known as Zohair. The solid-fuel design also had a derivative known as Salman designed for space-launch vehicles.
Iran possesses the largest and most advanced missile arsenal in the Middle East, something that the U.S. considers a threat to regional stability. Tehran's continued missile development and its support for militias in Iraq, Syria, Lebanon and beyond were cited by President Donald Trump's administration as reasons for its May 2018 exit from a 2015 deal that offered Iran sanctions relief in exchange for curbing its nuclear activities.
Tensions between the two longtime foes have been climbing ever since, with the U.S. sending additional troops and assets to the strategic Persian Gulf off of Iran's shores. The White House has set out to choke off the Islamic Republic's oil exports entirely as part of a "maximum pressure" campaign accompanied by acts of sabotage against tankers and a September strikes on Saudi oil facilities all blamed on Iran, which denies any role.
Frictions worsened in Iraq, however, where both countries have supported efforts to defeat the Islamic State militant group (ISIS) but compete for influence over the country's political system. January's explosive events followed a series of escalations that involved the death of a Pentagon contractor by rocket fire, retaliatory U.S. strikes on Iran-backed militia bases in Iraq and Syria and violent pro-militia demonstrations at Washington's embassy in Baghdad.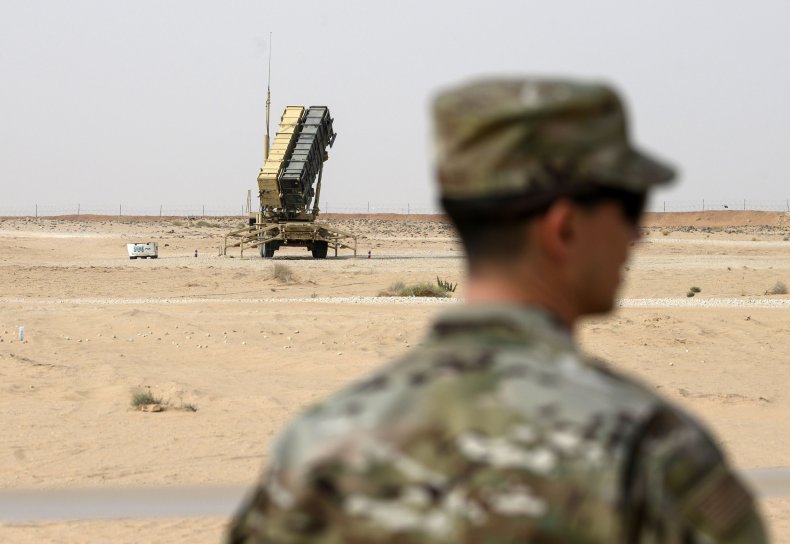 With the U.S. and Iran at odds, however, ISIS has managed to regroup in some areas of the country. The Iraqi military and the partnered Popular Mobilization Forces, whose deputy leader was killed alongside Soleimani, have continued to conduct daily operations against the jihadis but the group has managed to maintain sleeper cells capable of staging deadly ambushes.
On Sunday, two U.S. service members "were killed by enemy forces while advising and accompanying Iraqi Security Forces during a mission to eliminate an ISIS terrorist stronghold in a mountainous area of north central Iraq," the Pentagon said in a statement released the following day. The Pentagon later identified the two slain Marines on Tuesday, adding that the "incident is under investigation."
Amid the unrest in Iraq, where months-long anti-government protests continued to rock the streets, Iran has sought to maintain its relationship with those in charge. Iranian Supreme National Security Council Secretary Read Admiral Ali Shamkhani arrived Saturday at the same Baghdad airport in which Soleimani was killed in order to meet the following day with top Iraqi leaders including President Barham Salih, caretaker Prime Minister Adel Abdul-Mahdi, parliamentary speaker Mohammed al-Halbousi, National Security Advisor Falih al-Fayyadh, Intelligence Director Mustafa al-Kazemi and others.
The senior Iranian official called for the expulsion of U.S. troops from Iraq and the region as a whole and offered support in combatting the coronavirus epidemic that has gripped Iran and begun to take its toll on Iraq as well.