U.S. Navy Calls Iran War Games Targeting Fake Aircraft Carrier an Attempt 'to Intimidate, Coerce'
The U.S. Navy has criticized a set of Persian Gulf war games conducted by Iran's elite Revolutionary Guard that targeted a mock U.S. aircraft carrier at a time of heightened tensions between the two foes.
The final phase of Iran's "Great Prophet 14" exercises began Tuesday across country's southern Hormozgan Province, the Persian Gulf and the strategic Strait of Hormuz oil traffic chokepoint, constituting exercises at land, air and sea. The drills involved the launch aircraft, drones, air defenses as well as the launch of long-range anti-ship missiles among other weapons, but one set of maneuvers in particular caught international attention.
In footage carried by Iran's semi-official media outlets, Iranian fast-attack craft could be seen surrounding a mock-up of a USS Nimitz-class aircraft carrier, which was then seen targeted by a missile, apparently launched by an attack helicopter filmed moments earlier.
The move elicited a negative reaction from the Fifth Fleet, which oversees the actual USS Nimitz as it operates in the nearby Indian Ocean.
"We are aware of the Iranian exercise involving attacking a mock-up of a vessel similar to a motionless aircraft carrier," Fifth Fleet spokesperson Navy Commander Rebecca Rebarich said in a statement sent to Newsweek. "The U.S. Navy conducts defensive exercises with our partners promoting maritime security in support of freedom of navigation; whereas, Iran conducts offensive exercises, attempting to intimidate and coerce."
"While we are always watchful of this type of irresponsible and reckless behavior by Iran in the vicinity of busy international waterways, this exercise has not disrupted coalition operations in the area nor had any impacts to the free flow of commerce in the Strait of Hormuz and surrounding waters," she added.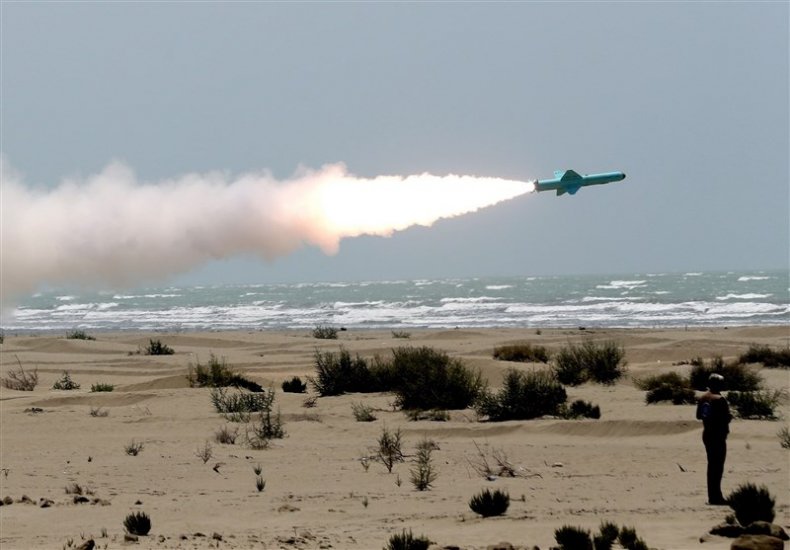 Tanker Trackers, a website monitoring seaborne oil movement, confirmed Tuesday that the Iranian exercises were not blocking any international maritime traffic.
Heavy sanctions levied against Iran by the United States since President Donald Trump's 2018 exit from a multilateral nuclear deal with Tehran and major world powers have deeply hindered the Islamic Republic's ability to export oil. The Persian Gulf region has grown restive in the years since, with oil tankers sabotaged and Saudi oil facilities targeted in attacks blamed by the U.S. on Iran, which denies the allegations.
The Revolutionary Guard last sunk a dummy U.S. aircraft carrier during similar exercises in early 2015, months before the nuclear deal was finalized, and the latest display comes after the Revolutionary Guard circled the real-life Fifth Fleet in an April move that prompted Trump to say he authorized sailors to respond with deadly force. An Iranian official told Newsweek at the time that "Iran has proven that it will not succumb to intimidation and threats, nor will it hesitate to defend its territory, in accordance with international law, from any and all aggressions."
Iranian military leaders indicated on Tuesday that the Great Prophet war games were a sign of the country's military might in the face of its foes.
"Our policies to protect the vital interests of the dear nation of Iran are defensive, in the sense that we will not invade any country from the beginning, but we are completely offensive in tactics and operations," Revolutionary Guard commander-in-chief Major General Hossein Salami said at the sidelines of the war games.
"What was shown today at this exercise at the level of aerospace and naval forces was all offensive," he added.
Senior Revolutionary Guard commander Major General Gholam Ali Rashid, head of Iran's Khatam-al Anbiya Central Headquarters, warned that "those seeking to show Iran as an unstable country, while the country is making all-out efforts to contain the coronavirus as well as the U.S. bullying, will definitely pay heavy prices for their actions."
Iran has vowed to expel U.S. forces from the Middle East, including warzones in Iraq and Syria, in response to the January killing of Revolutionary Guard Quds Force commander Major General Qassem Soleimani in Iraq. Supreme leader Ayatollah Ali Khamenei again vowed to deliver a "counterblow" to the U.S. during his meeting last week with Iraqi Prime Minister Mustafa al-Kadhimi.
Iranian media also reported Tuesday that the exercises were monitored by the Noor satellite, launched by the Revolutionary Guard into orbit in April. Washington has criticized the move, with Secretary of State Mike Pompeo saying earlier this month: "I think the world recognizes that program as being deeply connected to their desire to have longer and longer-range missile systems that they can use to hold hostage the world."
Pompeo has campaigned for world powers not to allow the scheduled expiration of a United Nations-imposed arms embargo against Iran in October. Brian Hook, the State Department's special representative for Iran, traveled earlier this week to Tunisia, Qatar and Kuwait in an attempt to rally Arab support for extending weapons trade restrictions on Iran and was next set to visit Estonia and the United Kingdom.