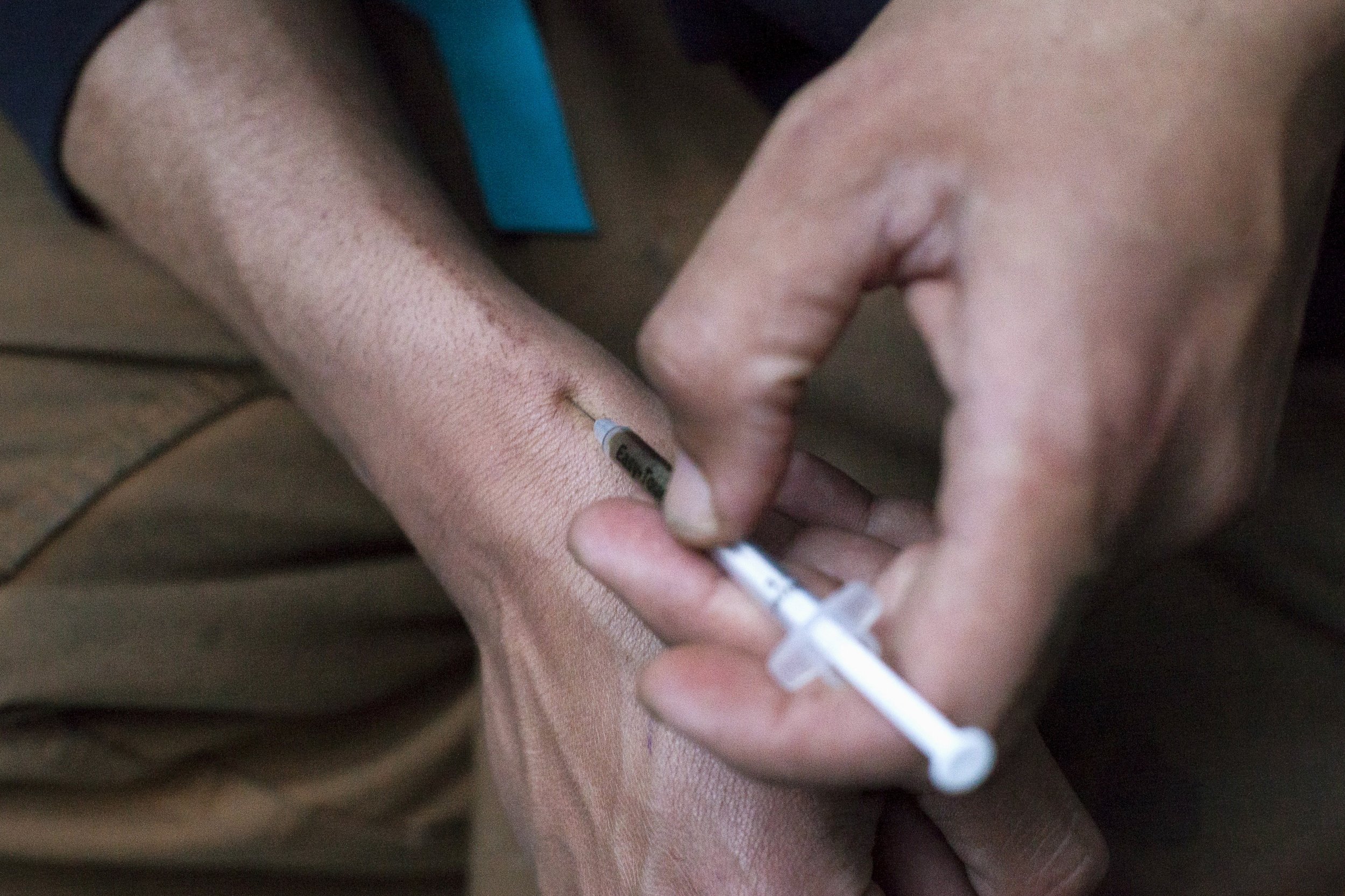 Donald Trump's administration has a fight on its hands. Across the U.S., a worsening drugs epidemic has led to thousands of opioid-related deaths. In December 2016, the Centers for Disease Control and Prevention announced it had registered 33,000 opioid-related deaths in 2015 alone.
Larry Hogan, the governor of Maryland, announced a state of emergency in early March to deal with the opioid epidemic ravaging his jurisdiction. Then on March 11, a coroner in Stark County, Ohio made headlines when he had to rent a cold storage mass casualty trailer to deal with an influx of bodies to his morgue. Nearly half had died from a drug overdose.
Toxicology reports will eventually reveal what killed them: prescription opioids like oxycodone; synthetic opioids like fentanyl; or heroin. This last drug is now the one to watch. Between 2010 and 2015, deaths from heroin overdoses more than tripled, according to the Centers for Disease Control and Prevention. In 2015, heroin was responsible for one in four drug overdose deaths.
Read more: Why so many white American men are dying
According to a new study published Wednesday in the journal, JAMA Psychiatry, there has been a fivefold increase in the number of Americans using heroin in the past decade. Researchers based their findings on two national studies, one involving 43,000 people from 2001 to 2002 and another involving 36,300 people from 2012 to 2013.
Extrapolating from the second study, researchers found that 3.8 million Americans or 1.6 percent of the population had likely used heroin at some point during their life. White males were disproportionately represented—their heroin usage increased sixfold between the two studies.
Looking more closely at the figures, it emerges that unmarried white men, aged 18 to 44 with a low income or low level of education, are one of the most vulnerable demographics to heroin use and abuse.
More generally, however, the data showed that heroin use was up across every single demographic, regardless of gender, age, race or education. The study's authors have also pointed out that since the surveys didn't include people in prison or homeless people, the number of adults using heroin in the U.S. is likely to be far higher.
Among white users, prescription opioids seem to be a gateway drug to heroin. The study found that between the two surveys the percentage of whites who had misused prescription opioids leapt from 35.8 percent to 52.8 percent. Conversely, for non-whites this figure actually fell.
In 2015, then President Barack Obama implemented policies designed to crack down on the over-prescription of opioid painkillers. The Guardian reports that for white users at least, Obama's efforts to curb the opioid epidemic likely pushed them towards illegal alternatives, of which heroin is one.
Among non-white users, prescription opioids play a less significant role in leading them towards heroin use. Several reports have found that U.S. doctors are less likely to prescribe black Americans prescription painkillers, while pharmacies in minority ethnic communities tend to have lower opioid supplies.
In February, PBS' Frontline analyzed deaths from heroin usage among African Americans (a 213 percent increase from 2010 to 2014); Hispanics or Latinos (a 137 percent increase from 2010 to 2014); and Native-Americans (a 236 percent increase from 2010 to 2014).
Frontline found that among Native-Americans, lack of access to naloxone, a drug that can combat an opioid overdose was contributing to the spike in deaths. Among African-Americans and Latinos, Frontline found, heroin use spread through friends and families, though demand for the drug from white communities had also seen it push into the inner cities.
As deaths from opioids continue to mount, the White House has announced plans to tackle the epidemic. On Wednesday, President Donald Trump announced that New Jersey governor Chris Christie would lead a commission to tackle the spread of the drug. For Christie, the problem is personal. In 2015, during his failed presidential bid, he spoke movingly about losing a friend to prescription painkillers.
Christie's commission will produce a report detailing how to deal with the spiralling problem. But, drug policy experts have pointed out that the Obama administration produced a similar report in November 2016. They add that Trump is yet to appoint his director of the Office of National Drug Control Policy. Worse yet, the Trump administration has also proposed cutting opioid research and treatment funding while U.S. Attorney-General Jeff Sessions, who sits on Christie's commission, supports harsh punishments for drug users.
Unless opioid abusers get treatment and support, drug policy experts believe the opioid epidemic isn't going away.