U.S. Plan in Venezuela Is Not Working, but Russia May Not Be to Blame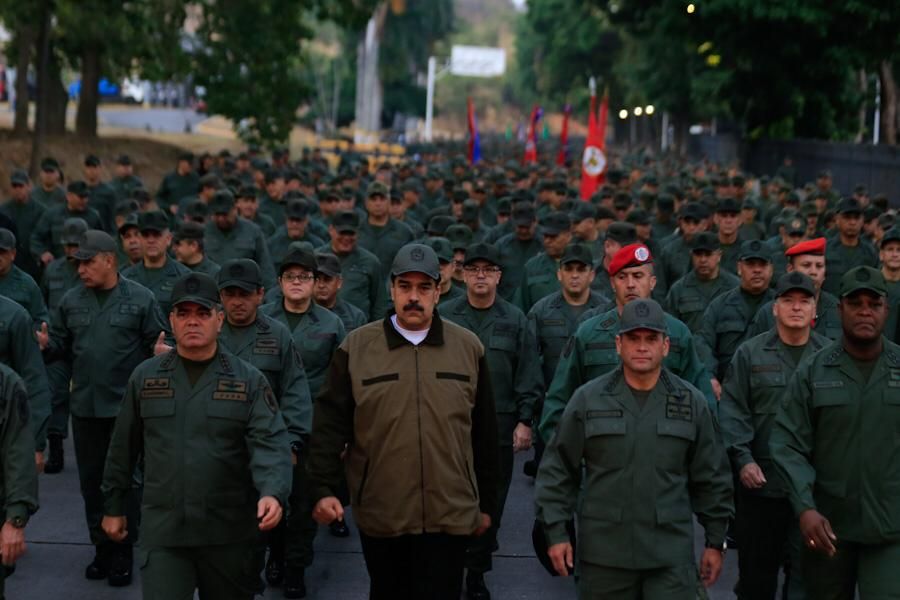 An aborted uprising in Venezuela has raised tensions not only between competing factions within the country but among already strained rival international powers. And President Donald Trump's administration might be looking for somewhere else to lay the blame.
Amid a three-month standoff with Venezuelan President Nicolás Maduro, U.S.-endorsed opposition leader Juan Guaidó announced the "final phase" of his self-proclaimed bid for the presidency last Tuesday, calling for members of the armed forces to defect as he gathered among a small, armed faction of former military personnel and demonstrators outside the La Carlota air base in Caracas. The government cracked down, culminating in clashes and conflicting reports of who supported who and what transpired as Maduro appeared to remain firmly in power a week later.
As the uprising began to lose momentum, White House national security adviser John Bolton maintained the U.S. had been "well-informed" of the plan and claimed that three of Maduro's most senior officials—Defense Minister Vladimir Padrino, Supreme Court Chief Justice Maikel Moreno and Presidential Guard Commander Hernandez Dala—agreed to switch sides but ultimately did not. He blamed "the Cubans."
Secretary of State Mike Pompeo then claimed that Maduro "had an airplane on the tarmac, he was ready to leave" for Cuba, until "the Russians indicated he should stay." Both Havana and Moscow have dismissed these assertions, accusing officials in Washington of distorting the facts. And now experts, too, have raised doubts about the U.S. response to Guaidó's ill-fated push for power.
"The U.S. government has the incentive to say the things they said whether or not they're true," Naunihal Singh, an assistant professor at the Naval War College, told Newsweek. "I'm not sure other people are believing these statements, whether they're true or not. They may have been directed toward a domestic audience, they may have been directed at the most important audience, Trump. The last thing Pompeo and Bolton want is to look like they were caught unawares."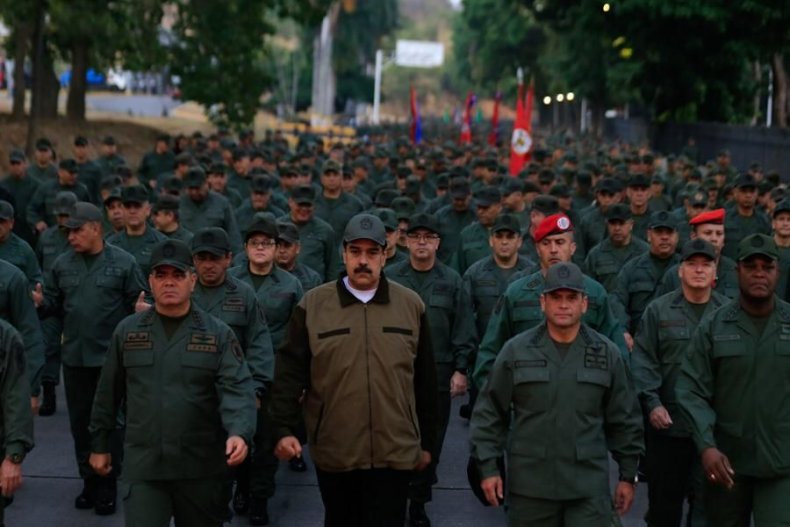 Singh, an expert on coups who emphasized that he was speculating on his own behalf, said he was surprised not only by how last week's events played out but the way in which actors, in Venezuela and abroad, have reacted. For a U.S. administration not known for its subtlety and in a country infamous for violent gang activity and state-sponsored militias, he said that "all of this seems weirdly subdued" and suggested that Guaidó may have fallen victim to "over-optimism," bad information or simply felt that "he needed to act" or risk losing momentum.
The country's oil-addicted economy, already in recession due to poor management, was sent into a downward spiral after the Trump administration laid out sanctions in August 2017 and Guaidó, along with his supporters at home and abroad, have hoped that even tighter U.S. restrictions would finally cause Maduro to capitulate. He has not, nor has Guaidó been prevented from summoning more rallies against the government.
While Pompeo and Bolton have publicly flirted with the potential of military action to break the stalemate, Trump remained largely quiet. His initial reaction came last Tuesday afternoon in the form of a tweet reading: "I am monitoring the situation in Venezuela very closely. The United States stands with the People of Venezuela and their Freedom!"
The uncharacteristically muted tone was deemed by Factba.se, a site that compiles the public statements by Trump and other officials, likely to be have been written by the president's staff. It was not until Bolton and Pompeo blamed foreign actors later that same day that a more Trump-like tweet emerged threatening a "full and complete embargo, together with highest-level sanctions" against Cuba for its alleged role in the affair.
Trump then took a more moderate mood on Friday after an hour-long call with Russian President Vladimir Putin. According to Trump, Putin said he was "not looking at all to get involved in Venezuela, other than that he'd like to see something positive happen." Bolton quickly tweeted around this same time that "Maduro is only clinging to power because of the support of Russia and Cuba" and Pompeo repeated on Sunday that Moscow had stepped in, arguing there was "no difference" between his claims of Russian interference and Trump's assurance that Putin did not want to intervene.
A week since Guaidó's plan fell short, it remained unclear exactly what Russia or Cuba had, if anything, to do with convincing Maduro and his allegedly defecting officials to stay. Both countries, no friend of Washington's foreign policy track, have shored up relations with Caracas and have a historical precedent of devoting military assets to push back against U.S.-backed movements abroad, especially during the Cold War that ideologically aligned the duo and produced one of the tensest nuclear standoffs in history. But experts argued this was different.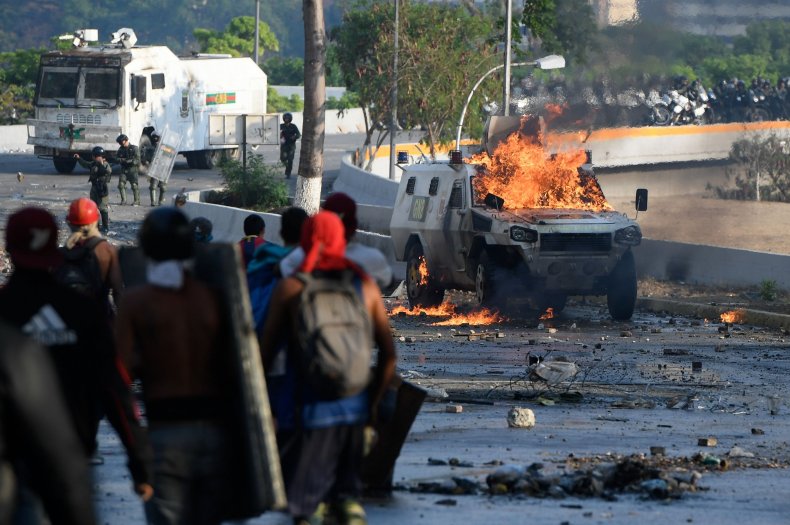 What happened Tuesday was no Cuban Missile Crisis, nor was it the conflict in Syria, where Russia staged a largely successful military intervention in 2015 to support a government targeted by an uprising backed by the U.S. and its allies. The latest unrest in Venezuela did not even compare to the reportedly U.S.-backed 2002 coup attempt against Maduro's predecessor, Hugo Chávez, an event that saw another self-proclaimed president briefly force the leader off the mainland.
"In my mind, in 2002 they dropped the ball almost in the end zone, then Chávez scooped up the ball and ran the opposite way with it," Singh explained. "This situation seems very different. This seems like it was a non-starter."
Adriana Boersner, a Ph.D. candidate in the political science at the University of Missouri, who had previously served an assistant and visiting professor at Venezuela's Universidad Simón Bolívar, Universidad Central de Venezuela and Universidad Metropolitana, told Newsweek that "the Cuban government has been involved in Venezuela since Hugo Chávez, more profusely after 2002" and "although the number of Cubans in social programs and in Venezuelan government entities has been exaggerated on several occasions, Cubans have had an important presence in the country both within the armed forces and in the intelligence and migration services in Venezuela."
Still, "Cuba's intervention is not new nor a simple game to let Washington be seen as bad," she argued, and the U.S. explanation regarding Russia was likely even further off the mark.
"There is no indication that Maduro was determined to leave the country and that Russia prevented Maduro to do so," Boersner said. "A possible Russian intervention like this becomes less credible when high officials of the U.S government revealed classified information of this magnitude in the moment and the way they published it. Also, there is no indication that Russian troops and technicians are prepared to act in an eventual crisis in Venezuela."
Venezuelan Foreign Minister Jorge Arreaza hinted Monday at the possibility of Caracas seeking to expand its "military-technical" ties with Russia by increasing the number of specialists in his country, but Moscow's embassy there confirmed that these personnel would not intervene during last week's unrest.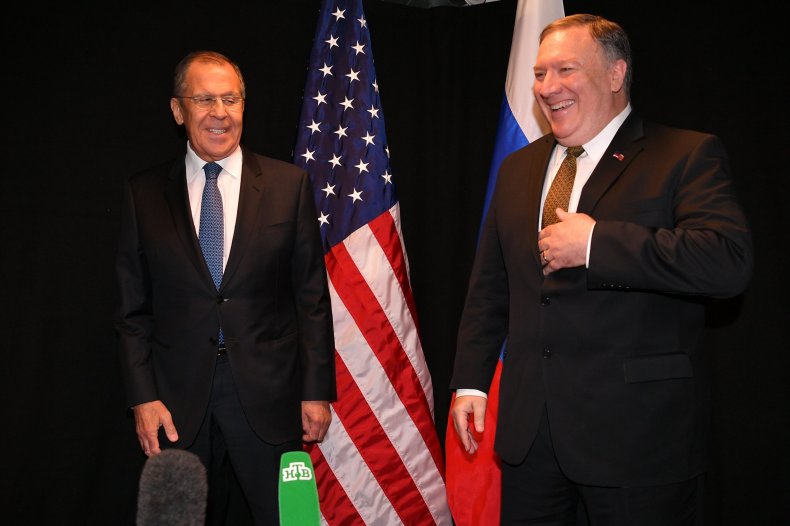 The U.S. and Russia have for decades run the risk of military confrontation by challenging one another's interests abroad. Washington's ability to do so, however, has remained unrivaled since the end of the Cold War, which saw the Soviet Union collapse and its military capabilities fall far behind that of its rival. As Putin strove to rebuild Russia's global influence, he and his top officials have often criticized their U.S. counterparts' perceived hypocrisy when seeing Moscow's footprint everywhere.
Russia reportedly maintains about 21 major military facilities outside its borders, mostly in the so-called "near abroad" that includes former Soviet republics in Eastern Europe and Eurasia, but also notably in Syria. For comparison, the U.S. has around 800 military bases around the world, including across its own "near abroad" of Latin America and just off Russia's own borders in the West and East.
Moreover, the U.S. was already deeply involved in devoting military assets to rival Russia in conflict zones such as Ukraine and Syria—where neither the Trump administration or that of former President Barack Obama before it has demonstrated major success in isolating Moscow via military moves.
"What could boost an actual Russia presence in the current Venezuelan crisis is any U.S course of action in Ukraine, for example, like the recent shipment of soldiers from the U.S. 101st Airborne Division to Ukraine," Boersner told Newsweek. "The reality here is that if the United States keeps advancing in territories close to Russia or on issues of vital geostrategic importance to Russia (e.g., Syria), Moscow will increase its presence in Latin America even further to counterbalance the U.S."