U.S. Refutes Claims That Ukrainian Civilians Are Going to Russia Willingly
The Pentagon on Monday refuted Russia's claims that some Ukrainian civilians are willingly traveling to Russia.
More than 1 million Ukrainian civilians, including close to 200,000 children, have been moved to Russia since the start of the invasion, Russian news agency TASS reported. Ukraine warned they might be potentially used as hostages, according to the Associated Press, while the Kremlin has insisted that they moved to Russia willingly.
Russia has faced allegations of human rights abuses since invading Ukraine in late February, with some calling alleged attacks on civilians war crimes. Russian bombings of schools and hospitals, as well as killings in the Kyiv suburb of Bucha, drew international criticism from world leaders.
Pentagon spokesperson John Kirby said during a Monday afternoon press briefing that the U.S. has seen indications that some civilians might have been forcibly moved to Russia. It's the latest example of Western governments raising concerns about the potential of human rights abuses in Ukraine.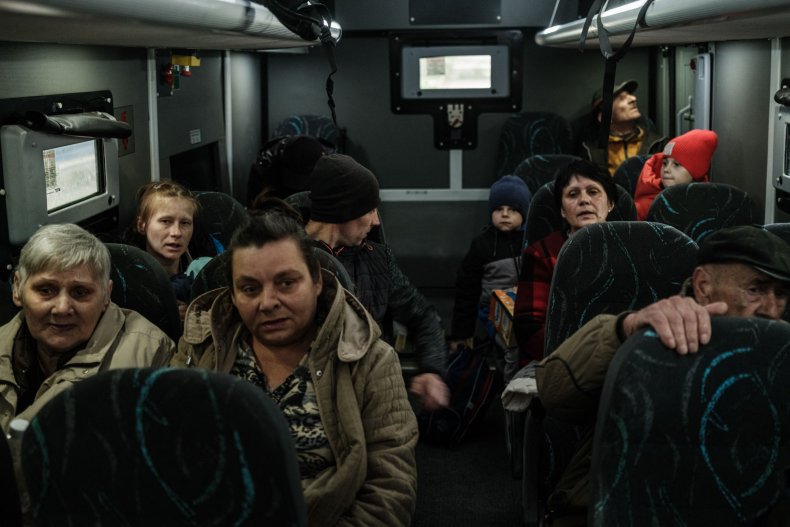 "We do have indications that Ukrainians are being taken against their will to Russia. Again, unconscionable," Kirby said. "Not the behavior of responsible power. Certainly another indication that he simply won't accept and respect Ukrainian sovereignty and that they are citizens of another nation."
Kirby said he could not provide the exact number of Ukrainians who have been moved or to where in Russia.
He also did not provide details about what conditions they might be living in, but Ukrainian officials have said they are living in "filtration camps," the BBC reported.
Kirby also declined to go as far as to call the alleged action by Russia ethnic cleansing when pressed by a reporter but added that you "don't have to look very far to see evidence of Russian brutality."
His remarks go against Russian claims that it evacuated Russian civilians from potentially dangerous areas in Ukraine's Donbas region, a rebel-controlled area in the eastern part of the nation where many people speak Russian. The Kremlin has said its goal is to liberate the region from Ukraine.
Many of the Ukrainians allegedly moved to Russia have been from Mariupol, a key port city. Thousands of the city's residents have been forced to move, local officials said. The city council claimed that Russian forces were also taking away residents' Ukrainian identification documents.
The invasion has displaced millions of Ukrainians. In total, nearly 6 million others have been forced to flee the country, often migrating to neighboring countries such as Poland or Romania, according to the United Nations.
Newsweek reached out to the Russian and Ukrainian foreign ministries for comment.