Navy Secretary Warns U.S. May Run Out of Weapons for Its Defense
Within the next six months, the United States Navy may need to decide whether to arm itself or Ukraine due to a reported weapons shortage.
The comment was made Wednesday by Navy Secretary Carlos Del Toro to a group of reporters on the sidelines of the 2023 Surface Navy Association National Symposium in Arlington, Virginia, Defense One editor Marcus Weisberger reported.
Weisberger tweeted that although the bulk of American weapons given to Ukraine are land weapons and not naval weapons, Del Toro's concerns are shared by others.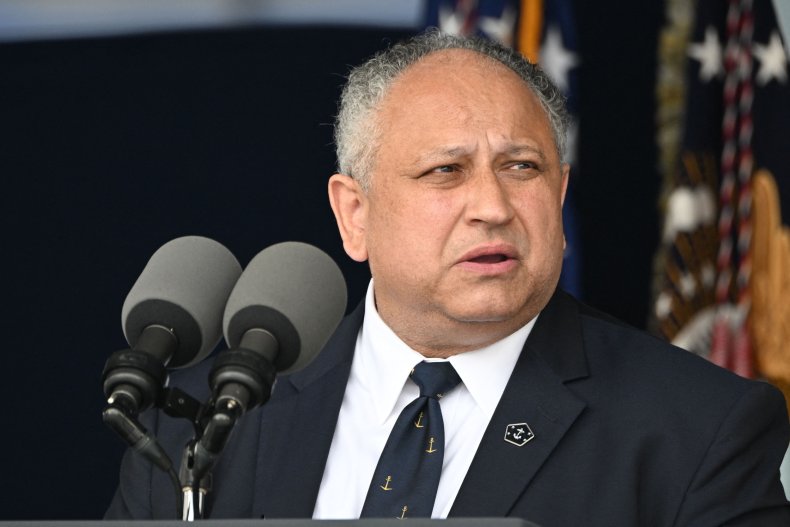 "An admiral alluded to the US needing to choose between itself and Ukraine during a panel at the conference," he wrote.
Del Toro is one of the dozens of members of the military, defense industry and Congress at the conference held January 10 to 12 that featured discussions about national defense and security.
His comments follow concerns expressed by James G. Stavridis, a retired U.S. Navy admiral who formerly served as the NATO supreme allied commander for Europe from 2009 to 2013, over the weekend.
Stavridis predicted that a prolonged conflict between Ukrainian defenders and Russian invaders would continue throughout the winter with neither side gaining an upper hand.
"When I put it all together, more war to go," he said. "Ukrainians win it on the ground. Russians winning in the skies."
Mark Cancian, a retired U.S. military officer at the Center for Strategic and International Studies, found Del Toro's reported comments "surprising" due to the Navy being least affected by weapons presently shipped to Ukraine.
"Those weapons are mostly for ground combat," Cancian told Newsweek. "The Navy, particularly in the Western Pacific, needs weapons for air and maritime combat. Although there are a few overlaps, like Harpoons, the tradeoffs are minor.
"Further, funding for arms sent to Ukraine has been in addition to the regular defense budget, so the services have not had to cut programs."
Harpoon anti-ship missiles have been described as probably the most common weapon of its type in the West. First produced by McDonnell Douglas in 1975 and now part of Boeing, over 7,000 have reportedly been produced and cost about $1.5 million each. They are launched from aircraft, trucks and submarines.
The missiles were part of a $1 billion security aid package to Ukraine approved by the Department of Defense last June.
"The provision of [the] Harpoon is not in response to any particular piece of new information," an unnamed DoD official said at the time. "It's a combination of continued consultation with the Ukrainians, and coastal defense still being near the top of their urgent requirements list."
That same month, Harpoon missiles were used by the Ukrainian Navy to strike a Russian vessel on its way toward Snake Island.
Ian Williams, deputy director of the CSIS Missile Defense Project, told Newsweek that it remains unclear which naval weapon systems Del Toro is referring to as most of the weapons that have been provided to Ukraine have been drawn from Army stocks.
He said a diversion of Advanced Medium-Range Air-to-Air Missiles (AMRAAM) to Ukrainian National Advanced Surface-to-Air Missile System (NASAMS) units could start affecting the U.S. Navy at some point.
"The Seasparrows are probably coming from the Navy, but those are pretty old and have been mostly replaced with the ESSM (Evolved SeaSparrow Missile)," Williams said. "But I think Del Toro's broader point is that the United States needs to ramp up its defense production capacity, which is true. If we're going to become the arsenal of democracy again, we need to scale up."
Newsweek reached out to Stavridis, the U.S. Navy and the Pentagon for comment.
Update 01/11/23, 3:15 p.m. ET: This story was updated with comments from Mark Cancian and Ian Williams.