U.S., Russia and Europe Hold Back-to-Back Nuclear War Games Across the Globe
United States, Russia and Europe have all planned near-concurrent nuclear war games across the globe, testing their strategic capabilities in the event of a conflict.
U.S. Strategic Command commenced on Friday its "annual command and control exercises" "Global Thunder" and "Vigilant Shield 20" alongside the North American Aerospace Defense Command and U.S. Northern Command. The drills were designed to "assess all USSTRATCOM mission areas and joint and field training operational readiness, with a specific focus on nuclear readiness."
"This exercise employs global operations in coordination with other combatant commands, services, appropriate U.S. government agencies, and allies to deter, detect and, if necessary, defeat strategic attacks against the United States and its allies," U.S. Strategic Command said in a statement.
Meanwhile, in Russia, President Vladimir Putin just wrapped up his own "Thunder 2019" exercise, involving some 12,000 troops, five nuclear submarines, 105 aircraft and 213 missile launchers. The three-day, cross-continental display that concluded Thursday included the firing of nuclear-capable ballistic and cruise missiles at Russia's Komi Republic, Arkhangelsk province and the far-eastern Kamchatka Peninsula.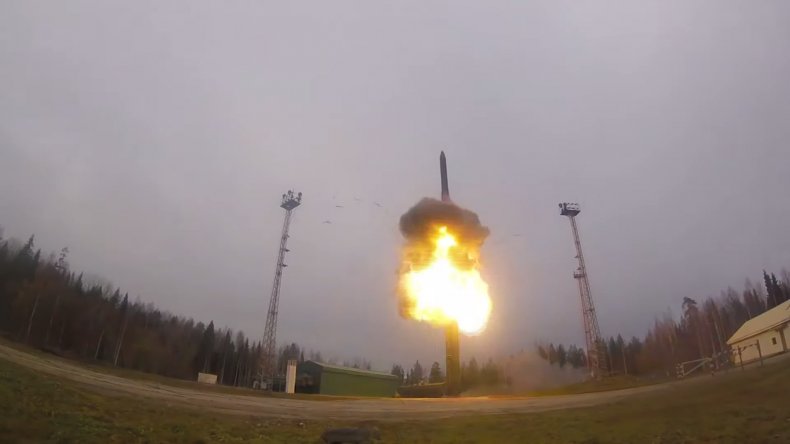 The Russian military tested a variety of weapons including the RS-24 Yars intercontinental ballistic missile (ICBM), the 3M-54 Kalibr cruise missile, the Sineva ballistic missile, and the Iskander-K short-range mobile cruise missile system—all capable of being equipped with nuclear weapons. The advanced S-400 surface-to-air missile system was also tested.
The following day, as the Pentagon announced its own nuclear training, the Russian Ministry of Defense said it would provide new simulators of the Typhoon-M combat anti-sabotage vehicle that guards its nuclear-capable missiles. The units would reportedly be able "to simulate in virtual space the dynamics of the movement of the unit in any extreme conditions, taking into account the terrain, various road surfaces, and other obstacles."
Elsewhere in Europe, however, much more secretive nuclear-related maneuvers were taking place, and the U.S. was again involved. The NATO Western military alliance conducted the "Steadfast Noon" exercise involving German Tornado warplanes transporting U.S. B-61 nuclear bombs, Deutsche Presse-Agentur reported Friday.
Aircraft from Italy and other NATO nations were involved in the drills that included aircraft taking off from Germany's Büchel Air Base and the Netherlands' Volkel Air Base. Hans Kristensen, director of the Federation of American Scientists' Nuclear Information Program, noted to the outlet that U.S. B-52 bombers had just arrived in Europe shortly before the exercise.
NATO has released no official information about this exercise, and has never even confirmed whether or not there were U.S. nuclear weapons at Büchel Air Base. The site, however, was among those included in an accidentally-released NATO report published in July by Belgian newspaper De Morgen.
Another was Incirlik Base in Turkey, something that has grown controversial due to the recently-strained relations between Washington and Ankara, especially over the latter's purchase of Russia's S-400 and its invasion of northern Syria. Asked about the security of up to 50 B-61 bombs there, President Donald Trump said Wednesday that "we're confident, and we have a great air base there, a very powerful air base."
The series of tests came as decades-long deals ensuring the non-proliferation of such nuclear weapons collapsed. In August, the U.S. left the Intermediate-range Nuclear Forces (INF) Treaty, a deal struck with the Soviet Union in 1987 to ban the deployment of land-launched missiles ranging from 310 to 3,420 miles, after claiming Moscow's Novator 9M729, an Iskander-compatible weapon, violated the deal.
Russia denied this and counterclaimed that the Mark-41 Vertical Launch Systems used in Romanian and Polish sites of the Pentagon's Aegis Ashore missile defense system could be used offensively as well. Just after leaving the agreement, the U.S. tested a Tomahawk Land Attack Missile that flew over 310 miles.
Both Russia and China charged the Trump administration with attempting to instigate an "arms race."
With Washington and Moscow worlds apart in their attempts to reconcile their many, overlapping policy disputes, the deadline was gradually approaching for another major arms control pact—the New Strategic Arms Reduction Treaty (START). The deal, which expires in 2021, limits the number of nuclear warheads and launchers maintained by the U.S. and Russia. Putin recently said he was still attempting to negotiate the agreement with "no answer so far" from Trump.