U.S., Russia and China Race to Address Growing Threats in Heart of Asia
The U.S., Russia and China are racing to address what they all see as increasing threats to stability in the heart of Asia, a sprawling region that hosts an international bout for influence among state and non-state forces as well as deep-seated environmental and energy concerns that could prove a flashpoint for conflict.
Addressing a military board meeting at Moscow's National Center for State Defense Control, Russian Defense Minister Sergei Shoigu said Friday that personnel were implementing a plan to shore up training and equipment for the Central Military District in response to a rise in external hazards developing across the nation's borders there.
"In the context of growing threats in the Central Asian strategic direction, the district command continues to increase the intensity of combat training," Shoigu said. "The improvement of the control system, re-equipment with the latest models, the introduction of new methods of conducting combat operations have significantly increased the coherence of the control bodies, formations, units and the readiness of personnel to perform tasks according to their intended purpose."
While Shoigu did not specify the nature of these threats, the Central Military District, the largest of Russia's five such zones, neighbors China, Kazakhstan and Mongolia. Moscow has good relations with all three countries and maintains a military base in Kazakhstan, as well as two further into Central Asia in the fellow former Soviet republics of Kyrgyzstan and Tajikistan, which recently clashed along their troubled border.
In recent months, Russia has shored up its defense ties with these countries, especially since U.S. President Joe Biden announced the formal start of his country's own military withdrawal from Afghanistan in May. Moscow has been deeply critical of Washington's military presence in the country, but the steady exit has been accompanied by an uptick in unrest as the government and Taliban movement continue to struggle to come to peaceful terms.
The Biden administration has voiced its concerns with these developments, and on Wednesday, the head of U.S. Central Command discussed his own assessment of the risk landscape across Central Asia and the Middle East.
"My top priority at present is to complete the orderly withdrawal of U.S. forces from Afghanistan as safely and swiftly as possible," Army General Kenneth McKenzie told an online Center for Strategic and International Studies event. "I also retain responsibility for deterring Iran from undermining the security and stability of the region and that violent extremist organizations are never again capable of launching attacks on the United States or the homelands of our allies."
The focus of his remarks to the event, entitled "Why Sustainable Public Utilities Are a Security Issue," however, environmental problems he described as even more complex than his traditional military tasks.
McKenzie discussed the rapid melting of the Hindu Kush and Himalayan glaciers, a problem he said threatens the water supply of around 2 billion people living across central South Asia and could potentially spark a wider war that drew in major powers, specifically mentioning India along with China and Pakistan, two strategic partners locked into border disputes with India.
"It is certainly not inconceivable that issues like water scarcity could drive a conflict involving three nuclear-armed states: Pakistan, India and China," McKenzie said. "The problem is acute within U.S. Central Command's area of responsibility."
If the U.S. did not offer solutions, he warned that its top strategic competitor, China, would step in with the Belt and Road Initiative that already spans across the continent and much of the world beyond.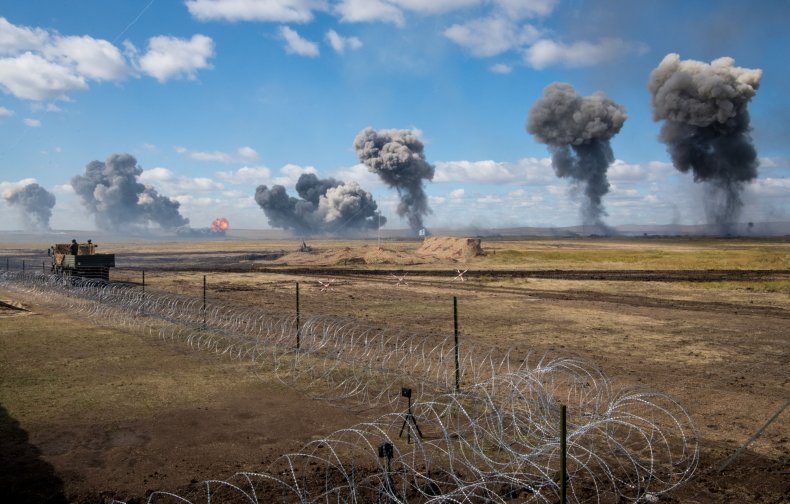 Energy politics in the region have taken on a controversial nature, as China charges that the U.S. was using the issue to further its own agenda in Central Asia, especially in the Xinjiang region of the People's Republic, where Washington and Western allies have alleged mass human rights abuses committed against the Uighurs, a mostly Muslim minority group.
The State Department has claimed that up to a million Uighurs have been interred in the detention facilities officially termed "vocational education and training centers." Beijing denies the accusations and, as the Biden administration moved to restrict imports mired in forced labor accusations, Chinese Foreign Ministry spokesperson Zhao Lijian hit back at a press briefing Friday.
"Facts have proved that the U.S. side does not care about facts and truth at all," Zhao said, "but only wants to politicize normal economic and trade cooperation, intentionally interfere with the normal division of labor in the industrial chain and supply chain, wantonly suppress the development of Chinese companies and industries, so as to contain China's development. Neither does the U.S. side care about the people of Xinjiang."
Rather, he argued, "their true plot and sinister intention is to destabilize Xinjiang and hold back China's development."
Xinjiang the most international borders of any Chinese region. It neighbors Afghanistan, India, Kazakhstan, Kyrgyzstan, Mongolia, Pakistan, Russia and Takijistan. It also hosts a wealth of oil and gas infrastructure that Chinese officials have claimed is a target of U.S. ambitions.
Washington's withdrawal from Afghanistan has also elicited concerns as Beijing has urged the U.S. to pull its troops out "in a responsible manner," one conducive to Afghanistan's lasting stability. China and Pakistan have raised the alarm of groups other than the Taliban such as the East Turkestan Islamic Movement, or Turkestan Islamic Party, a Uighur group that the U.S. delisted as a "terrorist organization" under the Immigration and Nationality Act last November due to a reported lack of discernible activity.
Despite differing views on the issue, the U.S., China, Russia and Pakistan have gathered for quadrilateral meetings on the Afghan issue, and see a path for further cooperation. That route is potentially complicated, however, by indications that the U.S. was seeking to move its military presence elsewhere in the region.
Pakistani Prime Minister Imran Khan denied his country would be an option in an op-ed published Tuesday by The Washington Post. Uncertainty shrouds other prospective choices.
Days after the formal U.S. pullout from Afghanistan began in May, the State Department released a joint statement of its discussions with the five Central Asian states referred to as the C5, which includes Kazakhstan, Kyrgyzstan, Tajikistan, Turkmenistan and Uzbekistan.
Among the areas of agreement were on "the continued development of security cooperation between the United States and the countries of Central Asia as a means of promoting stability and regional security and countering cross-border threats emanating from Afghanistan."
There's been no confirmation of U.S. base-building aspirations among these countries, but officials cited by The New York Times and The Wall Street Journal have mentioned Tajikistan and Uzbekistan as among the possible candidates to host U.S. troops. The U.S. and allied NATO powers previously deployed to these countries, as well as Kyrgyzstan, in the earlier days of the two-decade war in Afghanistan, but shifting politics and fatigue over the conflict led to their eventual departure over the years.
Today, the nations of Central Asia lie at the strategic crossroads of both China's Belt and Road Initiative and Russia's own Eurasian Economic Union. The two partnered projects seek to promote trade, investment and infrastructure development among member states.
As for joint security initiatives Kazakhstan, Kyrgyzstan and Tajikistan are members of Russia's Collective Security Treaty Organization. All four are also part of China's Shanghai Cooperation Organization, which also includes India, Pakistan and Uzbekistan, and holds multilateral exercises.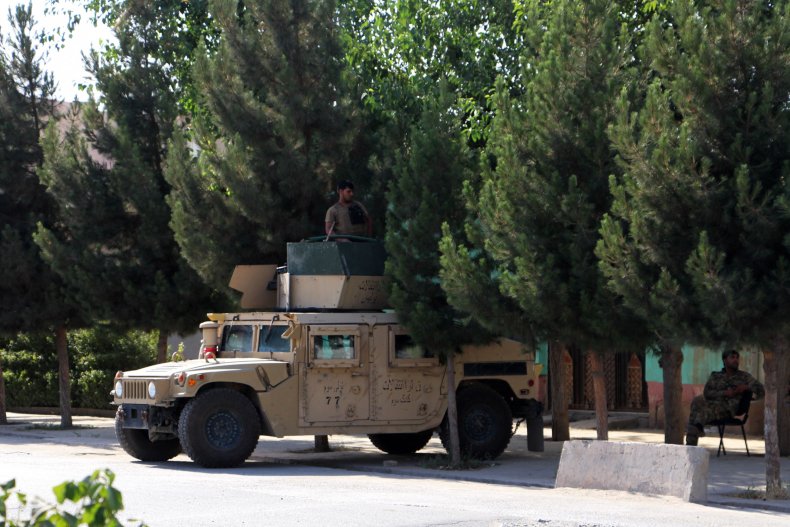 China, for its part, has particularly fortified its engagement as the U.S. eyes its own inroads.
About a week after the State Department released its readout of the U.S.-C5 talks, Chinese Foreign Minister Wang Yi hosted a C5 meeting in China's Xi'an City, Shaanxi Province. There, he championed the initiatives Beijing was supporting across the region and vowed to "firmly crack down on the East Turkestan Islamic Movement, and other 'three evil forces' of terrorism, extremism, and separatism."
"We will strengthen cooperation on preventing transnational organized crime, and on narcotics control, cybersecurity, NGO management, and large activity security, striving to create a 'safe Silk Road,' Wang said. "We will give each other staunch mutual support on safeguarding national sovereignty and security, clearly oppose foreign intervention, and maintain regional security and stability."
The convergence of interests between China and Russia in the latter's historic sphere of influence was apparent at the recent Moscow International Security Conference, attended by top Russian security officials and Chinese Defense Minister Wei Fenghe, among other international players.
At the gathering, Russian National Security Council Secretary Nikolai Patrushev warned of "the degradation of the situation in Afghanistan, which is progressing as the US and NATO military contingents are withdrawn." He hoped for lasting commitment to Kabul from Washington and its allies but warned against any efforts to expand foreign military presence across the region.
"We proceed from the assumption that the United States and NATO will adhere to their stated promises to provide financial assistance to the Afghan government, support local security forces, ensure the operation of Kabul's international airport and address other high-priority issues," he said, as "At the same time, we believe it is unacceptable to use the Afghan issue for solving geopolitical problems, including for building up non-regional players' military presence in Central Asia."
The remarks came as both Beijing and Moscow announced their leaders would meet via video link Monday to coincide with the 20th anniversary of the signing of their Treaty on Good Neighborliness, Friendship and Cooperation.
The Kremlin said the talks would cover "the current state and prospects for the development of the strategic partnership between Russia and China," as well as "topical issues of the bilateral and international agenda."