As U.S. Considers New Sanctions on Turkey, Russia Lifts Some After Missile Delivery
Russian President Vladimir Putin has lifted some economic restrictions imposed on Turkey, which recently bought one of Moscow's state-of-the-art missile systems in a move set to trigger sanctions from the United States.
A document signed by Putin and published to Russia's official online portal for legal information called for the "the abolition of some special economic measures against the Turkish Republic" and partial renewal of an unrestricted travel agreement suspended after a deadly 2015 incident. Relations between Moscow and Ankara were rocked that November when a Turkish F-16 shot down a Russian Su-24 bomber flying over the border region between Syria and Turkey.
In the years since, the complex relations between the two Eurasian states have steadily improved, especially as Turkey grew alienated from the U.S. and the NATO Western military alliance, of which they were both members. In the most recent spat with Washington, Ankara ignored threats of sanctions and the cancellation of an F-35 fighter jet deal, and received on Thursday its final batch of equipment for Moscow's S-400 surface-to-air missile system as part of a deal signed back in 2017.
Pentagon and Washington officials have called for a hardline response, but Trump has suggested it was "unfair" to blame Turkish President Recep Tayyip Erdogan for the purchase as he claimed President Barack Obama had refused to sell Patriot anti-missile batteries to Turkey. On Wednesday, various lawmakers said Trump appealed for leniency on Ankara's behalf.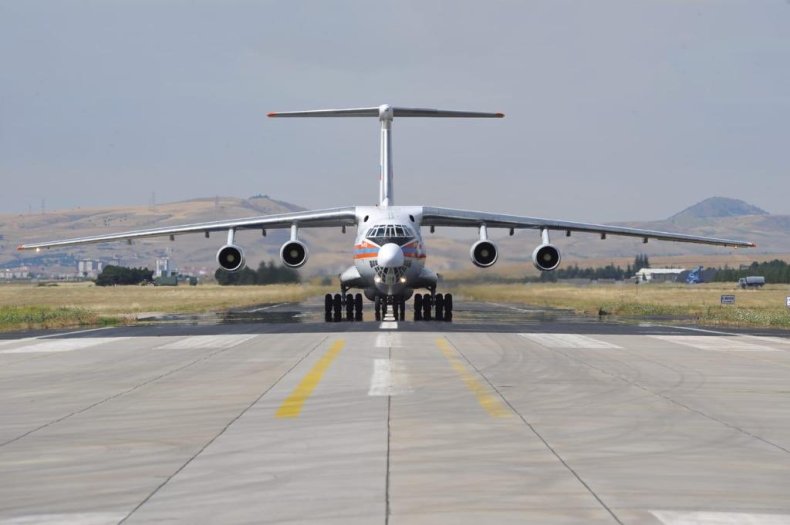 Trump himself signed 2017's Countering America's Adversaries Through Sanctions Act, though he referred to it as "seriously flawed—particularly because it encroaches on the executive branch's authority to negotiate." The deal punished countries looking to make major arms deals with Russia and, but the administration has a mixed record of applying it, imposing sanctions against China for its purchase of the S-400 and Su-37 fighters jets, but so far sparing India, which also inked an S-400 deal last year.
Following a private meeting with dozens of legislators that lasted about an hour and a half, Republican Senator Kevin Cramer of North Dakota told NBC News that Trump "would like a little more room, as the executive, to work through these issues." Republican Senator John Cornyn of Texas told the outlet he felt the president "would like more flexibility" on the issue.
"The president is not a fan of sanctions as a whole as a tool," Republican Senator James Lankford of Oklahoma told Al-Monitor. "He made that clear overall."
Republican Senator David Perdue of Georgia told The Washington Post that "what the presidents trying to do is have a much broader approach to this thing," suggesting that prioritizing sanctions over diplomacy was only a sound strategy "if you just look at what Turkey's trying to do now." Instead, he recommended officials "look at the broader issues of the entire region and then what's going on with other major countries, you might get in a different situation," adding that "we're trying to develop allies in the world."
"There may be some things like free trade agreements being talked about," Perdue added. "There's a possibility that you have to bring Russia into some kind of conversation about what their position is in the Middle East—they want trade, they want some kind of commerce with us, too."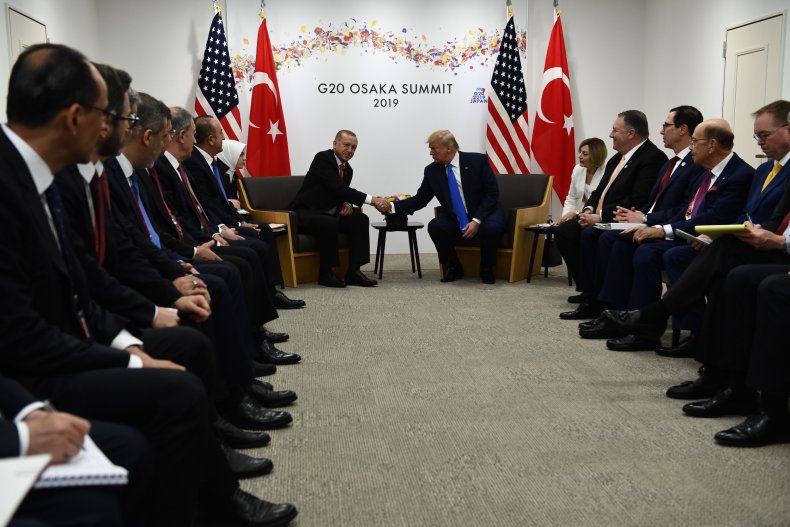 Moscow and Ankara still back the same opposing sides in Syria's eight-year civil war, but Washington's focuses have shifted significantly. The U.S., along with Middle Eastern allies such as Turkey, as well as Israel, Qatar and Saudi Arabia, readily backed a 2011 rebel and jihadi uprising against Syrian President Bashar al-Assad, who received backing from Iran since at least 2013 and from Russia since 2015.
Around the same time as Russia's direct military intervention, the U.S. officially chose a new partner on the ground, a mostly Kurdish alliance known as the Syrian Democratic Forces more concerned with defeating the Islamic State militant group (ISIS) than the country's civil war. The U.S.-backed militia's top group, however, was the People's Protection Units (YPG), considered a terrorist organization by Turkey due to its alleged close ties to the Kurdistan Workers' Party (PKK) that has fought with Ankara for decades.
While 2015 would see Turkey and Russia feud over the Su-24 shootdown, it would also mark a gradual shift in Ankara's ties with Washington, especially as Kurdish forces began to battle back ISIS and take strategic positions along the Turkish border. At the same time, the Syrian military and its allies began to beat back Syrian insurgents, ultimately retaking Aleppo in late 2016 in a move that led Turkey to come to the negotiating table with Russia and Iran.
The three countries were set next month to hold their next trilateral meeting as part of a format boycotted by the U.S., which has struggled to negotiate with Turkey on the implementation of a Syria "safe zone" plan that would allow both Turkey-backed, mostly Arab Sunni Muslim fighters and Kurdish groups to co-exist across northern Syria as the Pentagon pulled back.
Russia has managed to strike a separate demilitarization zone deal with Turkey that too has suffered as violence erupted in the jihadi-dominated northwestern province of Idlib. Turkish and Russian troops held positions here near the frontlines of battles between those in support of and against the Syrian government, which has called on both the U.S.-led coalition and Turkey to withdraw immediately.