Russia's Missiles Arrive in Turkey, But U.S. Has Little to Say After Donald Trump Defended Decision
Russia's advanced S-400 Triumf surface-to-air missile system has arrived in Turkey, a U.S. NATO ally that both the Pentagon and State Department repeatedly warn not to go through with the sale—even though President Donald Trump himself appeared to offer tacit approval.
The Russian Defense Ministry published footage Friday showing personnel packing components for the S-400 air and missile defense system in an Anatolev An-124 and sending it to Turkey. The Turkish Defense Ministry then shared its own video footage showing the weapon arriving as part of a contract signed back in April 2017.
For the past two years, however, the U.S. has been trying to put a stop to the sale and has threatened to both impose sanctions and cancel Turkey's acquisition of the U.S.-built F-35 fighter jet. Ankara has been adamant, however, and Turkish President Recep Tayyip Erdogan appeared especially determined after talks late last month at the G20 summit with Trump, who blamed former President Barack Obama for not selling Patriot missiles to Turkey.
"They would not let him buy the missile that he wanted to buy, which is the Patriot," Trump said at the time. "He's a NATO member. He's somebody that I've become friendly with. And you have to treat people fairly. I don't think he was treated fairly.
"I think it's a mess," Trump added, "Honestly, it's not really Erdogan's fault."
Following their talks, Reuters quoted Erdogan as saying he heard from Trump "personally" that there would be no sanctions.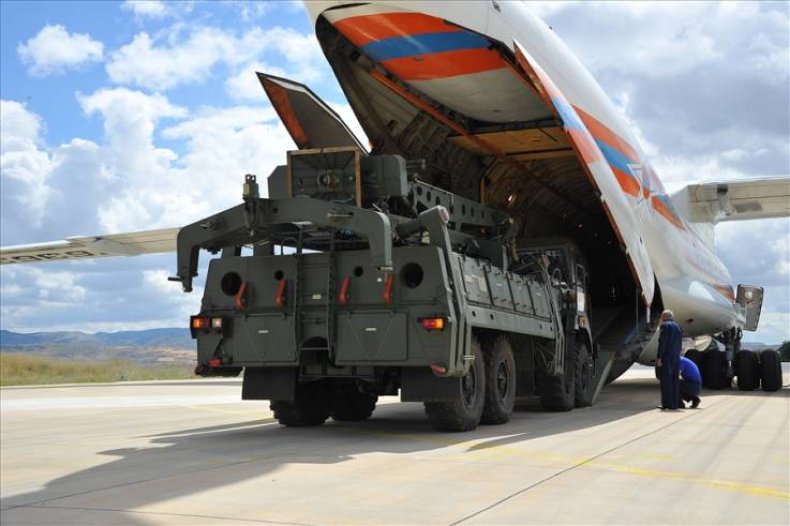 The U.S. has a mixed record on punishing a growing list of countries opting to buy the S-400 from Russia, with Washington holding back on India's purchase, but opting for sanctions against China. Another major concern would be the cancellation of the F-35 sale as Washington officials have expressed concern about mixing U.S. aircraft and Russian anti-aircraft technology. As the S-400 arrival was confirmed Friday, many awaited the Pentagon's reaction at a planned news conference. It never came.
Instead, Acting Defense Secretary Mark Esper simply issued a statement saying that the Pentagon was "aware of Turkey taking delivery of the S-400" and that the department's "position regarding the F-35 has not changed." He said he would call his Turkish counterpart later that same day.
Both the Pentagon said Turkish Defense Ministry then said that Esper spoke with Turkish Defense Ministre Hulusi Akar. The Turkish Defense Ministry issued a readout saying that "Turkey's procurement of long-range regional air and missile defense systems, as well as security issues concerning Syria, were discussed during the phone call."
"Emphasizing that Turkey is a partner of the F-35 fighter aircraft program and that program should continue uninterrupted, Akar said that Turkey's proposal was still on the table for setting up a joint working group - that could include NATO - to assess the possible interaction of F-35 aircraft and S-400 systems," the ministry wrote.
"Turkey has fulfilled all its obligations under the F-35 programme and it remains committed to its position, Akar said," it added. "Minister Akar stressed that Turkey's purchase of S-400 does not in any way mean change of its strategic orientation and reiterated that deterioration of bilateral relations would serve the interests of neither Turkey nor the U.S. nor NATO."
The Turkish Defense Ministry said that both sides agreed to meet in Ankara next week to discuss implementing a safe zone in Syria, where both countries refused to work with Syrian President Bashar al-Assad—an ally of Russia and Iran—but backed opposing sides.
Though Turkey's backing for mostly Arab Sunni Muslim insurgents once supported by the U.S. has left it at odds with Russia and Iran, the three powers have coordinated in finding a solution to Syria's eight-year civil war. All three sides have also campaigned for a U.S. military withdrawal, though Ankara wants to hand regions currently held by Pentagon-backed, mostly Kurdish fighters over to its own allied fighters, while Moscow and Tehran want to see the Syrian government regain control.
Turkey has also struggled to implement a separate demilitarized zone alongside Russia in Syria, but clashes between the Syrian armed forces and its allies on one side and various militant groups operating in areas of Turkish-backed influence on the other have erupted into new violence in the war-torn country's northwest. With the security situation there deteriorating, Turkish and Russian diplomats came together Thursday to discuss holding another meeting alongside their Iranian counterparts as part of a framework that the U.S. has continued to boycott.