U.S. Says No Losses from New Iraq Attack, Militia Claims to Have Caused Deaths
The U.S. military has told Newsweek that it was aware of reports that a drone attack had hit near Erbil International Airport, but said early information suggested no human or material loss.
Meanwhile, a local militia claimed they had killed a number of people in a series of similar attacks.
Footage emerged Tuesday via outlets associated with Iraq's Iran-aligned "Axis of Resistance" factions showing what appeared to be rockets and explosions targeting Erbil International Airport. One message claimed to have targeted a safehouse of Israel's spy agency, the Mossad, at a hotel near the Salah al-Din resort.
A group calling itself Saraya Awliya al-Dam, which has previously claimed attacks against U.S. positions in the area, then issued a warning.
"If the enemy does not admit its losses, we will tell him the number of Zionists who were killed in the Erbil operation tonight," the statement said, as carried by the pro-resistance Sabreen News outlet.
But in a statement sent to Newsweek, Pentagon spokesperson Navy Commander Jessica McNulty said there were no indications anyone was hurt or anything damaged following the incident.
"We are aware of reporting of a UAS incident in the vicinity of Erbil, Iraq. At this time, initial reports indicate no structural damage, injuries or casualties."
The U.S.-led coalition and its spokesperson, Army Colonel Wayne Marotto, then echoed this account and confirmed the use of a drone in identical statements sent to Newsweek.
"Initial report: At approx. 11:15 PM local time, one UAS impacted in vicinity of Erbil Air Base, Iraq," the statements said. "At this time initial reports indicate no injuries, casualties or damage. We will update when we have further information."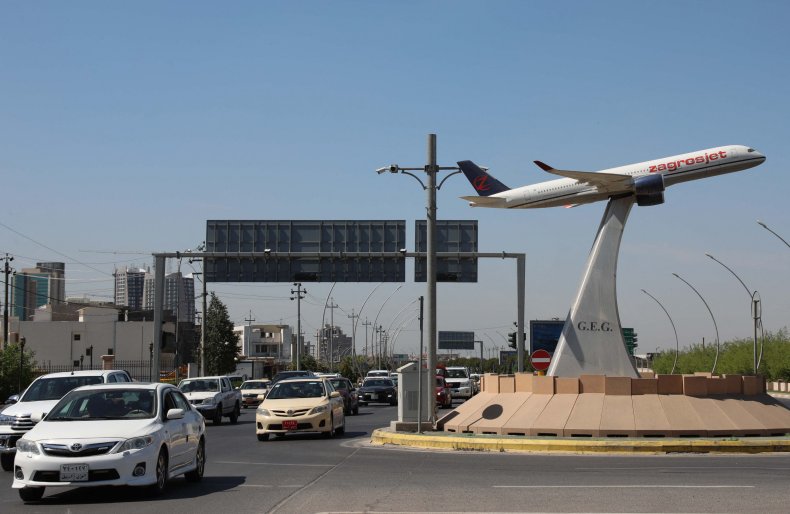 Attacks on positions associated with the U.S. military and its allies in Iraq continue on a regular basis as "Axis of Resistance" factions call for a total withdrawal of foreign forces from the country.
The latest attack follows a series of airstrikes ordered last month by President Joe Biden against positions along both sides of the Iraqi-Syrian border, targeting what was described by the Pentagon as facilities "utilized by Iran-backed militias that are engaged in unmanned aerial vehicle (UAV) attacks against U.S. personnel and facilities in Iraq."
The two militias identified were Kataib Hezbollah and Kataib Sayyed al-Shuhada, members of the broader Iraqi state-sponsored Popular Mobilization Forces, which confirmed the strikes along with the deaths of four fighters on Iraqi soil. Both the Popular Mobilization Forces and the Iraqi government condemned the U.S. strikes, as did the Syrian government, with which the U.S. does not have diplomatic ties.
Earlier Tuesday, the Associated Press published an interview with the elusive head of Kataib Sayyed al-Shuhada, Abu Alaa al-Walae, who warned of an "open war" against U.S. troops in response to the airstrikes and their continued presence in the country.
"We want it to be an operation in which everyone says they have taken revenge on the Americans," Walae said in an in "It will be a qualitative operation [that could come] from the air, the sea, along Iraq's border, in the region or anywhere."
Following the strike at Erbil, Saraya Awliya al-Dam also warned it would escalate if the U.S. continued to delay its military withdrawal from Iraq.
"We have previously warned you that, in the event that your flight is delayed again," the group said, according to Sabreen News, "we will have to use other methods in the depths of the bases of your occupation to make you fly again so that we do not have to repeat what we did tonight, for we have promised our proud people that we will grill you in the air."
U.S. forces in Syria also faced reprisal over the strikes, as they came under rocket attack a day later and returned fire in the eastern province of Deir Ezzor, a border region where both U.S.
Asked about whether a second U.S. operation might be authorized by the president in response to the incident in Syria, White House Press Secretary Jen Psaki told reporters earlier Tuesday that such operations were rooted in domestic and international law.
"He approved these strikes, one, with the full authority, legal authority, U.S. legal authority and international authority, because—and in a way that was proportionate and responded to threats against our entity—U.S. men and women serving and entities that were serving in these countries," Psaki said.
"It did not mean we expected everything to grind to a complete halt at the time, but he still felt it was the appropriate and proportionate steps," she added. "And our objective continues to be a de-escalation of violence on the ground."
The Biden administration has also sought to emphasize its ongoing partnership with Iraqi Prime Minister Mustafa al-Kadhimi despite his opposition to the U.S. strikes.
Speaking at a separate press briefing on Tuesday, State Department spokesperson Ned Price declined to comment when asked about a potential visit by Kadhimi to Washington near the end of this month, but reiterated the importance of the relationship between Washington and Baghdad.
"Our partnership with the government, with the people of Iraq is incredibly important to us," Price said. "We have a number of shared interests, including the continued prosecution of the counter-ISIS campaign."
Both the U.S. and Iran have supported Iraq in the campaign against the Islamic State militant group (ISIS), but friction between the two has intensified since former President Donald Trump's exit from a multilateral nuclear deal with Iran and major world powers. U.S. sanctions have done severe damage to Iran's trade ties, hurting the Islamic Republic's economy and incensing hard-liners opposed to U.S. presence in the region, especially in the wake of Trump's killing of Iranian Revolutionary Guard Quds Force commander Major General Qassem Soleimani at Baghdad International Airport in January of last year.
Biden has set out to reenter the deal, but first seeks Iranian steps toward returning to Tehran's own initial level of compliance with nuclear restrictions that have been eased in response to accusations of non-compliance against Western parties to the agreement, officially called the Joint Comprehensive Plan of Action (JCPOA).
Iranian Foreign Ministry spokesperson Saeed Khatibzadeh said Tuesday that Tehran remained committed to a full return to its obligations if the U.S. agreed to lift sanctions, even as President-elect Ebrahim Raisi prepared to be sworn in next month following last month's elections.
"Iran's position on the JCPOA and the lifting of sanctions is one of the system's principled positions, and it will not change with a change of government," Khatibzadeh said. "Therefore, if an agreement is reached, the government of Sayyed Raisi will be loyal to it, because, contrary to the approach of some other parties, adherence to the obligations and promises given, is always a principle for the Islamic Republic of Iran."
Unitl then, however, he emphasized that Iran was both "not in a hurry to reach an agreement" nor would it allow the negotiations currently taking place in the Austrian capital of Vienna "to be prolonged" indefinitely.
In Washington, Price too said the opportunity to come to an understanding was available for a limited period of time. And he criticized Tehran's activities, both non-nuclear and nuclear, including its recent decision to begin enriching uranium metal at 20% purity, yet another step for Iran away from a deal still left completely abandoned by the U.S.
"There are a whole host of other concerns—profound concerns—we have with Iran's behavior in the region," Price said, "but we also know that as long as Iran has distanced itself from its JCPOA commitments, as long as Iran is in a position to undertake these provocations, including these nuclear provocations, that all of the other challenges we face with Iran – whether it is its support to proxies, its support to terrorist groups – all of them will be more difficult to confront."
Also in Washington on Tuesday, Defense Secretary Lloyd Austin and White House national security adviser discussed Iran with Saudi Arabian Deputy Defense Minister Prince Khalid bin Salman as he visited the U.S. capital.
Saudi Arabia has expressed concerns with rival Iran, especially over allegations of its support for the Ansar Allah, or Houthi, movement with which the Kingdom is at war in neighboring Yemen. At the same time, delegations from Riyadh and Tehran have met in an effort to stabilize bilateral ties that have been cut since early 2016.
Iranian government spokesperson Ali Rabiee told a press conference Tuesday that progress had been made in these discussions.
"We still believe that dialogue, especially among the societies of the Muslim Ummah, is the only decent solution in resolving their differences," Rabiee said, adding that, "We understand that the differences in some cases might be complicated and settling them needs time."