U.S. to Sell Top Anti-Tank Missiles to Fight 'Russian Aggression' in Ukraine
Ukraine's leader has thanked President Donald Trump and U.S. lawmakers for backing a missile sale that he claims has opened a new front of defense, bolstering the fight against "Russian aggression."
The former Soviet country has been at war with insurgents since 2014, after its then-president Viktor Yanukovych buckled under the Kremlin's pressure and scrapped a major deal with the EU at the 11th hour. The move set up a chain of events that has resulted in the deaths of over 10,000 people. Yanukovych fled to Russia, as angry Ukrainians turned out in the thousands to protest his shock decision in a now famous winter standoff on Kiev's main square. Moscow responded by annexing Ukraine's Crimea and backing an armed insurgency in the eastern regions known as the Donbas, which border Russia.
Related: Ukraine's new tank can take on Russia's best, but can Kiev actually afford it?
The Obama administration had announced a series of sanctions packages on Kremlin officials and businesses as punishment, but drew the line at sending lethal aid to Ukraine.
Now, true to the policy of Republican Party hardliners, the Trump administration pledged on Thursday to sell 210 anti-tank missiles to Ukraine in a major sign of support that members of both U.S. parties have backed.
Congress now has 30 days to block the move if it so wishes, but according to The Washington Postthis is highly unlikely as the move has bipartisan support among senior foreign relations panelists in both houses.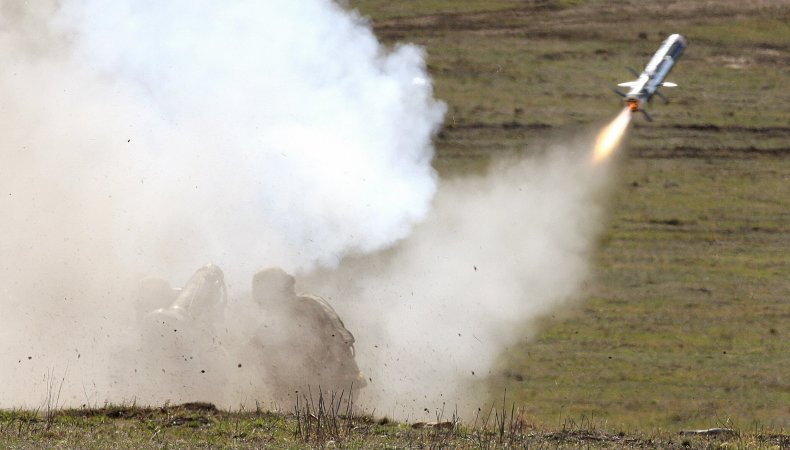 "Inspirational news from the U.S.," Ukrainian President Petro Poroshenko wrote on his Facebook page on Friday morning. "Ukraine will receive that, which has long been talked about but never confirmed—the Javelin!"
The Javelin anti-tank missile is a premium piece of kit to fight off large armored vehicles and according to the National Interest, a single one can cost $80,000, which, depending on the target, would make it pricier than the vehicle it is fired at. Its selling point is the fact that it is light, so soldiers can deploy it swiftly in the case of a surprise attack, but it also strikes a tank from the top of the armor, where it is weakest. It has a proven track record in Iraq, Afghanistan and Syria, so much so that vetting a sale of the U.S.-made weapon is regarded as a significant political decision.
The missiles, along with 37 launch units, could cost Ukraine up to $47 million, but would bolster troops' defense against what Kiev has consistently estimated is a deployed tank army larger than that of the U.K. or Germany.