U.S. Senators Had to Sneak Into Taiwan to Help South Korea Avoid Wrath of China
A group of U.S. lawmakers who flew from South Korea to Taiwan in June hid their itinerary from officials in Seoul so they could deny knowledge of the trip and avoid a diplomatic fallout with China, Senator Tammy Duckworth (D-IL) revealed at a conference on Tuesday.
Duckworth, who was part of the highly watched whirlwind visit to Taipei along with Senators Dan Sullivan (R-AK) and Chris Coons (D-DE), said the morale-boosting trip—sanctioned by the Biden administration—showed the Taiwanese public "that America would not abandon them" during the island's politically charged vaccine shortage earlier this summer.
Taiwan's vaccine procurement was "being blockaded by China," the senator said at an event hosted by the International Security Program at the Center for Strategic and International Studies (CSIS). During their three-hour visit on June 6, the senators announced the donation of 750,000 Moderna vaccines to Taiwan—an amount later tripled to 2.5 million doses.
"What China had done through the vaccine program was basically block Taiwan off from any of the vaccines, telling the Taiwanese that if you want vaccines, you have to buy our vaccines," she said. "They were telling other nations that if they provided vaccines to Taiwan, then China would not engage in trade with them."
Duckworth, an Iraq War veteran who sits on the Senate Armed Services Committee, said Taiwan was "the only nation in the world that was being blockaded from vaccines by the Chinese."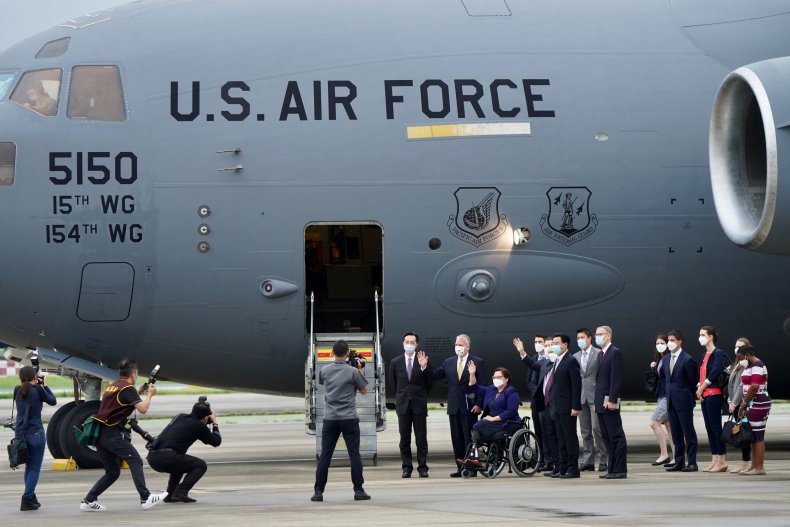 The visit to Taiwan, however, was not straightforward. Like the United States, South Korea has no official diplomatic relations with Taiwan and is naturally wary of moves that might offend Beijing, which claims the democratic island as one of its provinces.
The senators appeared to offer officials in Seoul plausible deniability by not telling them about their intention to fly to Taipei, according to Duckworth.
She said: "We got to South Korea, and it was very much touch and go. We weren't sure we were going to be able to get to Taiwan. There were no commercial flights. The administration agreed with us and actually sent a military aircraft, and flew us in from a military base in South Korea to Taiwan.
"And, in fact, we couldn't even tell the South Koreans that we were going to Taiwan because we would have placed them in a very difficult situation with the Chinese," Duckworth added. "So we had to drive two hours to get to a military base, get on a military flight, go to Taiwan. We're on the ground for just three hours. Never left the airport."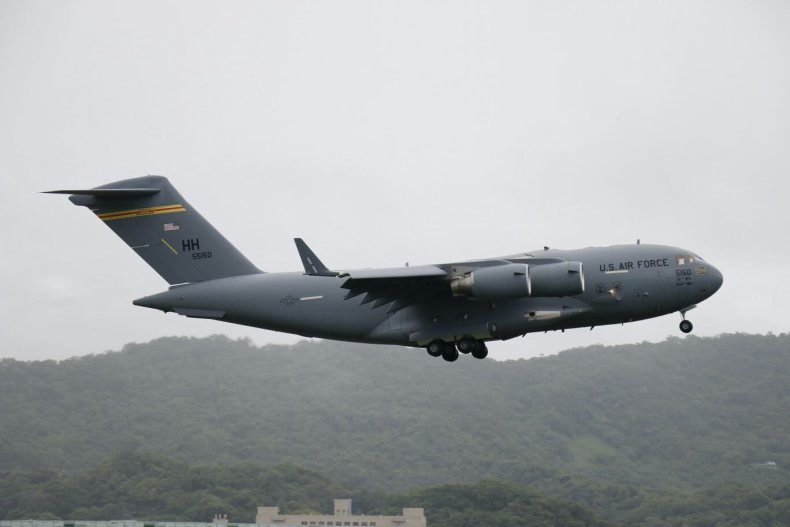 The aircraft, a U.S. Air Force C-17 Globemaster III, drew the attention of Taiwan's amateur flight trackers and plane watchers, who photographed the approach to Taipei Songshan Airport. It was the first time in over four decades that an American military aircraft had touched down on the island for official business.
The announcement of the Biden administration's vaccine donation "turned everything around in the country in terms of the morale of the people and knowing that they were not being abandoned," Duckworth said.
Taiwan's President Tsai Ing-wen, whose government faced political pressure amid a coronavirus outbreak and a vaccine shortage at the time, met the senators at the airport. In brief remarks, she said Taiwan would "forever remember" the U.S.' support.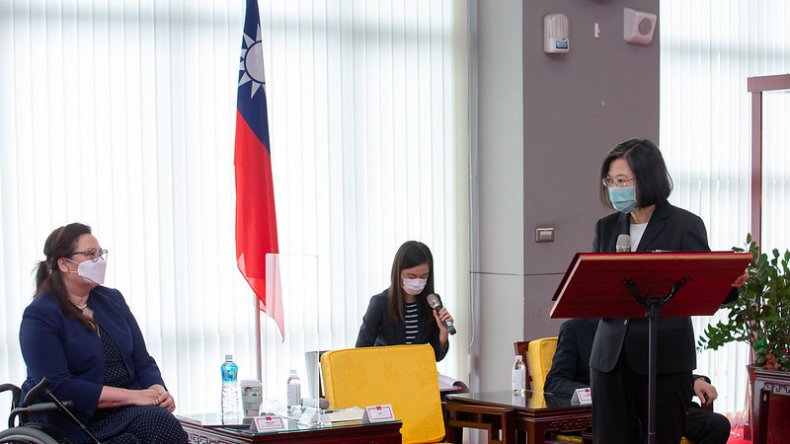 Taiwan Strait Security
"I am very much concerned that the PRC will attempt to take Taiwan," Duckworth told the CSIS conference, which also touched on wider U.S. engagement in the Indo-Pacific. "What we have to do is deter them from it."
"Once they start, it's much harder to repel them from territory than it is to just let them know and let them make the calculus that it is far too costly for them to even attempt to try," she said.
On July 20, Duckworth was among 13 senators who introduced the bipartisan Taiwan Partnership Act, which proposes cooperation between the U.S. National Guard and Taiwan's armed forces, which already receive training from elements of the U.S. military.
Duckworth, herself a National Guard veteran, said her home state of Illinois has trained the Polish military for 27 years as part of the State Partnership Program. Her plan is for another U.S. state to "adopt" Taiwan and create a "habitual relationship," through which the island's defense forces can increase preparedness in the event of a Taiwan Strait contingency.
Her proposal would allow Taiwan's troops to "integration with U.S. forces so that, should the unthinkable happen and U.S. forces need to show up, we're not starting from scratch," she said.