U.S. Senators Behind Xinjiang Law Have Investments Linked to China's Uyghur 'Genocide'
A Newsweek review of financial filings in Congress has found that lawmakers who are driving legislation to protect Uyghurs in China are also invested—either directly in the form of stocks, or indirectly via mutual funds—in major companies tied to the oppression in Xinjiang.
Prominent names on Capitol Hill from both the Republican and Democratic parties have large sums of money invested in companies accused of benefiting from or facilitating China's treatment of Uyghurs. So have some of their spouses.
Human rights and Uyghur activists who accuse the Chinese Communist Party (CCP) of committing genocide against the Uyghurs in Xinjiang are now calling on these politicians to lead by example and review their own financial portfolios for any potential exposure.
Activists who spoke with Newsweek urged all lawmakers—especially those who have led the push back on CCP abuses—to align their individual portfolios with their legislative agendas and divest from problematic companies, entities and funds.
Zumretay Arkin, program manager at the World Uyghur Congress, praised the senators for taking legislative action on forced labor.
"But at the same time, I think there has to be legitimate and meaningful actions. Basically, walk the talk," Arkin said. "If you truly genuinely care about this issue, then you actually have to put in the action and you have to prove that you're not complicit in this massive, genocidal system."
She added: "You cannot on one hand actively lobby for legislation such as the Uyghur Forced Labor Prevention Act and on the other hand have investments in companies that are furthering the repression in the region."
Newsweek reviewed the financial disclosures of 14 of the Senate's most prominent advocates for Uyghur rights, including several who drove the Uyghur Forced Labor Prevention Act. A version of that bill was passed by the Senate last week and sent to President Joe Biden's desk to be signed into law, which he is anticipated to do in the coming days.
The legislation will bar imports from the Xinjiang region unless businesses responsible can prove they were produced without forced labor. Earlier versions of the bill failed to make it to the president's desk despite overwhelming initial support in both chambers.
Advocates have blamed corporate lobbying and White House hesitancy—perhaps driven by administration goals of climate change cooperation with Beijing—for the delay.
The Companies
Some of the world's largest companies have been accused of benefiting from forced labor in Xinjiang in recent years, spanning sectors including clothing, automotive, retail, and tech.
A November report from the U.K.'s Sheffield Hallam University said Walmart and VF Corporation are still exposed to forced labor in the cotton industry. A May report by the KnowTheChain initiative said LVMH's efforts to cut forced labor from its supply chain have been insufficient.
These companies appear in several of senators' portfolios—either as direct stock holdings or as investments made via mutual funds. So too does Disney, widely condemned for its decision to film parts of its 2020 Mulan movie in Xinjiang.
Asked to comment, Disney sent Newsweek a letter first provided to the U.K's Business, Energy and Industrial Strategy Committee in April. The letter is unapologetic about its decision to film in Xinjiang, and said the controversial credits message thanking local authorities was included by local production company Beijing Shadow Times.
"The Walt Disney Company has no separate, independent or ongoing relationship with government authorities in the [Xinjiang Uygur Autonomous Region] Province," the letter said. It added that Disney conducted a due diligence review of Beijing Shadow Times, and said filming decisions were "in no way dictated or influenced by state or local Chinese officials."
Other common names among lawmaker portfolios are Coca-Cola and Apple, which have been previously linked to forced labor in Xinjiang.
The Wall Street Journal reported in 2019 that COFCO Tunhe—which supplies sugar to a Xinjiang Coca-Cola facility—had recruited villagers near the city of Aksu as part of the government's poverty alleviation program, which is allegedly used to coerce minority groups into involuntary training and labor.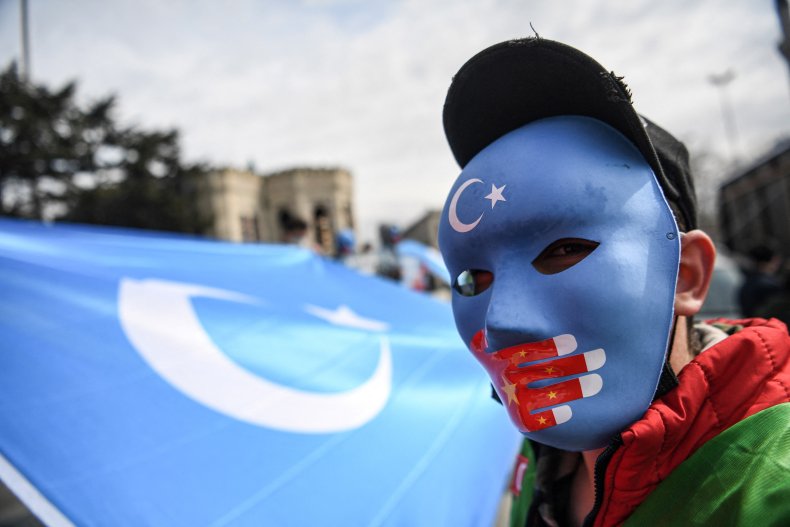 Several Apple suppliers have also been accused of using forced labor. A May 2021 report by The Information suggested the company has so far been unable to address the problem, which may be more widespread than first thought.
Apple and Coca-Cola have recently lobbied against pro-Uyghur legislation.
Apple told Newsweek: "Over the past year and a half, despite the restrictions of COVID-19, we conducted over 1,100 audits, including surprise audits, and interviewed more than 57,000 workers to ensure that our standards are upheld. We have found no evidence of forced labor anywhere in our supply chain and will continue doing all we can to ensure workers are treated with dignity and respect everywhere we work."
Many senator portfolios feature major tech companies which have been linked to forced labor by a host of human rights organizations and media investigations in recent years.
An October Reuters report found that Universal Electronics—a supplier for Sony, Samsung, and Microsoft—made a deal with Xinjiang authorities to source hundreds of Uyghur employees.
Previous investigations, like the March 2020 report by the Australian Strategic Policy Institute, a non-partisan think tank, said all three companies had worked with several Xinjiang suppliers believed to be using forced labor.
A Sony spokesperson told Newsweek it conducts "regular assessments and work with the suppliers to ensure compliance" with its Sony Supply Chain Code of Conduct.
"The Code explicitly prohibits the use of trafficked and forced labor in our facilities and supply chain. In the event that a supplier is confirmed to have committed a major violation of the code such as use of forced labor, Sony will take appropriate countermeasures including request for implementing corrective actions and termination of business with such supplier," the spokesperson said.
They refused to say whether Sony had cut ties with suppliers of concern named in the 2020 ASPI report.
Microsoft and others, including NVIDIA, Intel and IBM, have also been accused of helping the CCP create the fearsome surveillance state used to oppress minority groups in Xinjiang and elsewhere.
The Urumqi Cloud Computing Center in Xinjiang, for example, is powered by Intel and NVIDIA microchips—sold to Chinese company Sugon that works with CCP authorities. The facility's supercomputers surveil suspected dissenters, searching for faces and patterns of human behavior, tracking cars and monitoring communications.
Microsoft and IBM have both been complicit in China's Golden Shield Project—also known as China's Great Firewall—which has created a separate, heavily censored and monitored internet for Chinese users. NVIDIA and Intel have also been accused of involvement in several police projects in China targeting minority groups.
An NVIDIA spokesperson told Newsweek that Sugon "has not made significant purchases from NVIDIA for years; the chips referenced in those reports would have been purchased many years ago and are several generations old."
The spokesperson said NVIDIA chips "are general purpose chips, so NVIDIA does not know which application is being run. Further, as required by U.S. regulations and local laws, NVIDIA has limited ability to restrict downstream sales and is prevented from monitoring and controlling products once they have been sold."
They continued: "NVIDIA does not monitor and control products once they have been sold. In this case, we don't know which applications are running on the computers, much less which ones may be accelerated with GPUs."
NVIDIA also denied it worked with Chinese police departments or "create applications that target any groups."
IBM told Newsweek: "IBM opposes and does not condone the use of technology for mass surveillance, racial profiling, violations of basic human rights and freedoms, or any purpose that conflicts with the company's values and principles.
"We enforce rigorous processes across our global operations to protect against direct or third-party business engagements that may run counter to these commitments."
Two Chinese giants—Jack Ma's Alibaba ecommerce and tech firm, and Tencent which owns the censored WeChat messaging platform among others—are also well represented in the holdings of mutual funds that senators invest in.
Alibaba's enormous online marketplace includes a wide range of products sourced from Xinjiang, including cotton which is closely intertwined with forced labor. Alibaba's Taobao site has also hosted auctions for assets seized from Uyghurs and other minorities, plus the firm has previously touted its AI technology as able to detect and track minority suspects.
Tencent's WeChat is the most popular social media platform in China and has more than 1 billion active users. Tencent has been accused of sharing WeChat user data with Chinese authorities, enabling surveillance of Uyghurs and other minority groups.
WeChat's level of collaboration with Beijing and popularity abroad—it has more than 100 million users outside China—has made it a target for China critics, who argue the app poses a national security threat.
Newsweek contacted all of those companies listed in this report to request comment on their alleged links to human rights abuses in Xinjiang and their progress in removing forced labor from their supply chains.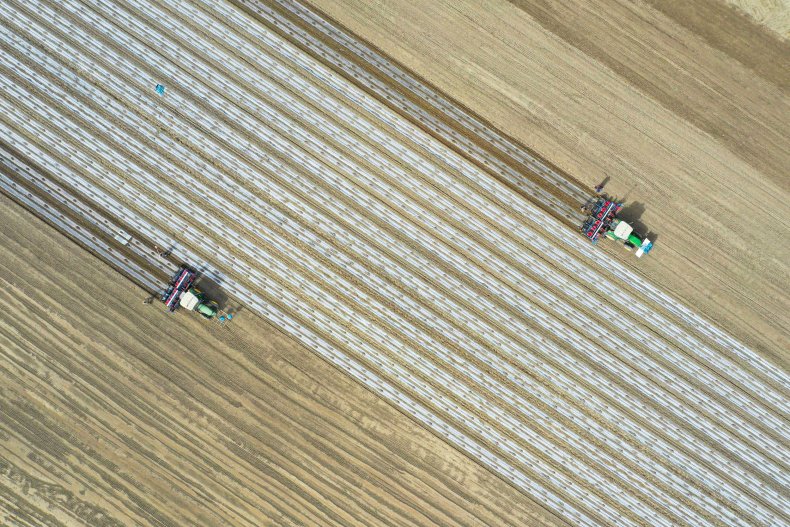 The Lawmakers
The value and type of investments vary between lawmakers. Some have several million dollars invested. Others have portfolios worth tens of thousands. Financial filings do not give exact monetary figures, only broad value ranges within which the actual number sits.
Newsweek contacted all of those named in this report to request comment and ask if they would be willing to review their portfolios and divest from any companies or funds linked to Xinjiang abuses. Most either did not respond or refused to comment on the record.
None of these lawmakers' investments violate U.S. law or congressional ethics rules.
Most senators' Xinjiang-linked investments are via mutual funds, many of which are index funds that spread small investments across the world's largest and most profitable companies to mimic the performance of major stock markets and sectors. Many such funds invest in Microsoft, Apple, and NVIDIA as a matter of course.
Other mutual funds peg to emerging markets, meaning investments in top Chinese firms like Tencent and Alibaba.
Sen. Mitt Romney (R-UT) is one of the wealthiest members of Congress, with a net worth of some $250 million. The former presidential candidate's most recent financial filing lists investments worth between $2 million and $10.25 million in seven mutual funds that invest in Microsoft, NVIDIA, Apple, and Samsung.
Romney has invested an additional $2 million to $10 million in another four mutual funds whose top holdings include Tencent and Alibaba.
Ann Romney, his wife, has invested more than $2 million in two funds whose top holdings include Microsoft, NVIDIA, and Apple.
Sen. Elizabeth Warren (D-MA) is one of Congress' most prominent critics of insider trading by lawmakers, and has long warned that Beijing is trying to use its market power to smother political opposition to its authoritarianism.
Warren's financial filings show she had invested between $1.4 million and $5.9 million in five mutual funds whose top holdings include Microsoft, NVIDIA, Apple and Sony.
Warren invested less than $1,001 in a joint mutual fund with husband Bruce Mann—a Harvard professor—whose top holdings included Microsoft, NVIDIA and Apple.
The filings showed that Mann had invested more than $1 million in three mutual funds whose top holdings included Microsoft, Nvidida and Apple.
Sen. Ed Markey (D-MA) is the chair of the Senate's East Asia Subcommittee and a leading influence in pro-Uyghur legislation. Markey's most recent filing listed between $2 million and $3.75 million worth of investments in seven mutual funds, whose top holdings include Microsoft, NVIDIA, Apple.
Sen. Susan Collins (R-ME) lists investments worth between $300,000 and $750,000 in three mutual funds (two of which are listed as IRAs) whose top holdings include Microsoft and Apple.
Collins' husband—lobbyists and political consultant Thomas Daffron—held stock in Microsoft, VF Corporation, Disney, and Apple worth between $215,000 and $500,000 combined.
Daffron had also invested between $50,000 and $100,000 in a mutual fund whose top holdings were dominated by Alibaba assets.
Sen. Bill Cassidy (R-LA) last week called the Xinjiang genocide "sickening" and celebrated the imminent passage of the Uyghur Forced Labor Prevention Act. His most recent financial disclosures show investments worth between $230,000 and $600,000 in four mutual funds whose top holdings include Microsoft, Apple, Samsung and Tencent.
Cassidy's wife—physician Laura Layden Cassidy—sold stock in Walmart, Disney, Microsoft, IBM, and Apple worth somewhere between $13,000 and $195,000 combined. She also purchased stock in VF Corporation worth between $1,000 and $15,000 in September 2020.
Sen. Ted Cruz (R-TX) has been one of the Senate's most hawkish voices on China. So much so that Beijing imposed sanctions on the Texas lawmaker last year, along with colleague Sen. Marco Rubio (R-FL).
Cruz's disclosures list investments worth between $280,000 and $600,000 in three mutual funds (two of which are retirement funds, composed of several sub-mutual fund holdings) whose top holdings include Microsoft, NVIDIA, Apple, Alibaba, and Tencent.
He has jointly invested another $296,000 to $665,000 with wife Heidi Cruz in five mutual funds, whose top holdings include Microsoft, NVIDIA, Apple, Disney, Tencent, Samsung, and Louis Vuitton.
One of these funds also holds assets for the China Development Bank, a state-owned institution which has supported infrastructure projects in Xinjiang. The London-based Business and Human Rights Resource Centre has accused CDB of "dismal" engagement with human rights concerns.
The CBD is also an important financier for Beijing's multi-trillion Belt and Road Initiative, which critics have framed as an imperialist project. Key BRI routes run through Xinjiang, and the initiative is one reason for the CCP's crackdown on dissent in the region.
Sen. Joe Manchin (D-WV)—whose wife Gayle Manchin was sanctioned by China for her work as chair of the U.S. Commission on International Religious Freedom—listed between $253,000 and $530,000 worth of investments in six mutual funds, whose top holdings include Microsoft, Apple, Walmart, Intel, NVIDIA, Tencent. Gayle Manchin lists investments worth between $16,000 and $52,500 in one mutual fund, whose top holdings include Tencent.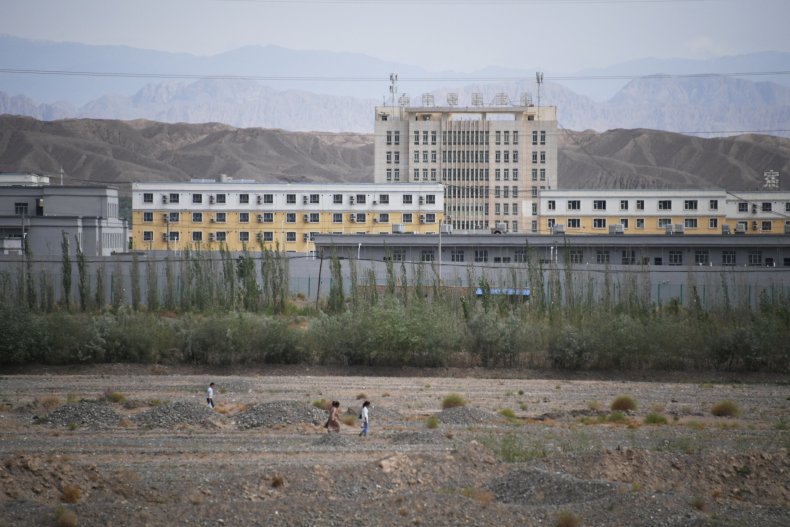 Sen. John Cornyn (R-TX) tweeted last year that China "needs to be held accountable for their monstrous actions." He has consistently been at the forefront of legislation supporting Uyghurs and other minorities against CCP abuses.
Cornyn's last financial disclosure lists investments worth between $115,000 and $300,000 in two mutual funds, whose top investments include Microsoft and Capital Group Central Cash Fund. CGCCF's portfolio includes investments in Apple, Coca-Cola, and Louis Vuitton worth hundreds of millions of dollars.
Sandy Cornyn, his wife, lists investments worth between $365,000 and $840,000 in five mutual funds, whose yop holdings include Microsoft and CGCCF.
Sen. Josh Hawley (R-MO) has backed several pro-Uyghur bills, and in 2020 condemned Disney for "whitewashing" the Xinjiang genocide. Hawley said Disney's decision to film in Xinjiang and thank local authorities was "an affront to American values."
Hawley's most recent financial disclosures show investments worth between $132,000 and $330,000 in six mutual funds, whose top holdings include Microsoft, NVIDIA, Apple, and Alibaba.
One of these funds also holds Chinese government bonds worth more than $58 million, China Development Bank assets worth $19 million, China Construction Bank—a state owned entity supporting a range of projects in Xinjiang—assets worth $7.6 million, and Sinopec—a Chinese oil and gas firm involved in energy projects in Xinjiang, including in the solar industry which has ties to forced labor—assets worth $6 million.
Hawley's wife, lawyer Erin Morrow Hawley, lists investments worth between $160,000 and $400,000 in six mutual funds, whose top holdings include Microsoft, Apple, NVIDIA, Disney, Walmart, and Alibaba.
Abigail Marone, a spokesperson for Hawley—who in May published a book excerpt with Newsweek—said: "We didn't know Newsweek still existed, but no, the Hawley's don't own a single share of stock in any company—nice try." Hawley's team did not respond to questions regarding the senator's mutual fund investments.
Sen. Joni Ernst (R-IA) has regularly railed against China, arguing that the COVID-19 pandemic shows that the U.S. "has become far too dependent" on Beijing for a host of goods.
Ernst's latest financial disclosure shows investments worth between $7,000 and $125,000 in nine mutual funds, whose top holdings include Microsoft, NVIDIA, Apple, Tencent, and Capital Group Central Cash Fund.
Sen. Thom Tillis (R-NC) has also pushed hard measures to punish China for the COVID-19 pandemic and for its abuse of ethnic minority groups like the Uyghurs.
Tillis—a former IBM employee—holds between $100,000 and $250,000 worth of company stock jointly with wife Susan Tillis. Both also hold four other joint IBM investments including a pension plan, retirement plan, and employee benefit plan. These investments are worth from $65,000 to more than $150,000.
Tillis has also invested between $30,000 and $100,000 in two mutual funds, whose top holdings include Microsoft, NVIDIA, Apple, and Sony.
The Tillises have a joint investment of between $115,000 and $265,000 in two mutual funds, whose top holdings include Samsung, Alibaba, Tencent, Louis Vuitton, Microsoft, NVIDIA, and Apple.
Sen. Tom Cotton (R-AR) has consistently been one of the toughest voices on China, both during Biden's term and that of former President Donald Trump.
In his most recent filings, Cotton's wife—attorney Anna Peckham—lists between $17,000 and $80,000 worth of investments in three mutual funds whose top holdings include Microsoft, NVIDIA, and Apple.
Peckham also lists between $3,000 and $45,000 worth of investments in another three funds whose top holdings include Tencent and Alibaba.
A spokesperson for Cotton did not respond to queries about Peckham's investments, but told Newsweek: "Senator Cotton supports these sanctions—you should really direct your inquiries to the Senate Democrats who are blocking sanctions on China."
Sen. Marsha Blackburn (R-TN) has accused China of having a "5,000 year history of cheating and stealing" and has often spoken out in favor of more support for Uyghurs and other oppressed groups.
Blackburn was among the leading critics of the NBA when the league sought to protect ties with Beijing, and has warned that U.S. businesses should not kowtow to Chinese interests.
Her latest financial filings show investments worth between $2,000 and $30,000 in two mutual funds whose top holdings include Microsoft and Capital Group Central Cash Fund.
Sen. Rubio is perhaps the leading voice in the Senate on Uyghur rights and pushback against the CCP. Rubio has authored several pro-Uyghur bills, and led the recent push that finally sent the Uyghur Forced Labor Prevention Act to Biden's desk.
Last week, Rubio—who holds between $1,000 and $15,000 worth of Coca-Cola stocks—said on the Senate floor of the impending new law: "Many companies have already taken steps to clean up their supply chains. And, frankly, they should have no concerns about this law.
"For those who have not done that, they'll no longer be able to continue to make Americans—every one of us, frankly—unwitting accomplices in the atrocities, in the genocide that's being committed by the Chinese Communist Party."
Some Senate staffers dismissed Newsweek's enquiries as misdirected, suggesting instead that the focus should be on those blocking the passage of the legislation.
Indeed, those accused of slowing legislation down either now or in the recent past—including Sen. Ron Wyden (D-OR), House Speaker Nancy Pelosi (D-CA), and Senate Minority Leader Mitch McConnell (R-KY)—also have personal or family investments in many of the aforementioned companies.
What Activists Want
The size and ubiquity of the companies named in this report make it difficult for investors—whether politicians, activists, or normal Americans—to avoid them.
One Senate national security expert with experience in U.S.-China relations, who did not wish to be named to allow them to speak more candidly, told Newsweek the findings showed the magnitude of "the China problem."
"Human rights abuses, unethical business practices, and industrial espionage perpetrated by the Chinese Communist Party are so pervasive that it's almost impossible to avoid them unless you never purchase an electronic device, never attend a pro sports game, never put solar panels on your house, and more," the source said.
"At the end of the day, sanitizing your life of Beijing's malign influence would be a full-time job. This is why it's important for Congress to focus on tackling these large-scale problems."
There is, however, a degree of difference between the inescapable realities of life as an American consumer and the choices we make when investing our own money. It is much easier to be discerning about the latter, activists said.
That is why human rights and Uyghur organizations say American lawmakers should set an example by divesting from any companies or mutual funds suspected of complicity. Otherwise, they risk undermining the work they have already done to hold the CCP accountable.
The Uyghur protection bill that is soon expected to become law will put more responsibility on companies to ensure that their supply chains are clean of forced labor.
But several international companies have claimed clean supply chains in the past, only to be contradicted later when local suppliers were found to be using forced labor—with or without knowledge of the foreign company.
Moreover, activists say the CCP, the Xinjiang regional government, and local suppliers intentionally obscure the origin of goods and the end use of imported technology. The Intel and NVIDIA microchips at the Urumqi Cloud Computing Center, for example, were first sold to Chinese company Sugon before being sold on to CCP authorities.
Sophie Richardson, the China director at Human Rights Watch, told Newsweek the political situation makes it "impossible to do adequate human rights due diligence on goods made in the region."
Alkan Akad, a China researcher at Amnesty International, said travel to Xinjiang is "heavily restricted" by the authorities, making verification a difficult task.
"I think in this context, brands, private sectors, and individuals have to be extra careful. Unless you're extremely sure, then you should probably divest or just not do business in the region or supply from there," Akad said.
Companies, funds and individuals—including lawmakers—should exercise "presumption of caution" pending further transparency, Alkan said: "Investors should, at a minimum, ask these companies they are investing in for human rights due diligence."
Lawmaker action could apply more pressure to companies who are deemed to be dragging their feet.
"That sets a precedent for other people, other stakeholders, but also sectors and private industry as well," Arkin said. "It sends a clear message. In order to have credibility, your words have to match your actions."
Some companies have signed pledges committing to weed forced labor out of their supply chains, and adopt new human rights due diligence procedures. But others have remained silent, perhaps fearing the kind of backlash inside China that rattled retailers like H&M, Nike, Adidas and Puma—all of whom signed up to the Better Cotton Initiative.
Zara owner Inditex; PVH, which owns Calvin Klein and Tommy Hilfiger, and VF Corporation even took down statements condemning potential forced labor in their supply chains, amid fierce Chinese backlash in March.
Other companies are unaware of complicity, Arkin said: "From our conversations with most brands and our engagement, what we've come to realize is that actually a lot of them actually don't even know their own supply chain so well.
"Most of them didn't know about the situation on the ground, the human rights situation, which I think kind of is reprehensible because it's on the news all the time.
"You have to at least know about this...that's why we don't really buy into brands that have come up with statements saying they deny all these accusations and allegations. It's not enough for us."
Activists believe individual portfolios could become a new front in the fight against Chinese human rights abuses, one on which senators and other advocates could lead the way.
But to do so, they would have to divest from direct and indirect—i.e. mutual fund—investments in problematic companies.
"We're calling on the real market movers—which are the pensions, the endowments, university and foundation endowments—and certainly individuals, politicians or not," said Louisa Greve, the director of global advocacy at the Uyghur Human Rights Project.
Index funds, she said, also have a "big responsibility" to do better.
"Accountability or ending complicity in the atrocities against the Uyghur people does require divesting from all companies that have not yet shown that they have ended that complicity," Greve said.
"UHRP would like to ask all of our elected lawmakers to take a deeper look at their investments to make sure that they are not providing funds to these companies. We know from experience that it takes time, so that's why we're saying we would like them to take a deeper look."
It may be that senators do not even handle their own mutual fund investments. Some—though not all—will almost certainly leave that to wealth and investment managers. But activists say this is no excuse.
Mutual funds "somehow escape people's attention, it's almost like a loophole," Akad said.
Arkin added: "If they really care, they will really make sure that they're not actually complicit in these egregious crimes...They also know about the problem around pension funds and other investments that could be directly invested in these companies that are close to the Chinese government, or at least are facilitating the government's agenda.
"The least they can do is know where they're putting their money."
Ethical investment funds could be part of the answer, activists said. Concerns over climate change in particular have helped drive the rapid growth of this alternative investment industry, with the world's major fund managers quick to jump on board.
Last year, the Morningstar global research agency reported that ethical investment vehicles are even outperforming traditional funds.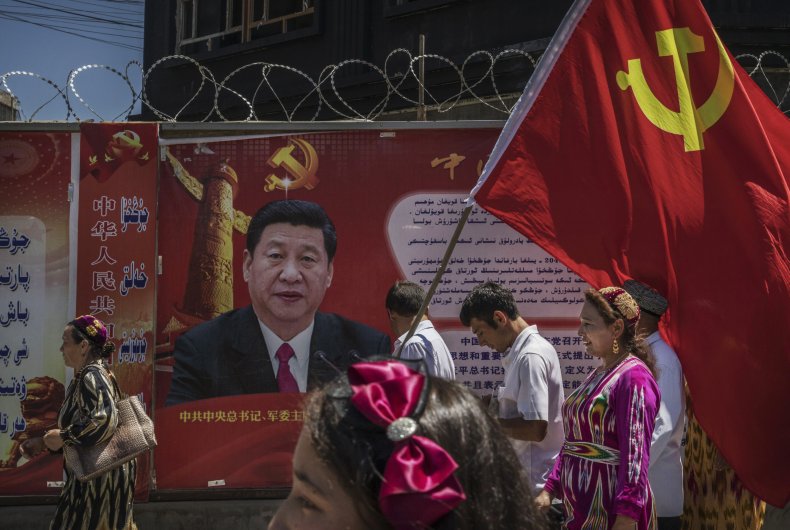 The Investor Alliance for Human Rights is one organization working to push the industry away from Xinjiang, where CCP oppression has created "unacceptable risks for global brands," according to the group's website.
Anita Dorett, the organization's director, told Newsweek that both companies and investors "need to do their due diligence and map their direct and indirect relationships in Xinjiang to fully understand their exposure."
Dorett said that if investors cannot get companies to disengage from Xinjiang then "investors will need to themselves disengage by ending those relationships."
The tide appears to be turning, Dorret said: "We do hear more and more that investors are engaging with companies on the human rights risks in Xinjiang and making investment decisions accordingly."
Some senators put all their money in blind trusts, which hands full control of their finances over to a trustee. Sen. Tammy Baldwin (D-WI) is among the pro-Uyghur advocates who have most assets held blind.
Sen. Diane Feinstein (D-CA) is another prominent Uyghur advocate who has also kept her personal assets in a blind trust since joining the Senate, her office said.
Feinstein's husband has engaged in prolific trading in recent years, including in Microsoft and NVIDIA stocks, though her office told Newsweek: "The senator has no involvement whatsoever in her husband's financial or business decisions."
Ethical investment funds and blind trusts use screens to exclude problematic companies or industries. Some may choose to screen all fossil fuel-linked investment, others any firearms companies, or tobacco firms.
"This is a world-shaking question: Should there be a genocide screen?" Greve asked.
"There needs to be a genocide screen, whether it's blind or an index, or instructions to a broker for a non-blank portfolio. Everyone who has a public pension fund, anyone who has their own defined contribution plan, needs to ask: 'How do I impose a genocide screen on my own holdings?'"
Dorett said: "When we see governments restrict business with other countries such as Cuba, Iran, North Korea and Syria for alleged human rights harms, and this requires companies and investors to put processes in place to abide by those sanctions, why not for Xinjiang as well?"
This could set a powerful precedent, Arkin said: "There needs to be a red line...this is not only a China problem, this goes beyond China, it can happen in other places as well."
The first step, advocates said, is for lawmakers to publicly step away from any companies tied to the ongoing abuses in Xinjiang and elsewhere in China.
"One would hope that people who are arguing hard for greater scrutiny of Chinese authorities—and commercial, industrial-related human rights violations in the Uyghur region—are also making sure that their own conduct, their own lives are in line with that too," Richardson said.
Newsweek reviewed disclosures from the loudest pro-Uyghur, anti-CCP voices on the Hill. Some staffers of those lawmakers who spoke with Newsweek suggested the inquiries were unfair given the work undertaken by their bosses. But Arkin had little sympathy.
"I don't think it's unfair. We are in a democracy, we can question the people that represent us. It's not like we're in China where you can't do that," she said.
"All these senators and people on that list, they are pretty aware of these connections and relations, because they're the ones who are pushing for bills like the Uyghur Forced Labor Prevention Act. They shouldn't take it as an attack. They should take note of it and look into it."
The imminent passage of the forced labor bill will be a significant victory for persecuted Chinese minorities and their supporters abroad, one that at times this year seemed unlikely with bills stuck in the doldrums amid corporate pressure and apparent White House hesitance.
What comes next remains to be seen. But activists intend to keep the spotlight on CCP abuses in China and complicity—intentional or otherwise—in the U.S.
"This is something that is quite new and this is something that we will keep raising with them," Arkin said.
"In the U.S. the market is pretty liberal and not controlled or regulated so much. So it's hard to ask this. But I think what we can ask as human rights groups and affected communities is that they don't fund the companies that are responsible for genocide.
"As Uyghurs ourselves, we demand that they do more. We're not asking them to do everything today. It has to be progressive over time, but at least take into account that this problem exists.
"They should be looking into it very, very soon."
Update 12/21/2021 8:20 a.m.: This article has been updated to clarify Anita Dorett's position at the Investor Alliance for Human Rights.