U.S. Sends Warship to South Korea Ahead of Major North Korean Holiday
The United States has reportedly sent a nuclear-powered aircraft carrier to the waters between South Korea and Japan days before an important North Korean holiday.
The USS Abraham Lincoln was located off of South Korea's southeastern coast on Tuesday. The move came shortly before the 110th birthday of North Korea's late founding leader Kim Il-sung on April 15, according to USNI News.
While many eyes have been focused recently on the Russia-Ukraine War, a wave of North Korean missile tests in recent months has also caused growing global tensions. The deployment of the USS Abraham Lincoln and its strike group was the first time a U.S. carrier group was deployed in the region since November 2017, the Wall Street Journal reported.
The deployment in 2017 came after an earlier wave of North Korean missile tests and a volley of war threats between the U.S. and North Korea.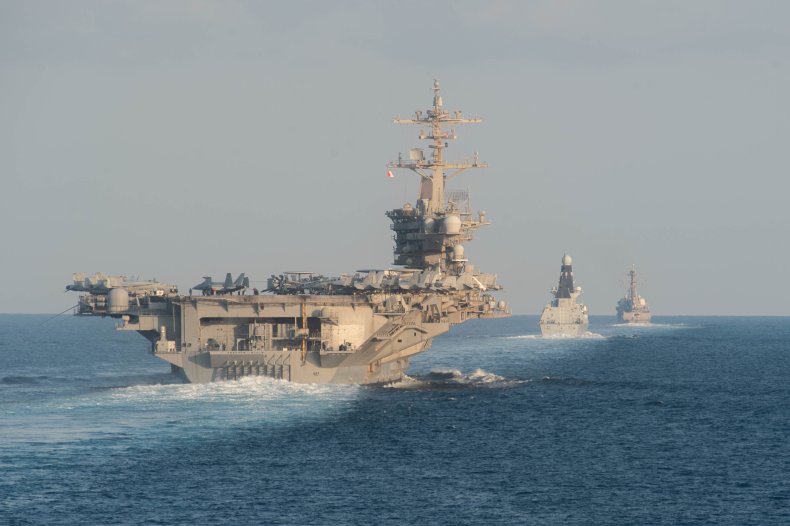 Local media reported that the aircraft carrier will remain in the region for several days, according to the Journal. This could possibly result in an overlap between the carrier's time stationed in South Korean waters and the holiday celebrations.
Satellite imagery of training grounds in North Korea showed that a large-scale military parade will likely take place to celebrate the holiday.
North Korea has conducted weapons tests in the past as part of its celebrations, according to the Journal, and there is concern among some in the U.S. that it could do so again on April 15. Sung Kim, who serves as the U.S.'s special envoy to North Korea, touched on the fears during a briefing with reporters last week.
"We are worried that, in connection with the upcoming April 15th anniversary, that the DPRK [Democratic People's Republic of Korea] may be tempted to take another provocative action," he told reporters. "We obviously hope not, but we will be prepared."
Later in the briefing, Kim said that he didn't want to "speculate too much," but the "provocative action" could potentially take the form of a missile launch or even a nuclear test.
"The important thing is that we, in cooperation and coordination with our allies and partners, are prepared to deal with whatever they may undertake," Kim said, adding that "hopefully the anniversary can pass without any further escalation."
In a statement shared with Newsweek, U.S. Navy spokesperson Lieutenant Mark Langford said that the aircraft carrier's strike group is "conducting bilateral operations with the Japan Maritime Self-Defense Force in the Sea of Japan."
"Routine bilateral operations like this one, reassure our allies and partners of the U.S. commitment to maintaining a free and open Indo-Pacific. Our training enhances the credibility of conventional deterrence by demonstrating the strength of our bilateral partnerships," the statement read.
Update 4/13/22, 3:45 p.m. ET: This story was updated with a statement from U.S. Navy spokesperson Lieutenant Mark Langford.
Update 4/12/22, 5:20 p.m. ET: This story was updated with additional information.
Update 4/12/22, 4:30 p.m. ET: This story was updated with additional information and background.