U.S. Soldier Killed By Afghan Ally One Day After New Commander Takes Over
One U.S. soldier was killed and another wounded Monday in what appeared to be an insider attack by a member of the allied Afghan security forces in the country's restive east.
A U.S. soldier, whose identity has not yet been released pending family notification, was killed when he was targeted by an officer of the Afghan National Police around 2 p.m. local time in the Regional Command East, a U.S. military official has told Newsweek. The Afghan officer was reportedly killed shortly after the incident. The so-called "green-on-blue" attack occurred just one day after General Scott Miller assumed the post of commanding general of U.S.-led NATO's Resolute Support and U.S. Forces - Afghanistan.
"The sacrifice of our service member, who volunteered for a mission to Afghanistan to protect his country, is a tragic loss for all who knew and all who will now never know him," Miller said in a press release.
"Our duty now is to honor him, care for his family and continue our mission."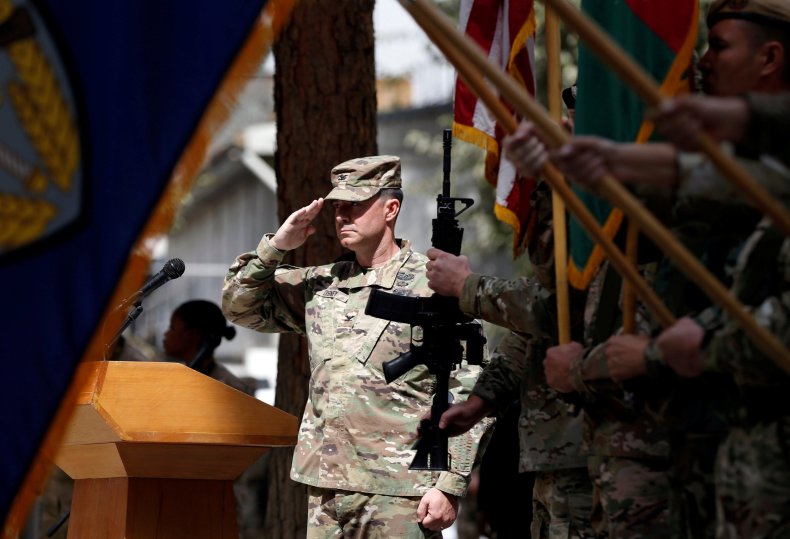 Miller replaced General John ''Mick'' Nicholson in a change of command ceremony held Sunday in the capital city of Kabul, where the NATO-led Resolute Support mission is headquartered. At the event, Miller said "we must enable our Afghan partners in building their security and military capacity so that they are able to deny safe havens to terrorists in a long-term, and sustainable way" and that he wanted "to recognize NATO and the operational partners for building and sustaining such an inspiring team."
Monday's attack also came just a day after Miller confirmed the death of Abu Sayed Orakzai, chief of the Islamic State militant group (ISIS) Khorasan group. Orakzai was reportedly killed alongside 10 other militants by U.S. and Afghan forces in the eastern province of Nangarhar.
The U.S. military has been involved in Afghanistan for nearly 17 years, having first invaded in the wake of the 9/11 attacks conducted by the Al-Qaeda militant group in 2001. The U.S. quickly overthrew Afghanistan's Islamist government, run by the Al-Qaeda-allied Taliban, but since then has faced a powerful insurgency by the group. As of July, there have been at least 2,372 U.S. military deaths in Afghanistan and the Monday's casualty is the sixth this year.
President Donald Trump's administration has attempted to establish peace talks between the Afghan government and the Taliban, but the insurgents have continued to gain ground as efforts to build a dialogue stalled. Taliban spokesman Zabihullah Mujahid responded to the U.S. change of command Sunday by tweeting: "New US commander will face failure similar to all previous US commanders. This land has such valiant Mujahidin & astute people who will never surrender to foreign invaders. Gen. Miller shall be witness to a series of failures and disappointments just like Gen. Nicholson."
Resolute Support's official account responded: "We look forward to moving beyond name-calling to engaging in constructive and inclusive dialogue, which will bring together Afghans and their friends for the solutions all Afghans desire."
"We sought constructive dialogue before the start of war however it was you who chose war. Still even if you embrace realities now, accept our independence and adopt mutual respect, we have invited you to constructive talks, so please," Mujahid answered.