U.S. Soldiers Train for Arctic Warfare Near Russian Border, Photos Show
As Joe Biden visited Ukraine for the first time since the Russian invasion began nearly a year ago, almost a thousand U.S. troops are taking part in a joint exercise on the other side of Europe aimed at preparing for Arctic warfare.
Images show U.S. and other allied soldiers clad in white overalls, practicing shooting and skiing in the snow in Finland's Lapland region as part of Arctic Forge 23, which will run from February 16 to March 17.
The overall exercise is split between training in northern Finland, as part of the Defense Exercise North, and the Joint Viking exercise in Norway.
In Sodankyla, Finland, 77 miles from the Russian border, 280 U.S. Army personnel will work alongside around 550 Finnish personnel. The U.S. Army stated that members of the 10th Mountain Division, the 11th Airborne Division and the Virginia Army National Guard would be tasked with "intensive" Arctic training.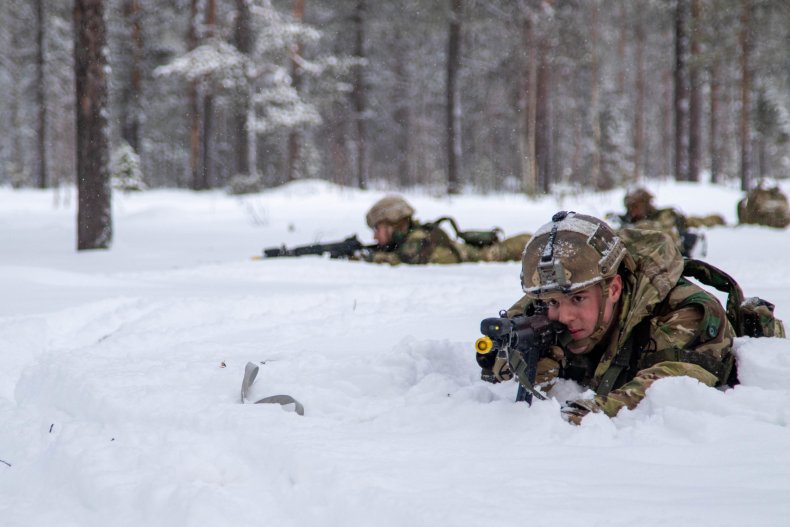 Around 730 U.S. Marines from the II Marine Expeditionary Force and 200 Army personnel are taking part in the Norwegian exercise.
In a statement on February 13, ahead of the deployment, the U.S. Army said the goal of the training was to "demonstrate readiness by deploying a combat-credible force to enhance power in NATO's northern flank in support of our partner Finland, an aspiring NATO member."
The images of the manoeuvres came the day before President Joe Biden made an unexpected trip to Kyiv to meet with counterpart Volodymyr Zelensky, ahead of the one-year anniversary of Vladimir Putin's invasion of Ukraine on February 24.
Biden spent more than five hours in Kyiv on Monday morning, holding meetings with Zelensky, military and diplomatic officials and members of the U.S. embassy.
"One year later, Kyiv stands," Biden said during a press conference. "And Ukraine stands. Democracy stands. The Americans stand with you, and the world stands with you."
Since Putin ordered what he has repeatedly described as a "special military operation," relations between Russia and many Western nations have effectively been put on ice, with financial and political sanctions imposed and diplomats expelled.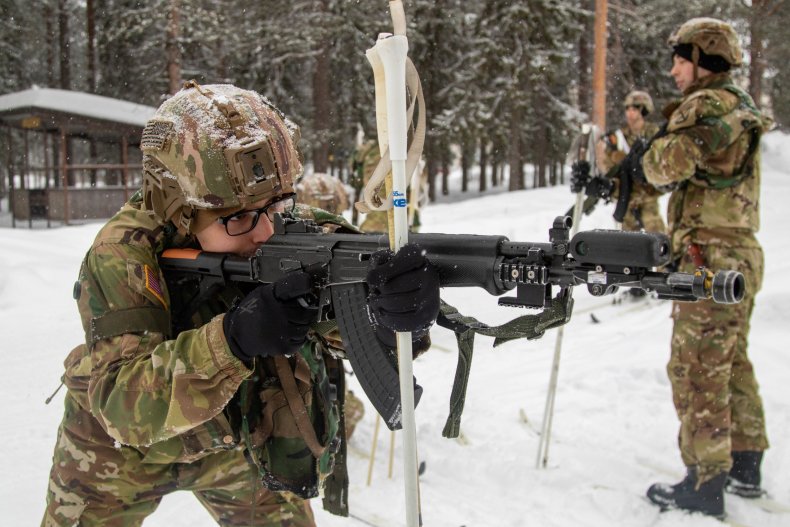 The conflict has also seen Finland and Sweden formally sign accession protocols to join NATO; all but two nations, Hungary and Turkey, have yet to ratify their membership.
"Our relationships with our Nordic partners and Allies have never been better," David A. Ottignon, commanding general of the II Marine Expeditionary Force, said. "We learn so much from training with them and enhancing our ability to sustain ourselves and operate in the high north."
He added that the military was "more survivable and lethal in austere environments" because of the exercises.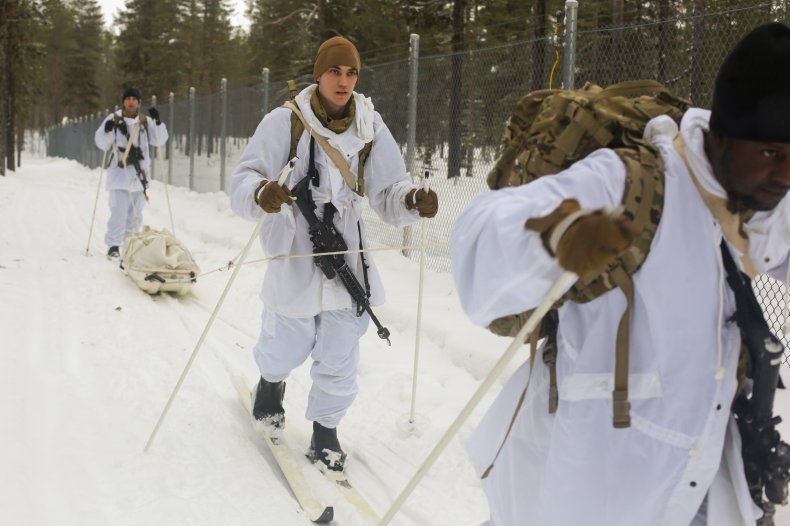 Defense Exercise North began with the deployment of the 11th Airborne Division flying over the pole from Alaska to Finland. Major General Brian Eifler, commanding general of the 11th Airborne Division, described the formation as "America's Arctic professionals."
Those in Norway will be joined by more than 10,090 military personnel from NATO allies the U.K., Denmark, Germany, the Netherlands and Norway.