U.S. Vows Support for Israel, but Russia Says Opponents 'Will Not Succeed' in Harming Ties With Iran
The United States has reaffirmed its unwavering support for Israel against Iran, with whom Russia said it has sought closer ties.
In the second leg of his latest Middle East tour, Secretary of State Mike Pompeo traveled Wednesday to Jerusalem to meet with Israeli Prime Minister Benjamin Netanyahu, a staunch ally of the Trump's administration. The top U.S. diplomat accused Iran of pursuing Israel's "annihilation and destruction," emphasizing that "we maintain our unparalleled commitment to Israel's security and firmly support your right to defend yourself."
Netanyahu, for his part, said the two men discussed "close coordination to roll back Iranian aggression across the Middle East. He asserted that "there is no limitation to our freedom of action, and we appreciate very much the fact that the United States backs up our actions."
Both countries have viewed Iran's increased presence in the region as malign and taken steps to push it back, though the Shiite power remains influential across Lebanon, Iraq and Syria. While the U.S. takes a firm stance in the feud between Iran and Israel, their mounting tensions have proved more complex for Russia, which has tried to maintain ties with both sides.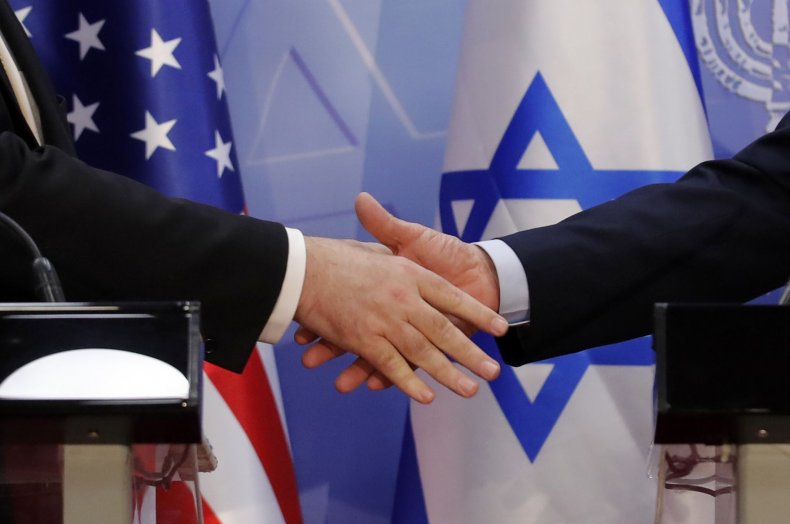 Iran and Israel have long threatened military action against each other, and regional instability has allowed Tehran to expand its reach, first through the emergence of the Hezbollah movement in the middle of Lebanon's 15-year civil war and later through support for Shiite movements supporting government forces against majority-Sunni insurgencies in Iraq and Syria. The former was set to mark 16 years since a U.S.-led invasion toppled Iraqi President Saddam Hussein, while the latter marked last Friday the ninth anniversary of a civil war sparked by a U.S.-backed uprising.
Unlike Hussein, Syrian President Bashar al-Assad cultivated international alliances that allowed him to restore much of his control over the country. Iran and Russia have supported the Syrian military in its battle against opposition forces and jihadis, including the Islamic State militant group (ISIS), which emerged out of Iraq and spread to Syria in 2013.
This pro-government campaign and a U.S.-led coalition, spearheaded by the mostly Kurdish Syrian Democratic Forces, managed to mostly eradicate ISIS. With the jihadis on the brink of defeat, however, the U.S. has sought to expel forces suspected of being under Iranian command, and Israel has accelerated airstrikes against them. Moscow had largely remained neutral in this spat but has grown increasingly critical of Israel's campaign since the accidental downing of a Russian surveillance plane by Syrian anti-aircraft fire responding to a sudden Israeli raid.
Since then, Russian officials have hardened their stance against Israeli strikes in Syria and have sent advanced S-300 missile defense systems there, though they have not yet been used in subsequent Israeli attacks. Though Russian Ambassador to Iran Levan Dzhagaryan has been careful to categorize the countries as "strategic partners" and not "allies," he told Iran's Tasnim News Agency that "there is no doubt that we are committed to our friendship with the government of the Islamic Republic of Iran," which "the United States and its allies criticize."
Dzhagaryan also denied the U.K.-based newspaper Al-Araby Al-Jadeed's recent report claiming Russian Foreign Minister Sergey Lavrov was upset by Assad's surprise visit to Tehran earlier this month, saying the purpose of such Western and Arab claims "is to strike a gap between Iran, Russia and Syria, but they will not succeed at all."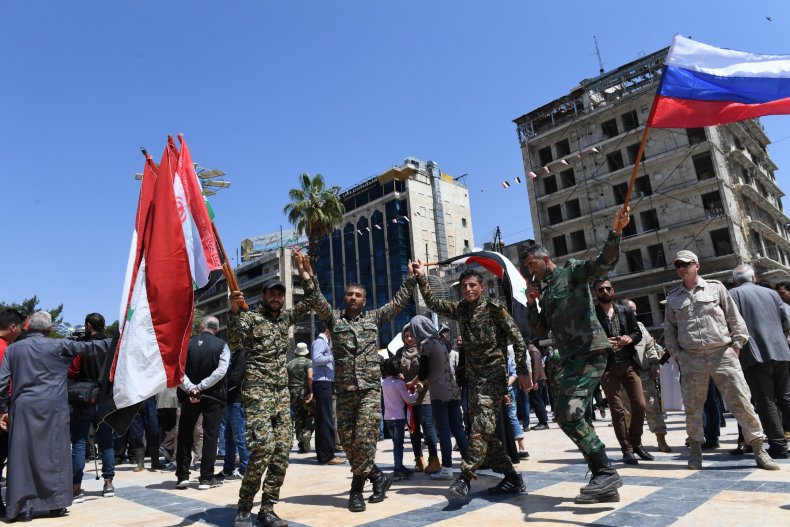 Russian President Vladimir Putin has said that all foreign forces, including his own, should eventually leave Syria, but he has offered no explicit deadline for a total withdrawal. Iranian leaders have remained resistant to the idea of pulling back from what they contend was simply an advisory role, and Assad has continued to welcome Tehran's participation, as well as Moscow's.
However, the Syrian government has called on the U.S., Turkey and any other foreign forces to exit immediately. President Donald Trump announced in December that U.S. troops would exit the country because ISIS had been mostly routed, but he offered no specific timeline. Reports have suggested that the U.S. may maintain anywhere from 200 to 1,000 troops as a "peacekeeping force" tasked not only with ensuring ISIS's lasting defeat but with curbing Iranian influence as well.
The U.S. and Israel have joined forces in attempting to rally European and Arab allies against Iran, which has recently deepened its relations with Iraq and Syria. Through its support for Hezbollah, Iran also maintained close ties with Lebanon—the next stop on Pompeo's regional tour.